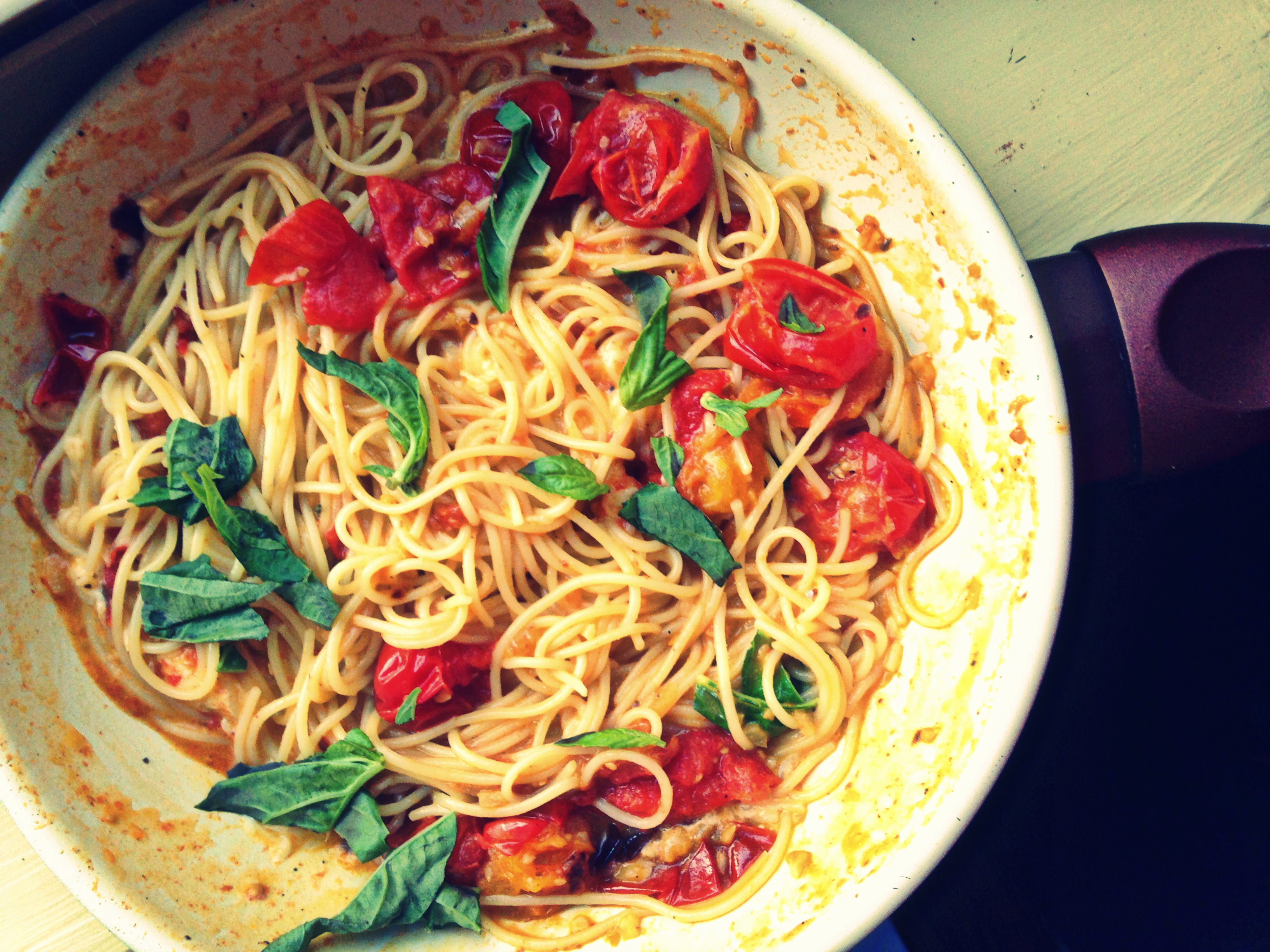 Your Friday "Tip of the Week" is here!  Lesson: Blistering tomatoes.  Featured recipe:
Angel Hair with Blistered Tomatoes, Fresh Basil, and Goat Cheese
Full Recipe below.
Angel Hair with Blistered Tomatoes, Fresh Basil, and Goat Cheese
Serves 2
4 oz. Angel Hair Pasta
1.5 cups any variety small Tomatoes (Cherry, Sun-Gold, Baby Heirloom, Grape)
3 tablespoons Olive Oil, divided
1 medium Garlic Clove minced
1 small Shallot minced
1 pinch Red Pepper Flakes
Splash of White Wine
½ cup Parmesan
2 oz. Goat Cheese
½ cup Fresh Basil Leaves (about 8 large leaves)
Place (whole) baby tomatoes on a baking sheet. Toss with 1 tablespoon olive oil and a pinch of salt and pepper. Bake at 425 for 20 minutes until tomatoes darken and begin to burst. If this don't get as "blistered" looking as you would like, broil them for 2-3 minutes.
Bring 3 quarts water to a boil in a 5-qt. pot. Season with salt; add pasta and cook, stirring occasionally, until about 2 minutes before tender. Drain pasta, reserving 1 cup pasta cooking water.
Heat remaining 2 tablespoons oil in a large skillet over medium heat. Add minced garlic, shallots, red pepper flakes, and salt and pepper. Cook, stirring occasionally, for 2-3 minutes and then add white wine to pan. Turn the heat to medium high and cook for 2 more minutes. Add tomatoes and press down to release their juices. Transfer pasta and ¼ cup pasta water to skillet and toss to combine. Stir in parmesan, most of the goat cheese and basil (reserving some of both for garnish). If sauce is too thick, add more pasta water.
Season to taste with salt and pepper and divide among 2 plates. Garnish with crumbled goat cheese and fresh basil.