Last weekend I tricked my boyfriend into eating whole wheat pasta.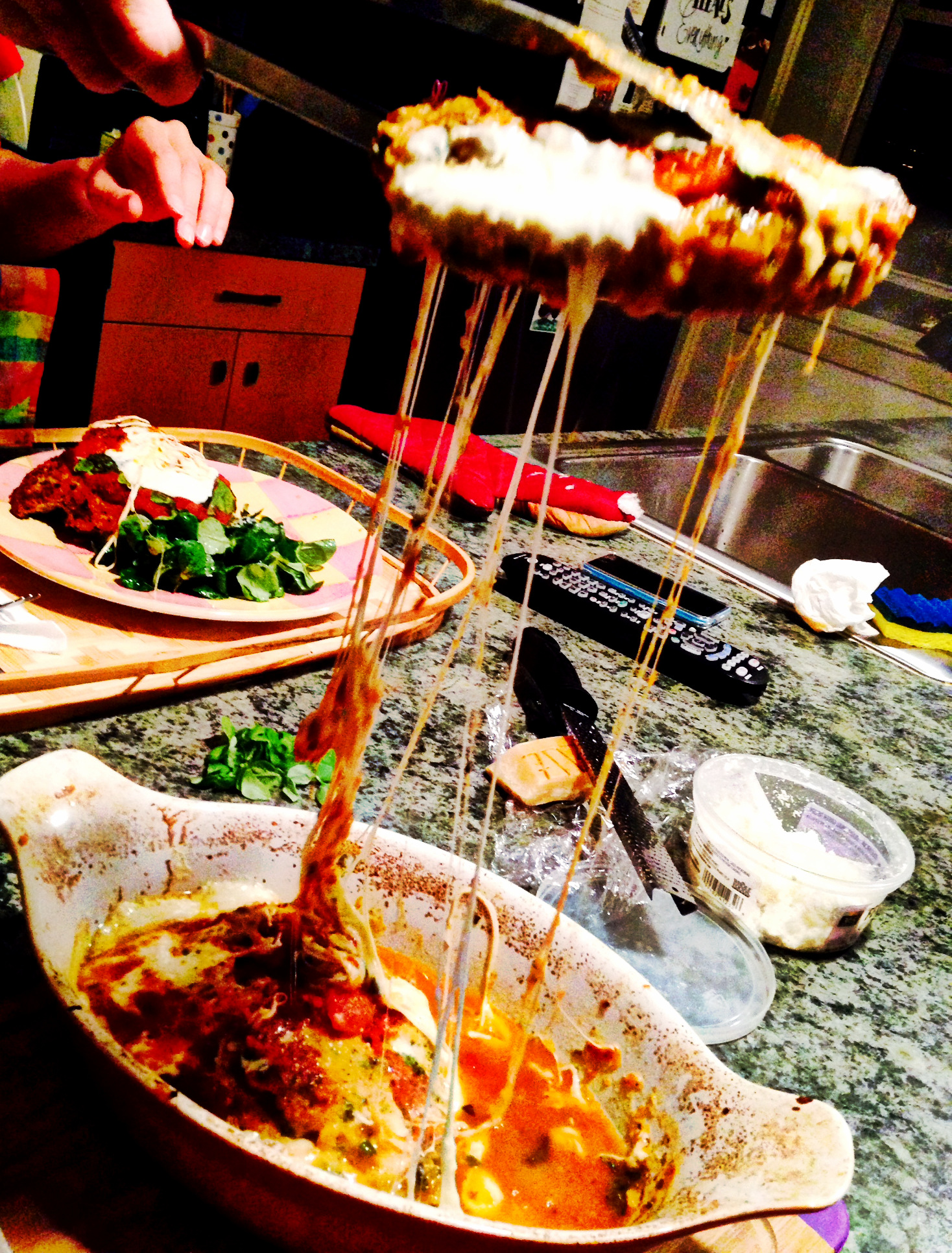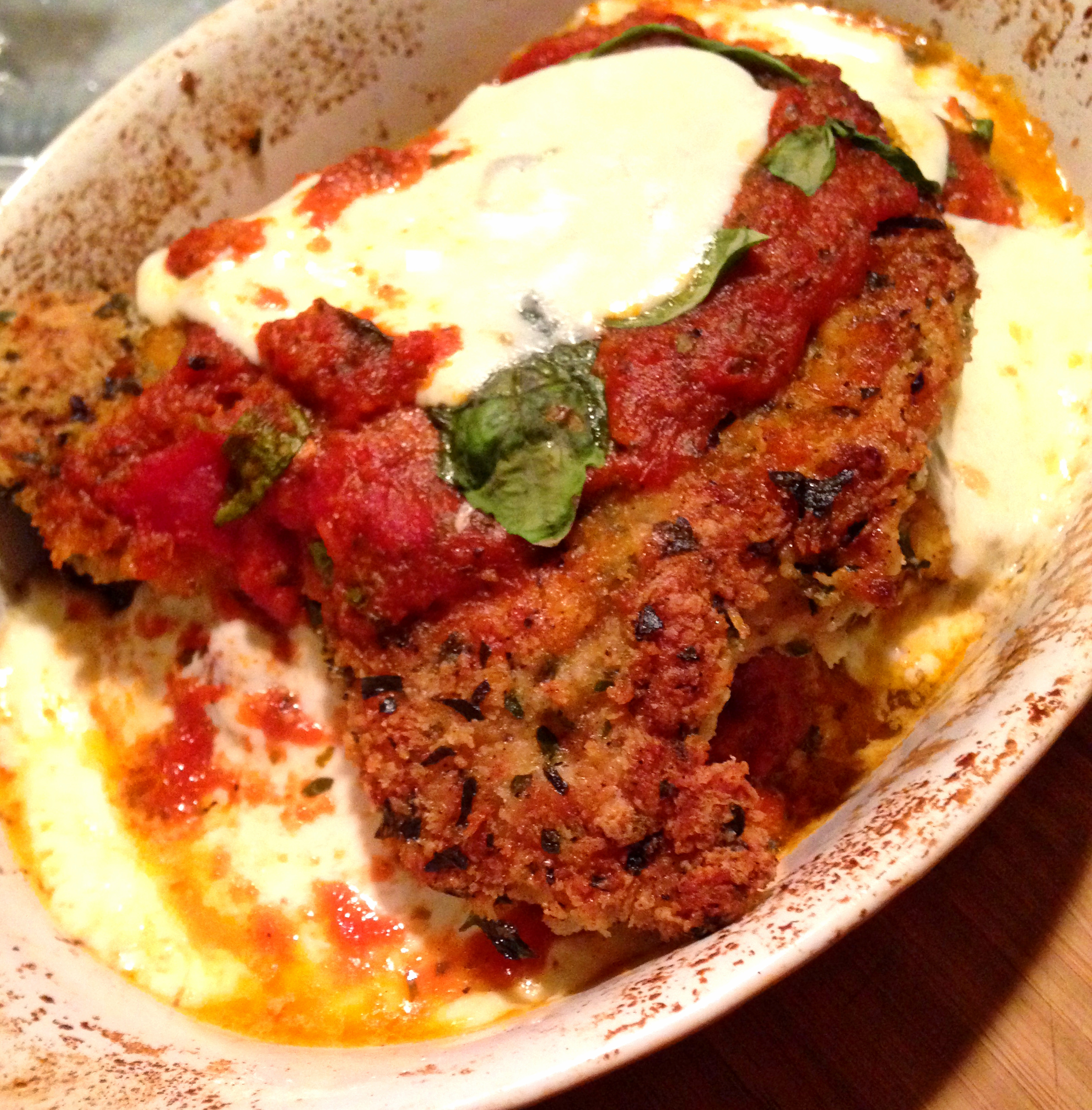 As we were finishing up our Sundayisms, Tony asked my favorite question.  "What's for dinner?"  Before I could spout off a series of elaborate foodie terms, his eyes widened.
"How about chicken parmesan?"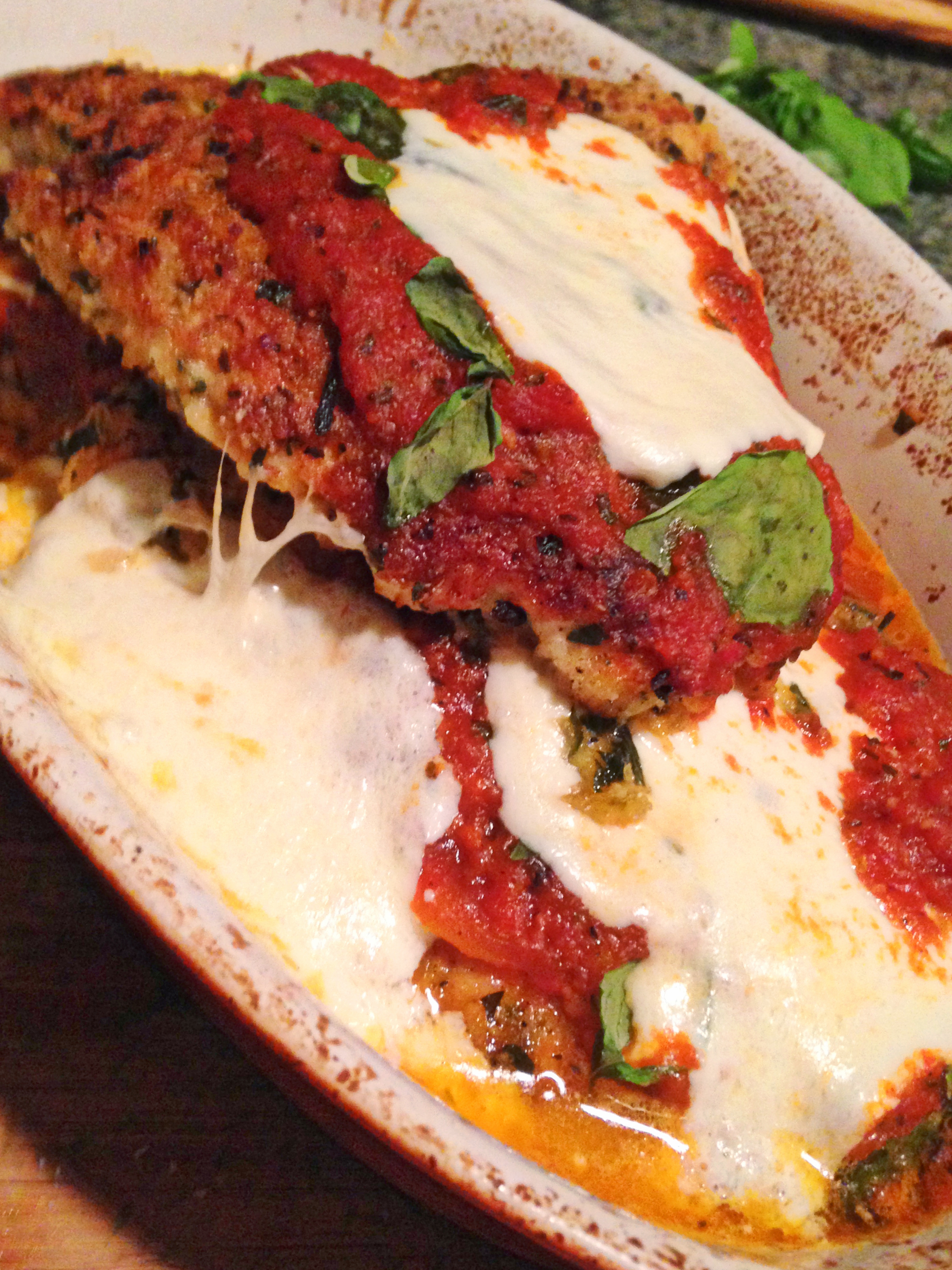 Next thing I knew we were on our way to Whole Foods with a future full of cheese.  Since I gravitate towards creating light, local, and healthy–I wondered how I could turn this Italian classic into my own…
My 5 secrets:
1. Panko: This lighter, Japanese version of breadcrumbs is airy and creates a perfect crunch.
2. Homemade Marinara: By taking 5 minutes to build this sauce and letting it simmer for 25 more (the time it takes to create the rest of the dish)–you've crafted a fresh, luscious, preservative-free marinara that only took half an hour.
3. Fresh Mozzarella: Spend the few extra bucks and opt for the fresh mozzarella instead of the standard shredded.  It's creamier and the light flavor makes all the difference.
4. Baked not Fried: The technique for crispy on the outside, moist on the inside chicken breast?  Saute each side until golden and finish it in the oven.  No deep fryer required.
5. Whole Wheat Pasta: When you cover noodles in sauce and cheese, no one will no the difference. Adding whole grains and extra fiber to the dish will be your little secret.
Unless you happen to write a blog that you share with the world.
Surprise, Tony.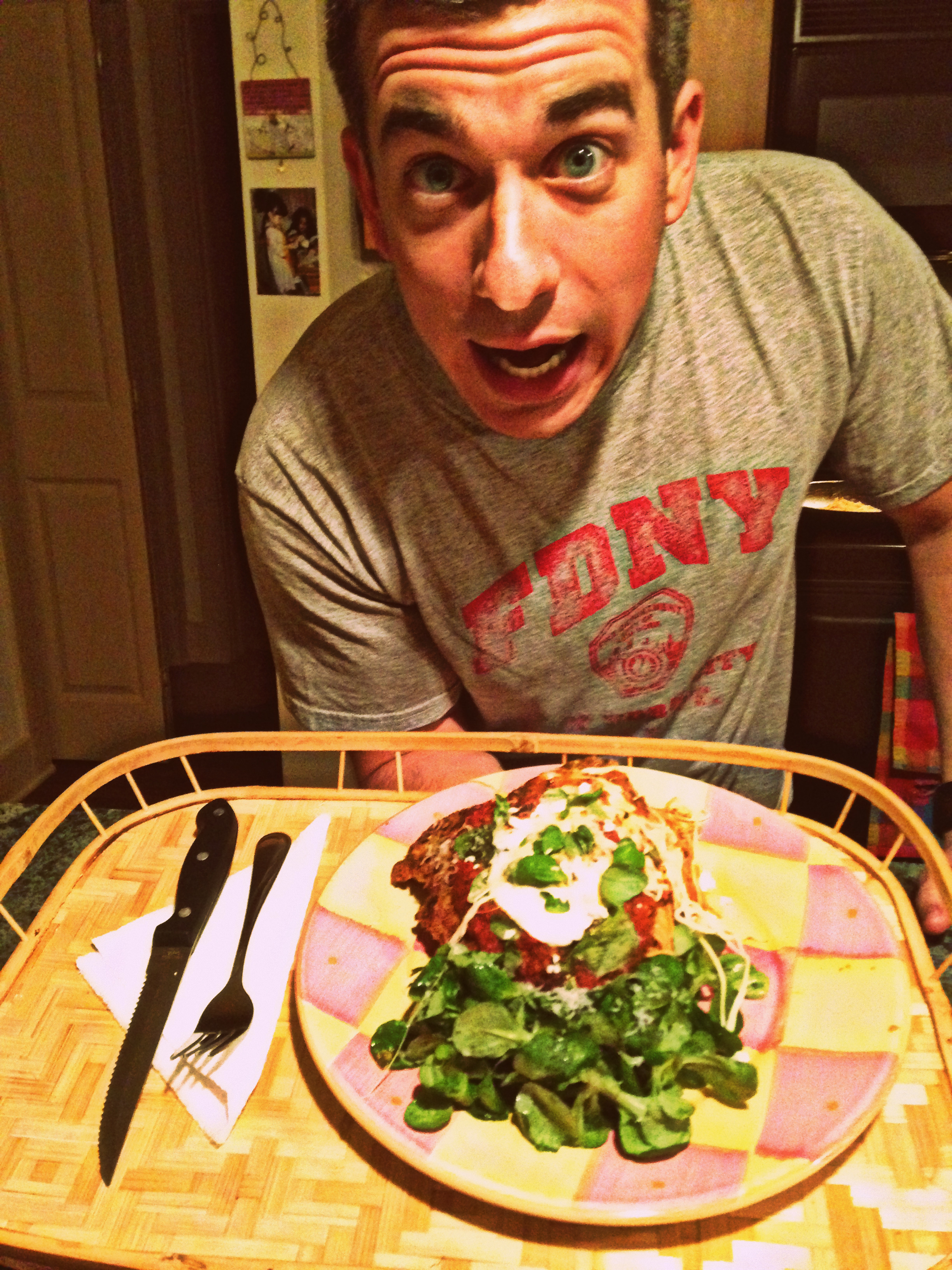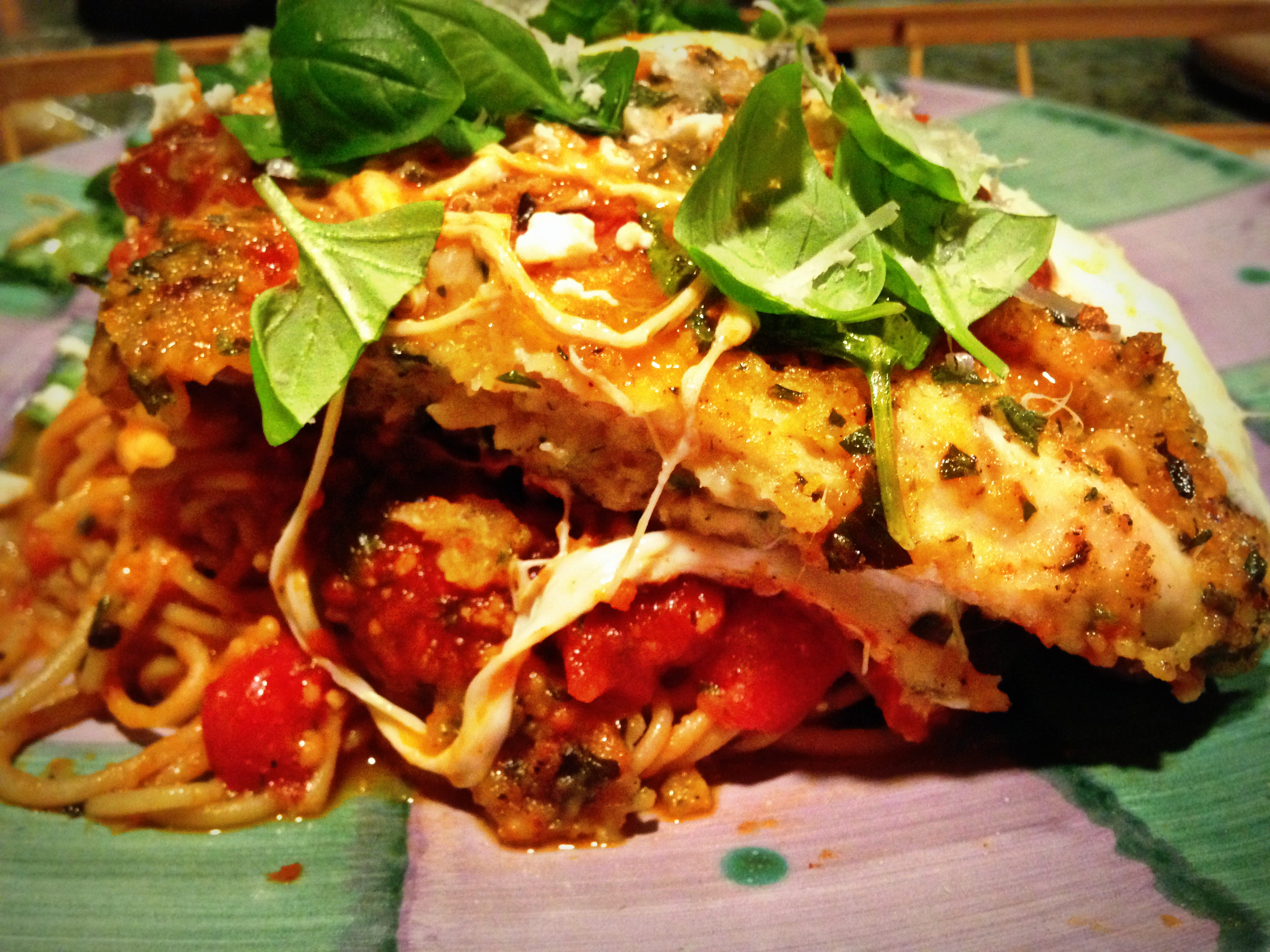 Boyfriend Approved Crispy Baked Chicken Parmesan with Fresh Mozzarella and Torn Basil
Serves 4 (because boyfriends like leftovers)
1 tablespoon olive oil
1 medium shallot, minced
1 medium garlic clove, minced
Pinch red pepper flakes
1 28. oz. can crushed tomatoes
1 28. oz. can tomato puree
1 teaspoon sugar
1 cup fresh basil leaves
1/4 cup shredded Parmesan
Salt and pepper
2 cups panko breadcrumbs
1 teaspoon fresh oregano, rough chopped
1 teaspoon fresh basil, rough chopped
1 tablespoon fresh parsley, rough chopped
Salt and pepper
Paprika
3 boneless skinless chicken breasts (about 4-6 oz. each), split down the middle into halves
1 tablespoon olive oil
1 teaspoon butter
2 eggs, beaten
4 oz. fresh mozzarella, sliced
4 teaspoons grated parmesan
1/2 cup fresh basil leaves
8 – 10 oz. whole wheat angel hair pasta
Start the marinara: heat 1 tablespoon olive oil over medium heat. Add the shallot, garlic, and red pepper flakes and season with salt and pepper. Saute until very fragrant, about 3 minutes. Add both cans of tomatoes and sugar. Stir, bring to a boil, and then reduce heat to low. Simmer for at least 25 minutes. Just before serving, tear in fresh basil leaves and Parmesan and season to taste with salt and pepper.
Preheat the oven to 350 degrees.
For the chicken, heat olive oil and butter in a large skillet over medium high heat. In a large bowl, combine panko breadcrumbs with oregano, basil, parsley, and paprika. Season breadcrumb mixture generously with salt and pepper. Place the beaten eggs in a separate bowl. Lay out butterflied chicken breasts and season each side well with salt and pepper. Dip each piece of chicken in egg and then press into breadcrumbs, shaking off excess. Saute each chicken breast until golden brown, approximately 4-5 minutes per side. Transfer chicken to a baking dish and cook for 15 minutes. Remove from oven and layer each chicken breast with slices of fresh mozzarella. Bake an additional 5 minutes or until cheese is gooey and melted.
In the meantime, bring a large pot of water to a boil and salt well. Add angel hair and cook until al dente, according to directions on box. To serve: toss each portion of pasta with a heaping spoonful of homemade marinara. Top with cheesy chicken breast, 1 teaspoon shredded Parmesan, and torn fresh basil leaves.