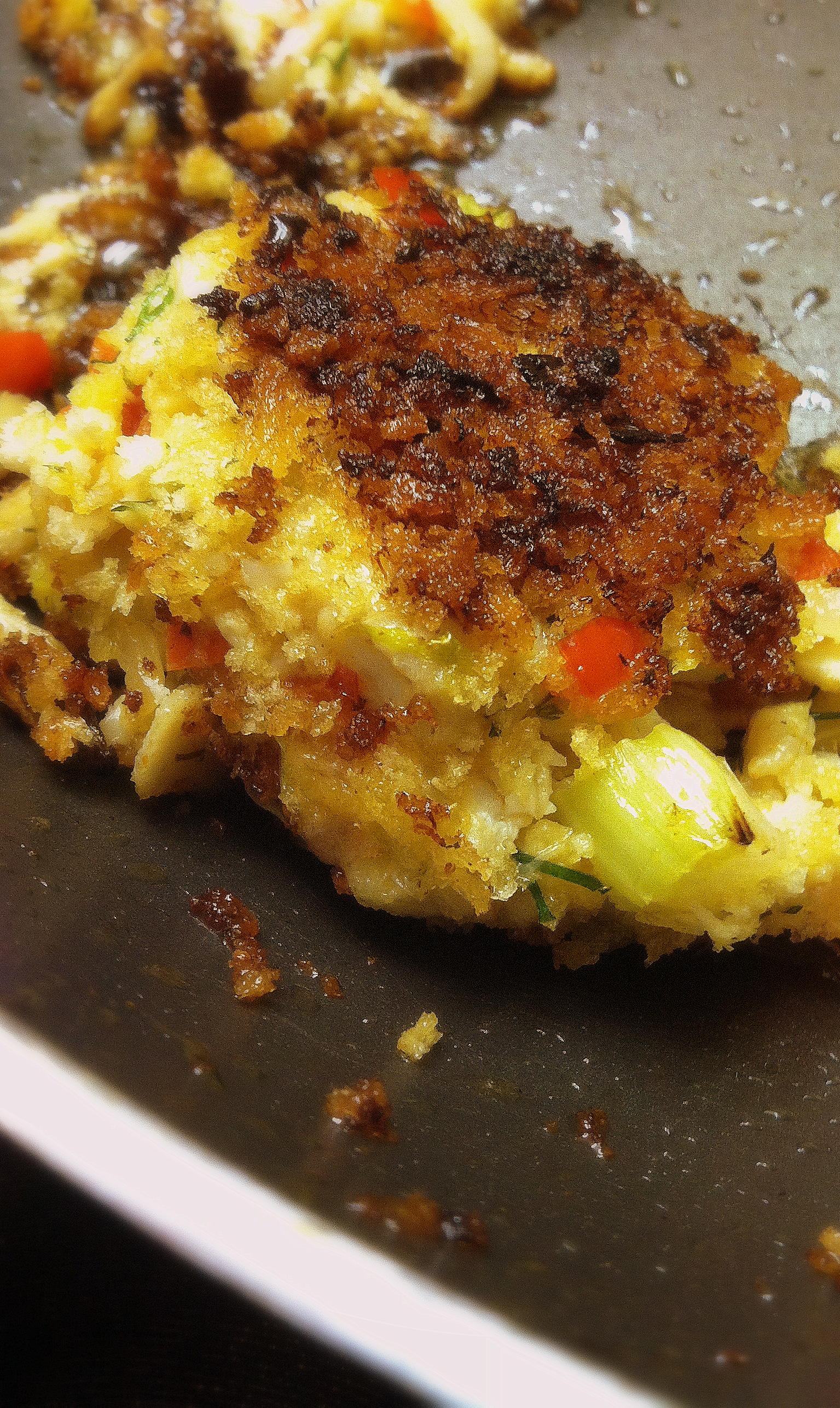 I have no idea what I learned in my second grade math class, but I will never forget how to shape crab cakes.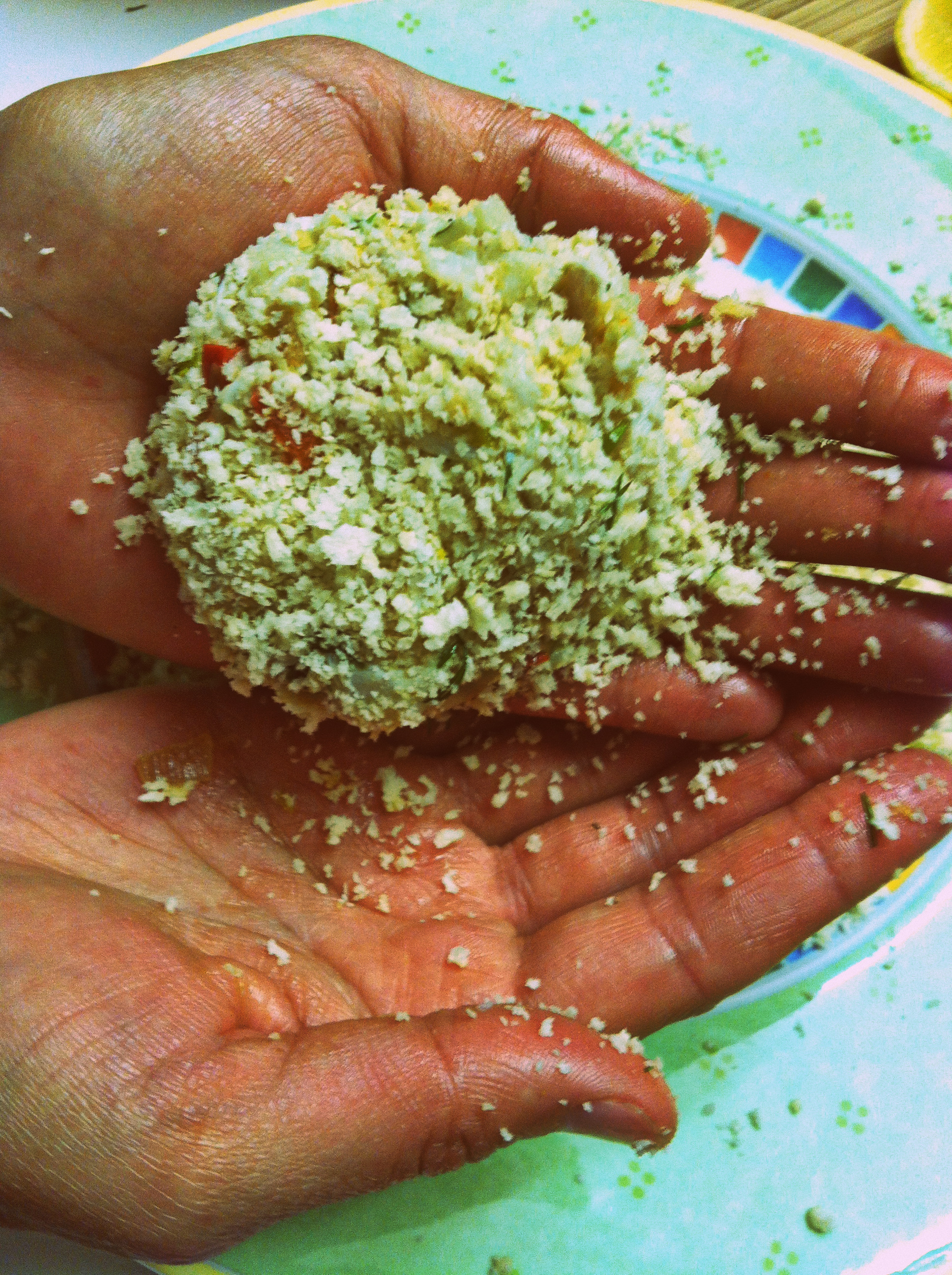 There are five members of my immediate family.  My dad, my mom, my sister, me, and a crab cake.  These savory, dill-infused patties have been a part of our lives for as long as I can remember. They have been with us through every anniversary, birthday, welcome home dinner, and Saturday.  This is our comfort food.  To me, they hold an even deeper meaning.  Through 28 years (yes I like to think I was whisking something when I came out of the womb) of cooking with my dad, shaping crab cakes together is one of my most cherished memories.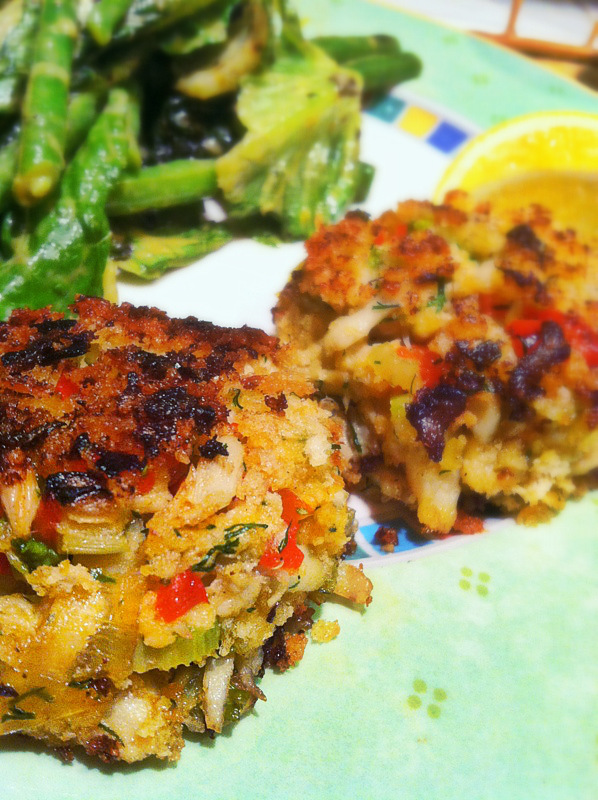 This dish always held such colossal significance for our family that the first time he walked me through the recipe, it was a more influential rite of passage than my Bat Mitzvah (sorry to any Rabbis who follow my blog).
Just recently I was home in Raleigh to visit my parents for the weekend.  They were on their way back from an errand and running behind.  As the minutes ticked down to dinnertime, in came the monumental phone call from my dad.
"Fan, I need you to make the crab cakes."
By myself?  With no help?  With no one around to see if I drink too much wine or put in too much celery or spill Old Bay on the counter?  The task felt intimidating at first.  It then occurred to me that I had watched, and assisted, my dad make these crab cakes for years.  I also realized that I'm a professional caterer who had just recently fed 70 people a day on a film set.  Suddenly I was dicing shallots and zesting lemons without a care in the world.
If you read my previous post for Roasted Turkey and Potato Hash with Baked Runny Eggs, you'll recall that I explained where the inspiration for my recipes comes from.  I pull from my most treasured food memories and experiences and then transform them into my own creations.  Last weekend we were in New Jersey to celebrate my dad's 60th birthday.  In his honor, I catered the entire dinner for 20 and created a menu of unique twists on his favorite dishes.  I turned his original, wonderful crab cake entree into an appetizer-esque slider.  I topped it with my own invention–roasted tomato aioli–and I'm happy to say I received rave reviews.
Most of all, I made my dad proud.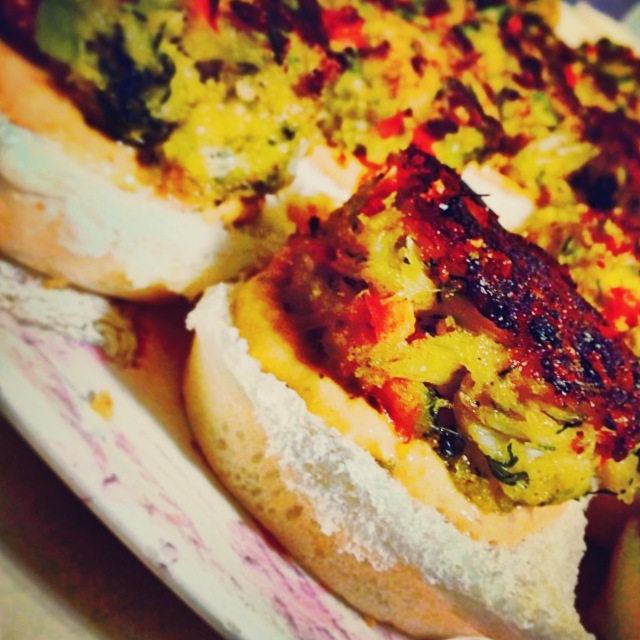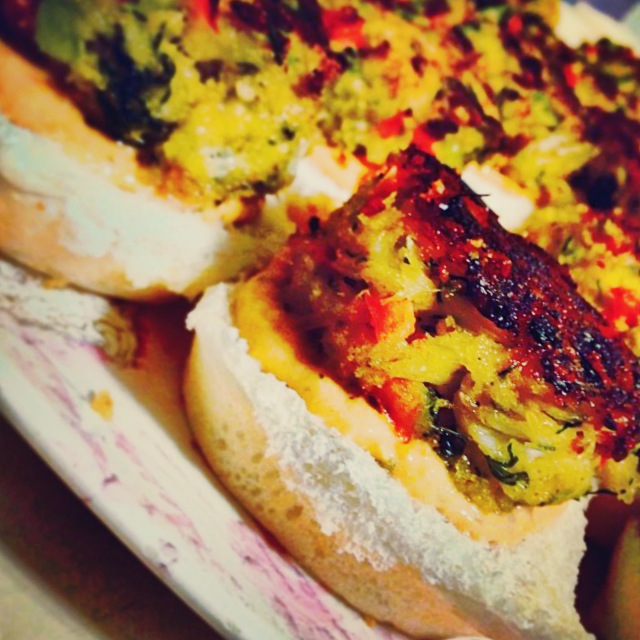 These crab cakes begin with a combination of several aromatic veggies: shallots or leeks, peppers, and celery.  After those are cooked down and cooled, they're gently folded into a mix of jumbo lump and claw crabmeat with some additional herbs, spices, and binding ingredients.  The tomato aioli is a fusion of roasted tomatoes, shallots, and garlic blended with mayo and Greek yogurt.  The concentrated flavor of the tomatoes and mellow notes of sweet roasted garlic create a light, savory sauce.  For the buns, I always opt for King's Original Hawaiian Sweet Rolls in the orange package.  You have to slice them in half but their light, buttery flavor is ideal for sliders.
Full original AND Gluten Free recipe at the bottom.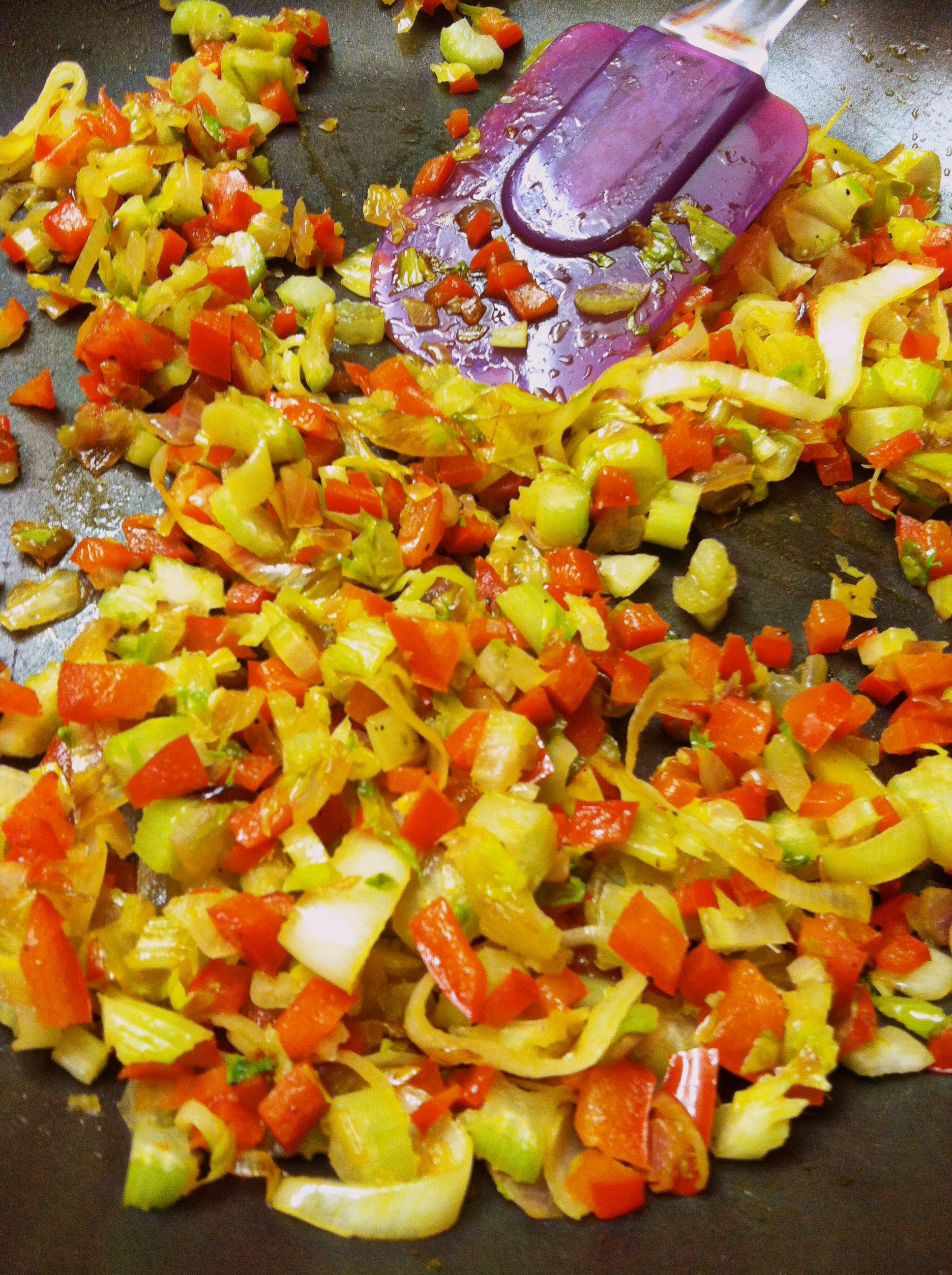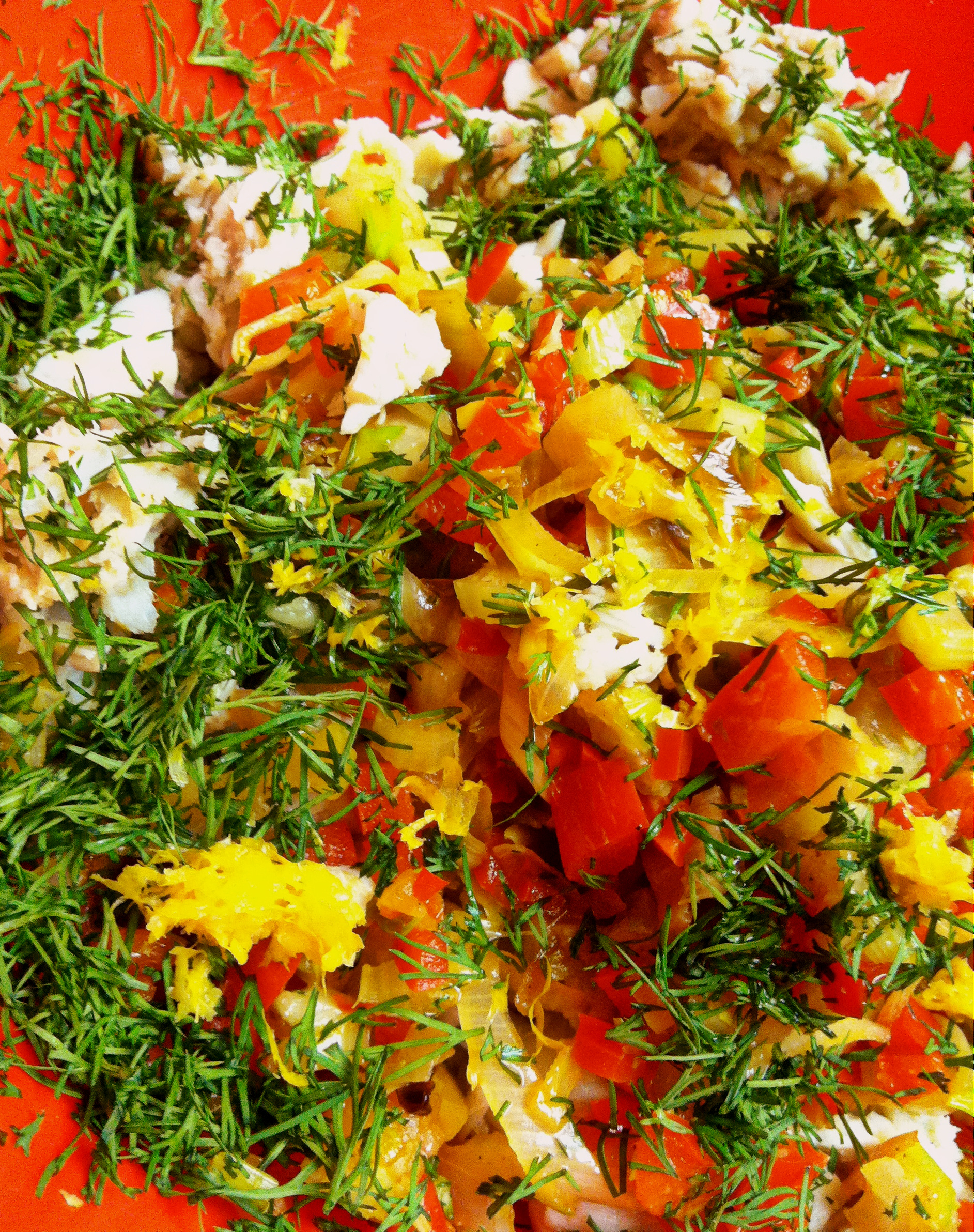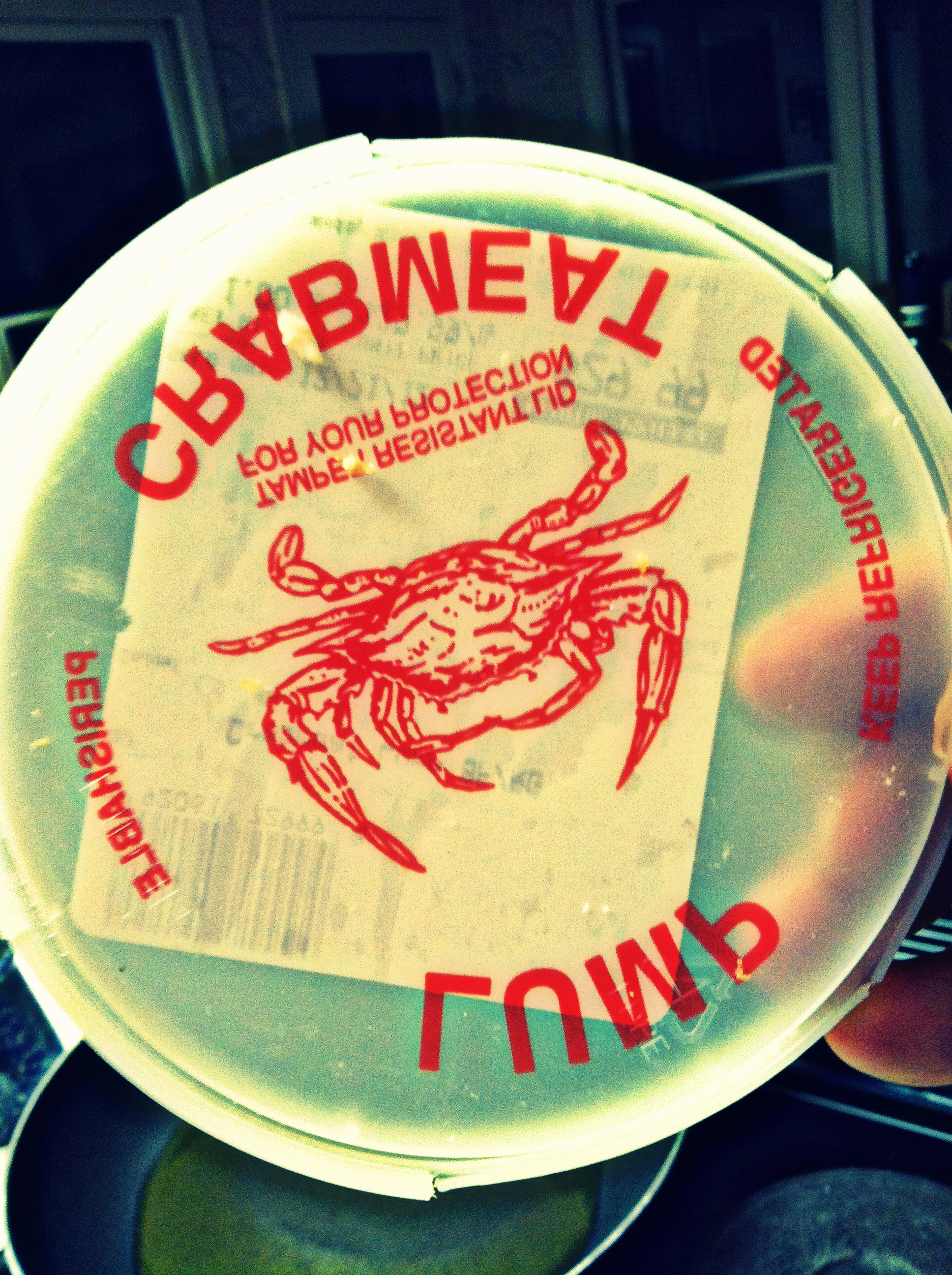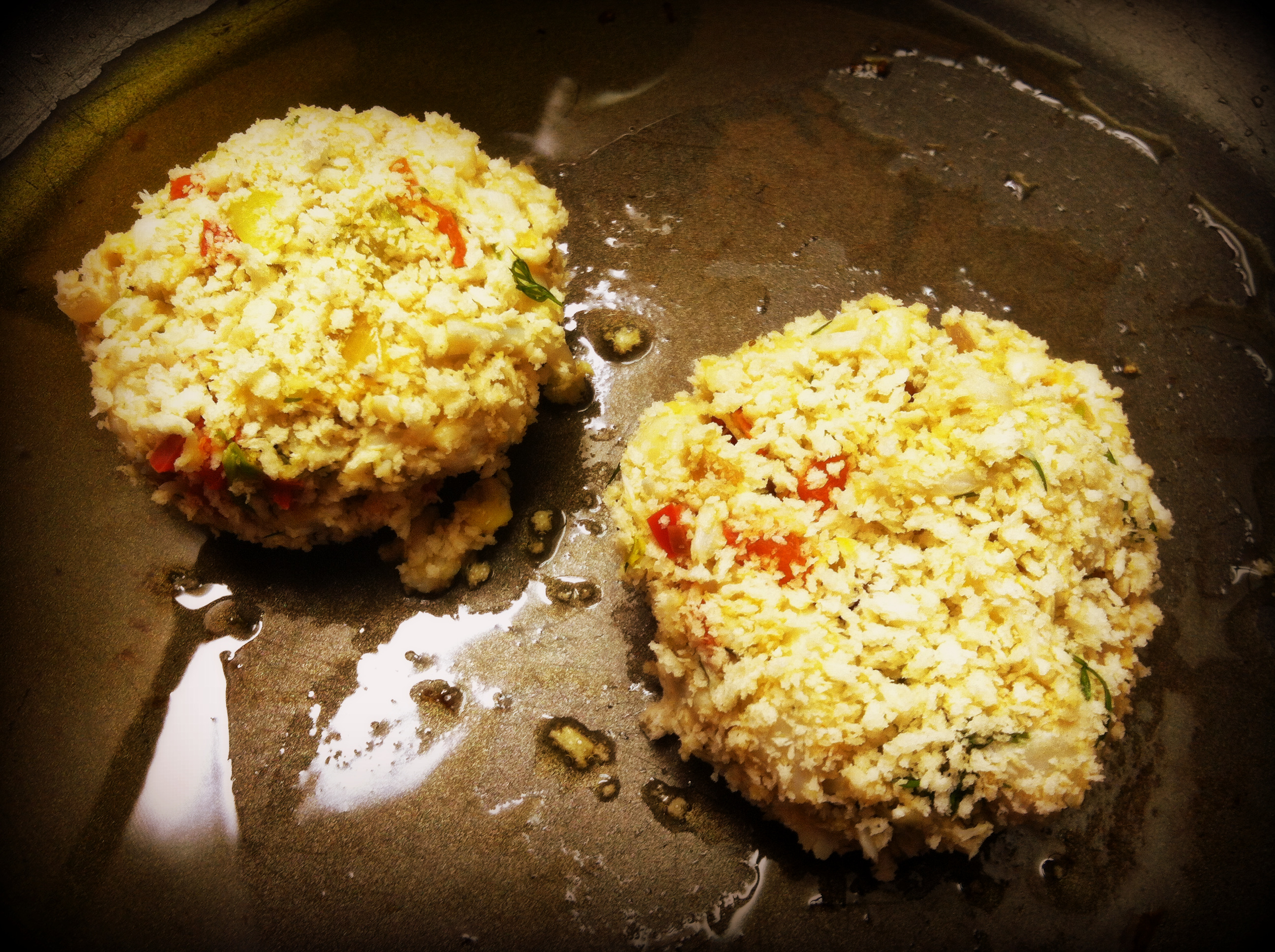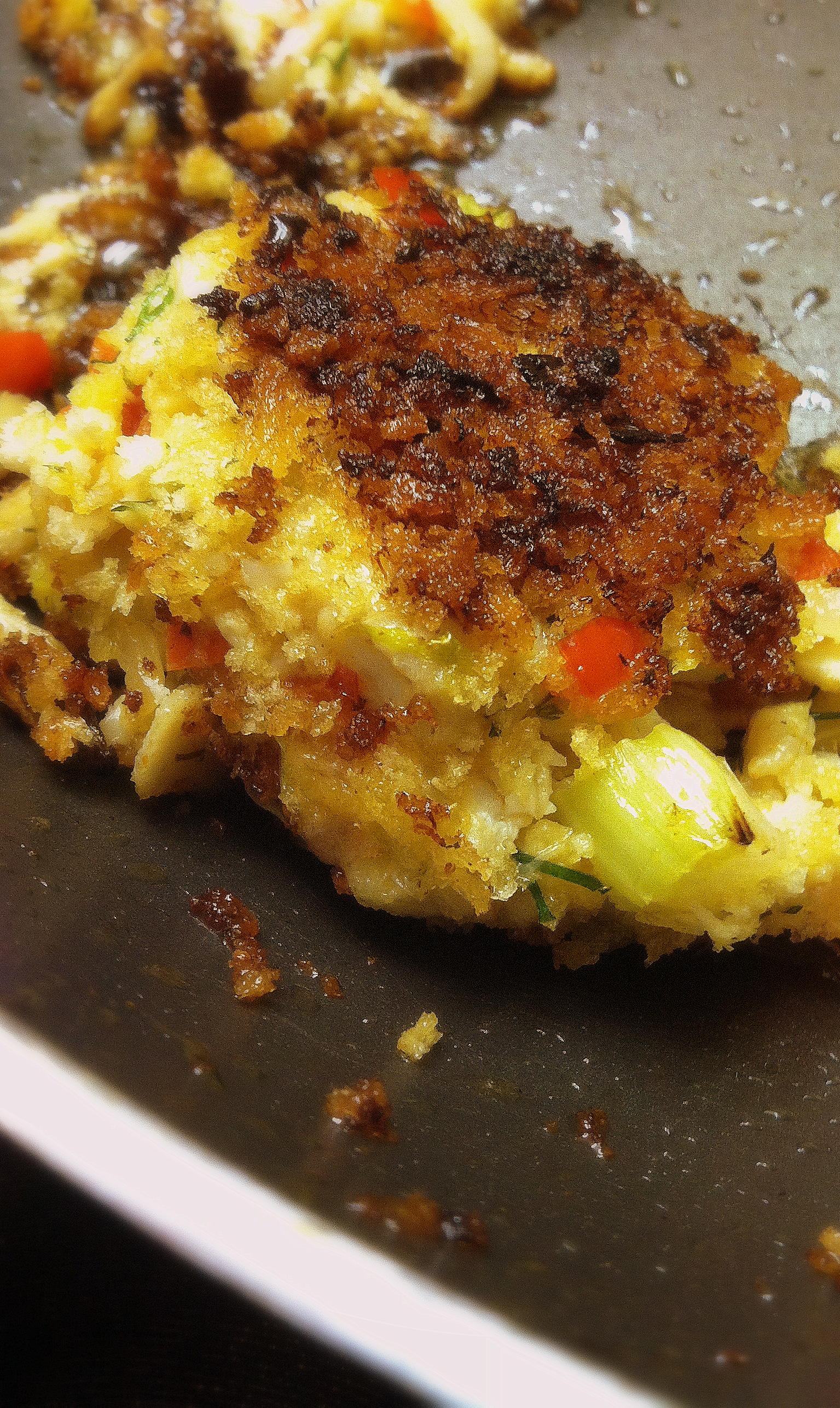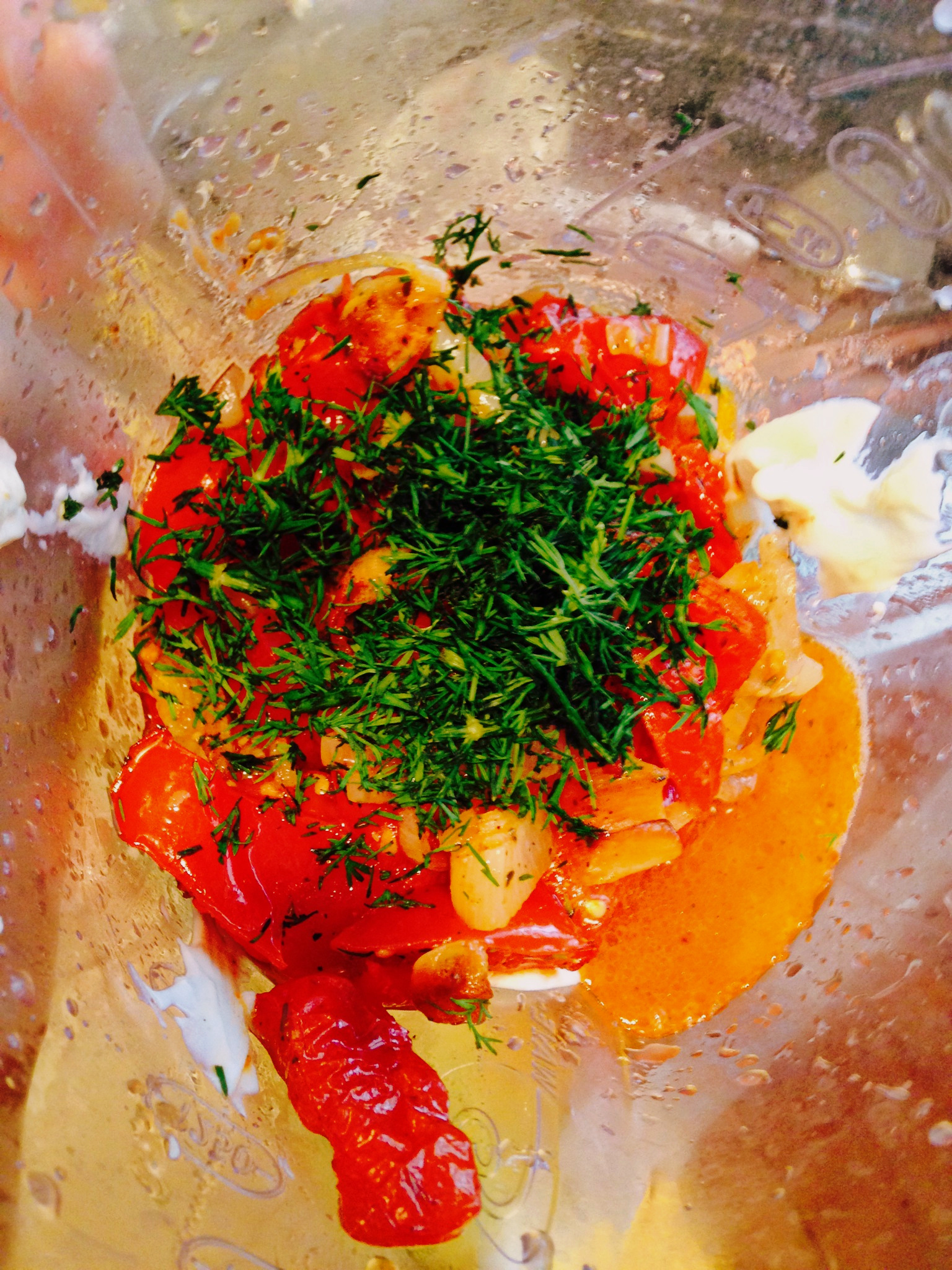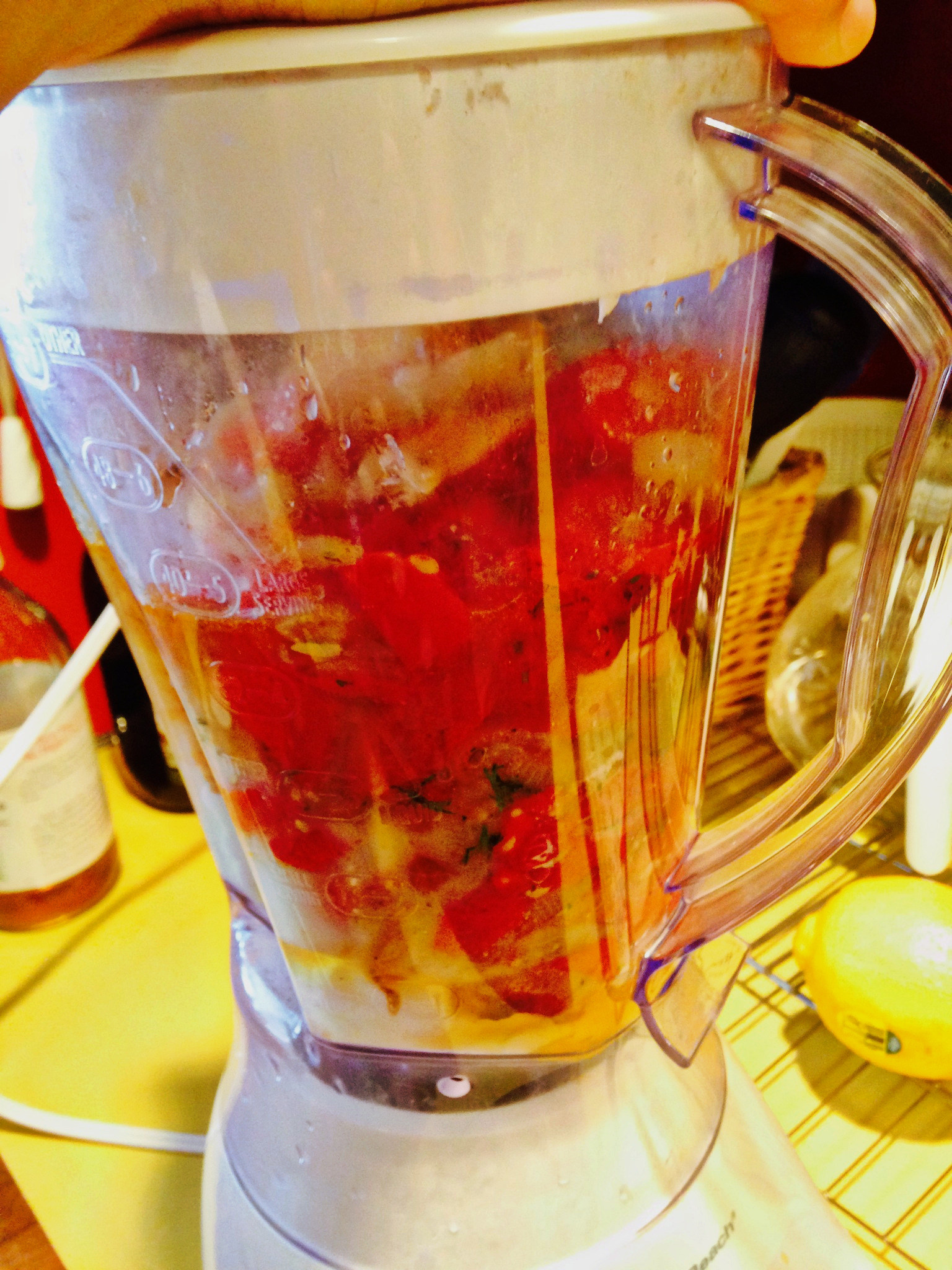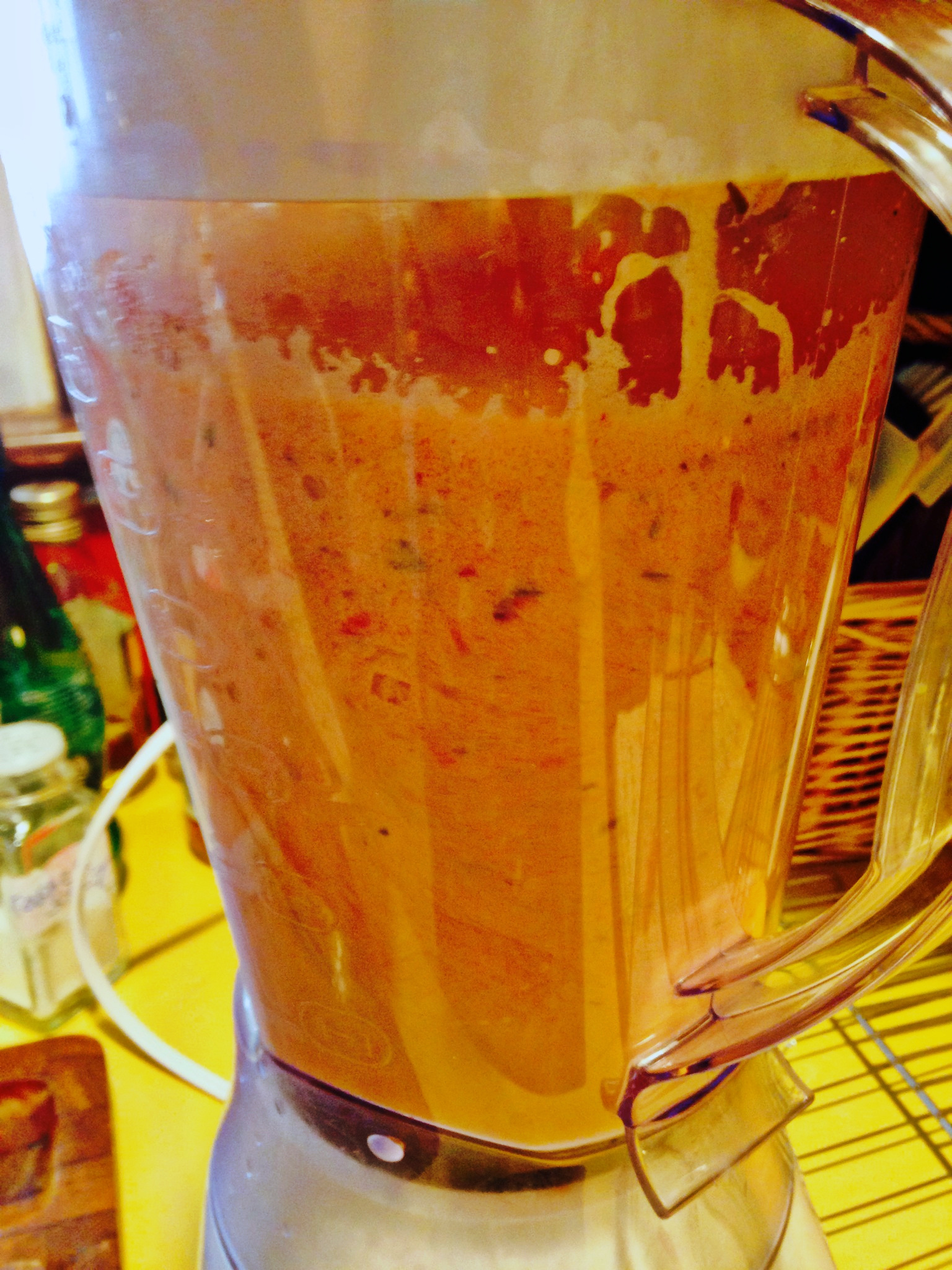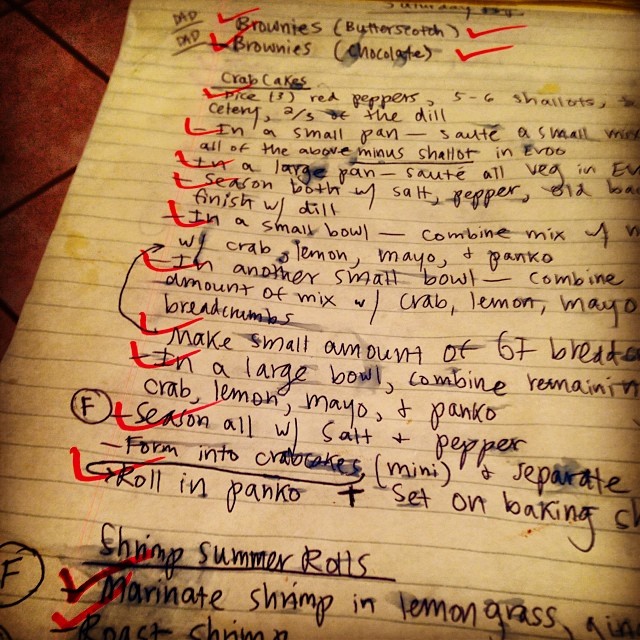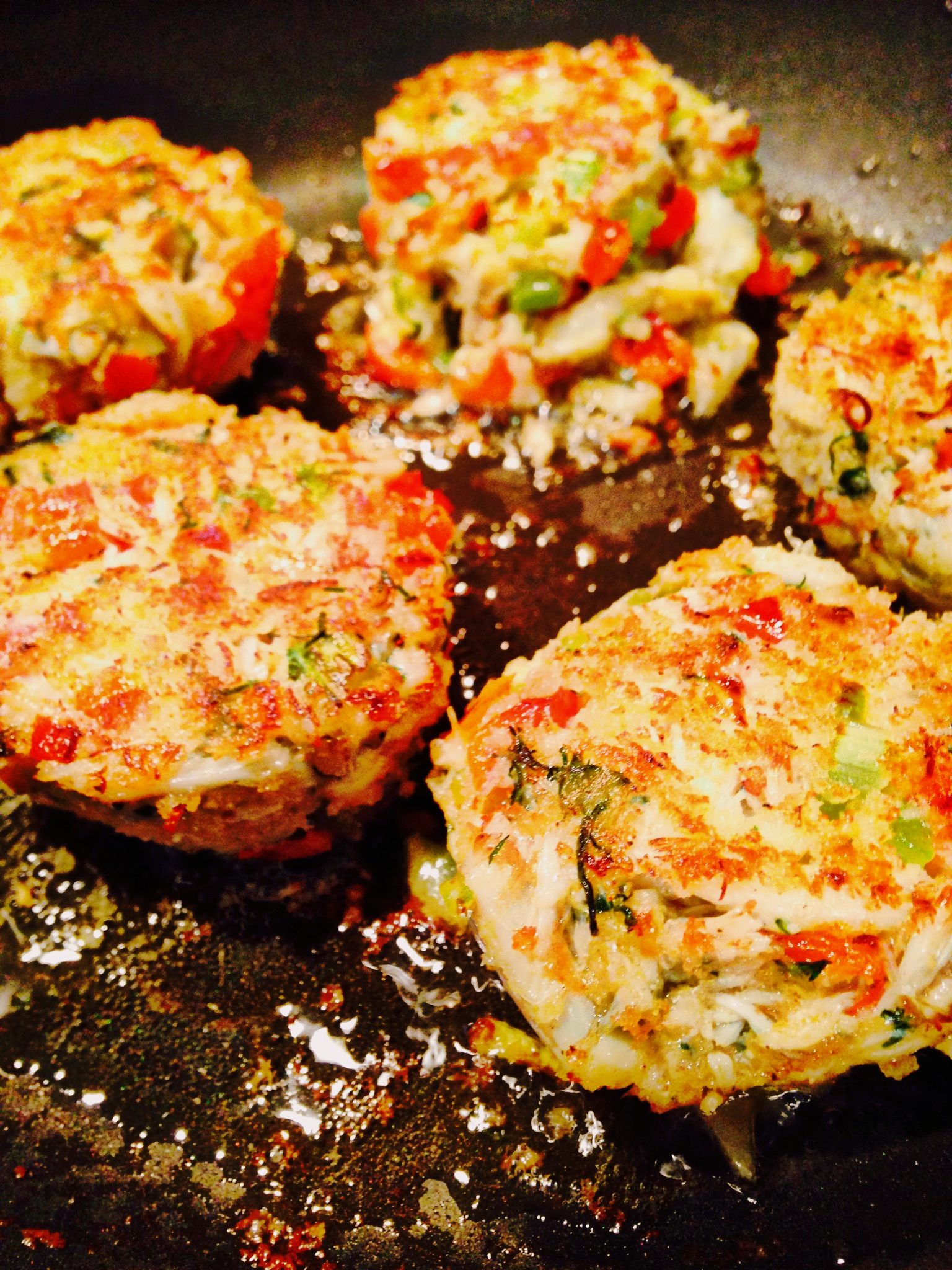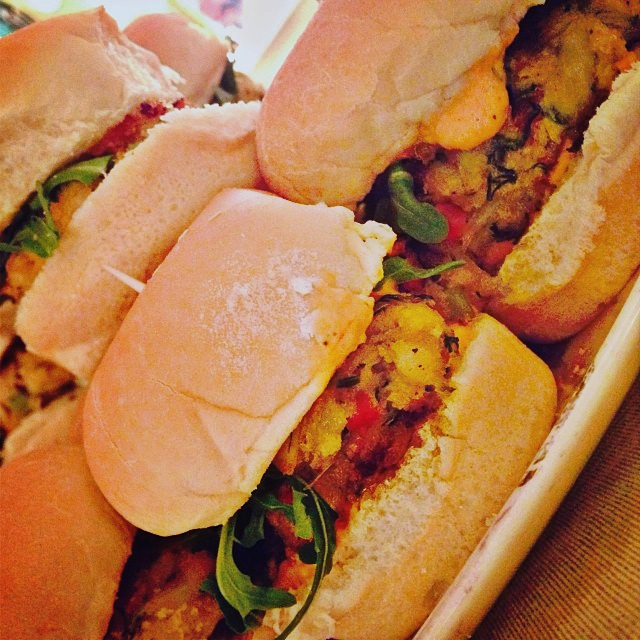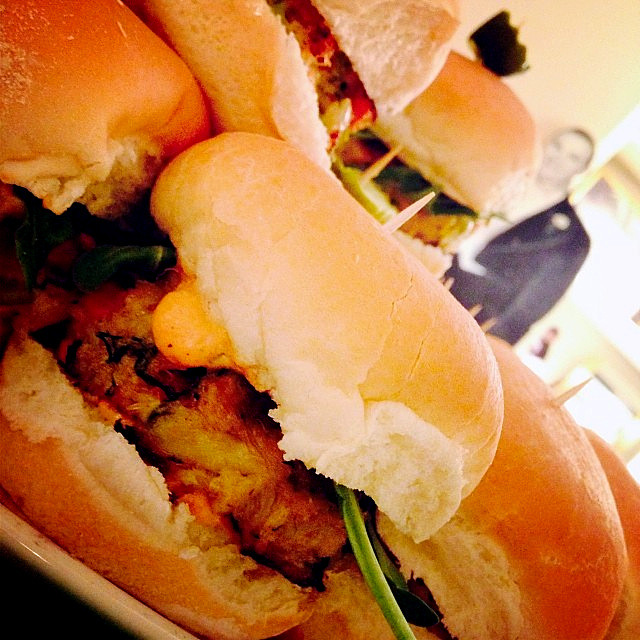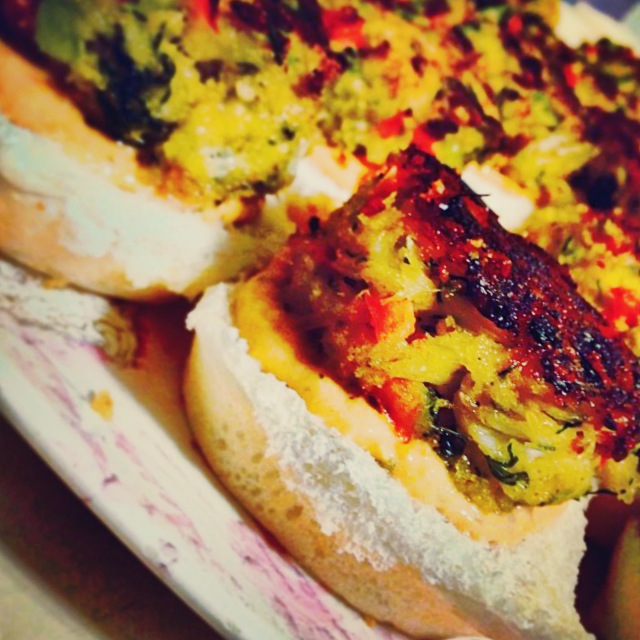 Crab Cake Sliders with Roasted Tomato Aioli
Makes approximately 16-18 sliders 
Mini Crab Cakes
2 tablespoons Olive Oil, plus several more tablespoons for searing the crab cakes
2 medium Shallots or ½ cup Leeks, diced
3 large stalks Celery, diced
1 Red Pepper, diced
1/2 lb. Jumbo Lump Crabmeat
1/2 lb. Claw Crabmeat
1/3 cup fresh chopped Dill
1 tablespoon Old Bay Seasoning
Juice and Zest of 1 Lemon
2 tablespoons Mayo
¼ cup Panko bread crumbs plus 1 additional cup for coating the crab cakes
Salt and Pepper
Make the crab cakes first so they have time to firm up in the refrigerator before you cook them.
Heat 2 tablespoons olive oil in a frying pan over medium heat. Add the shallots (or leeks), celery, and red pepper and season with salt and pepper. Cook for 5 to 7 minutes until veggies become softened. Let cool and then put veggie mixture into a large bowl. Fold in the crabmeat, panko, mayonnaise, lemon juice and zest, Old Bay, and fresh dill. Season to taste with salt and pepper. Shape the mixture into 16 equal size mini crab cakes and roll each one in more panko. Put them on a plate, cover with saran wrap, and refrigerate for at least an hour.
To cook crab cakes, heat a tablespoon at a time of olive oil in a large sauté pan over medium heat. Add the crab cakes and cook for about 2-3 minutes per side until golden brown. Keep warm in a 250 degree oven.
Roasted Tomato Aioli
Makes approximately 1 cup of aioli
2 large Tomatoes (any variety), rough chopped
1 medium Shallot, rough chopped
2 small garlic cloves, whole
1 tablespoon Olive Oil
½ cup Mayo
½ cup Plain Greek Yogurt
2 tablespoons Lime Juice
1 tablespoon fresh Dill
Salt and Pepper
Preheat oven to 400. Toss tomatoes, shallot, and garlic cloves with 1 tablespoon olive oil and season with salt and pepper. Roast for 15-20 minutes, or until garlic cloves are lightly golden and tomatoes are broken down. Let cool to room temperature. In a blender or food processor, combine roasted tomatoes, shallots, and garlic with the mayo, Greek yogurt, lime juice, and fresh dill. Pulse until blended and smooth and season with salt and pepper. Refrigerate for at least an hour.
Assembly: Slice 16-18 mini sweet Hawaiian rolls in half to make slider buns.  Top each bottom half with 1 teaspoon aioli, 1 crab cake, 1 more teaspoon aioli, and a pinch of arugula.
For the gluten free version of these crab cakes: Pulse gluten free crackers in a food processor to make breadcrumbs and use those as a substitute for the panko.  Skip the Hawaiian rolls and serve the crab cakes on a bed of arugula topped with 1 teaspoon of aioli each and a lemon wedge.