T-minus one week until the greatest day of the year.
I cannot get enough of Thanksgiving. I love it so much that Walter Magazine let me write a story called Turkey Touchdowns. In honor of my very favorite holiday being right around the corner, over the next week I'll be sharing all three of my family's recipes from that article. Bring these to your Turkey Day table along with a good bottle of wine and stretchy pants and you'll be the star of the show.
---
First up: Filo Baked Brie with Orange-and-Lavender Cranberry Relish.
---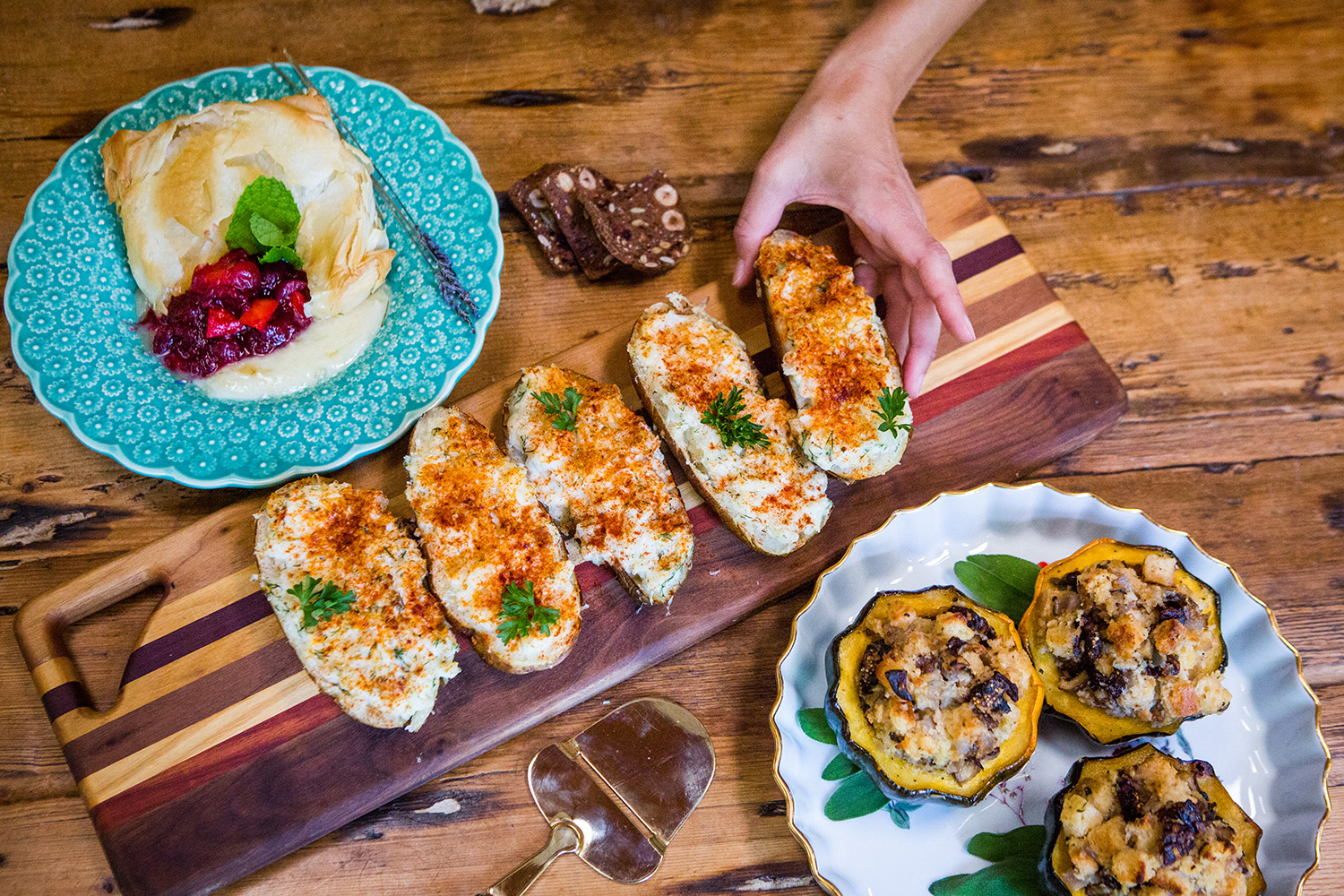 My dad and I like to switch up our menu every year, but one of the dishes we rarely switch up is the cranberries. Our recipe is fresh and simple. Cranberries, sugar, water, a whole orange, vanilla, and a pinch of salt. I like to add a little lavender too because well, you know. This recipe transforms our magical cranberry sauce into a topping for a crispy, flaky filo-wrapped brie. Since the cranberries are made in a snap (and can be prepared the day before Thanksgiving), this oozy starter is the perfect dish to set out while everyone is waiting for the turkey to cook.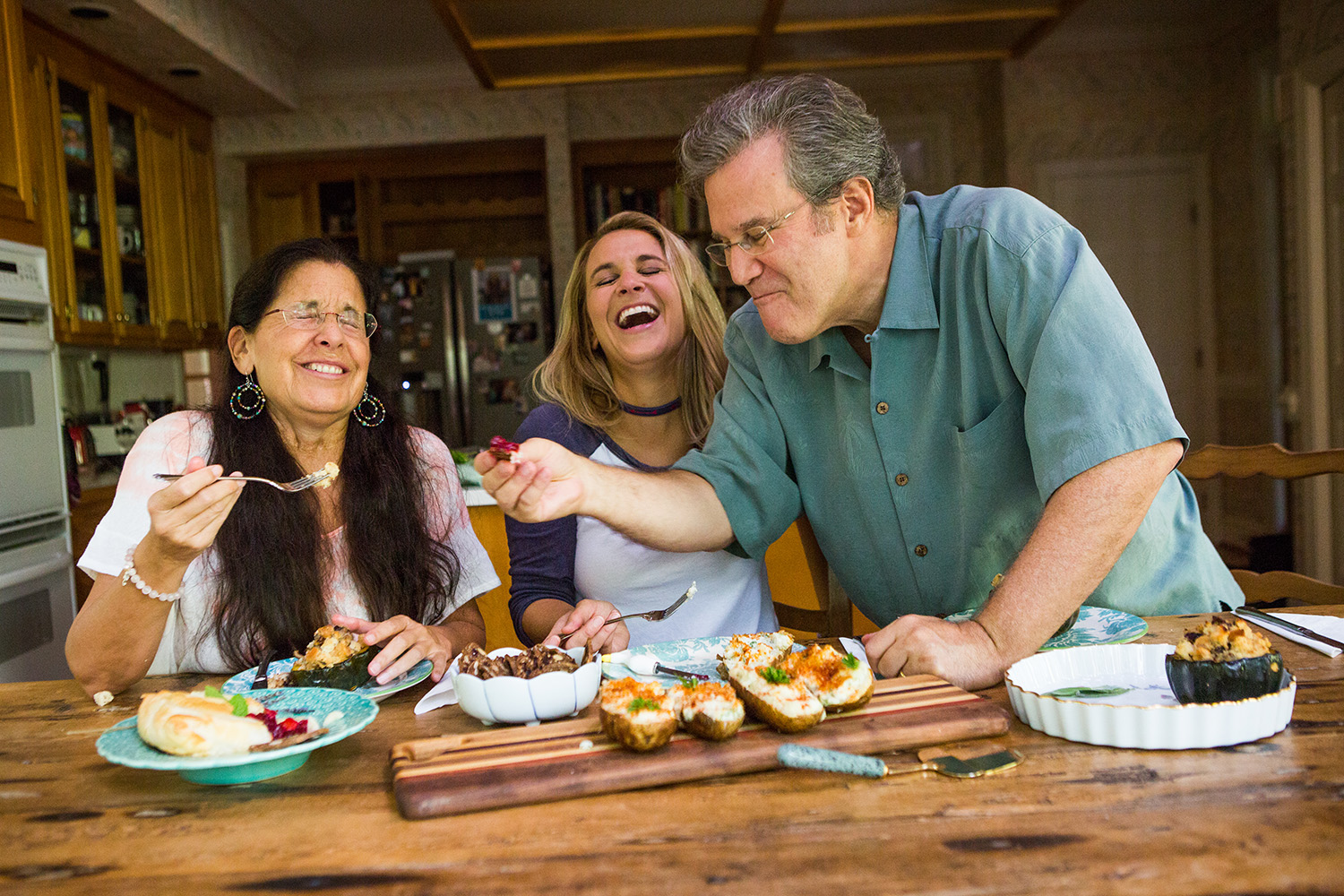 For another cheese + cranberry recipe that will up your appetizer game, check out my Fanny in the Kitchen segment that airs tomorrow (Friday 11/18) in Wilmington at 5:45 AM and 5:45 PM on WWAY. Click HERE to tune in live, and HERE to view all of my cooking segments. And tune in the day after Thanksgiving (Friday 11/25) to see how I transform turkey and potato leftovers into a breakfast you'll definitely say thanks for.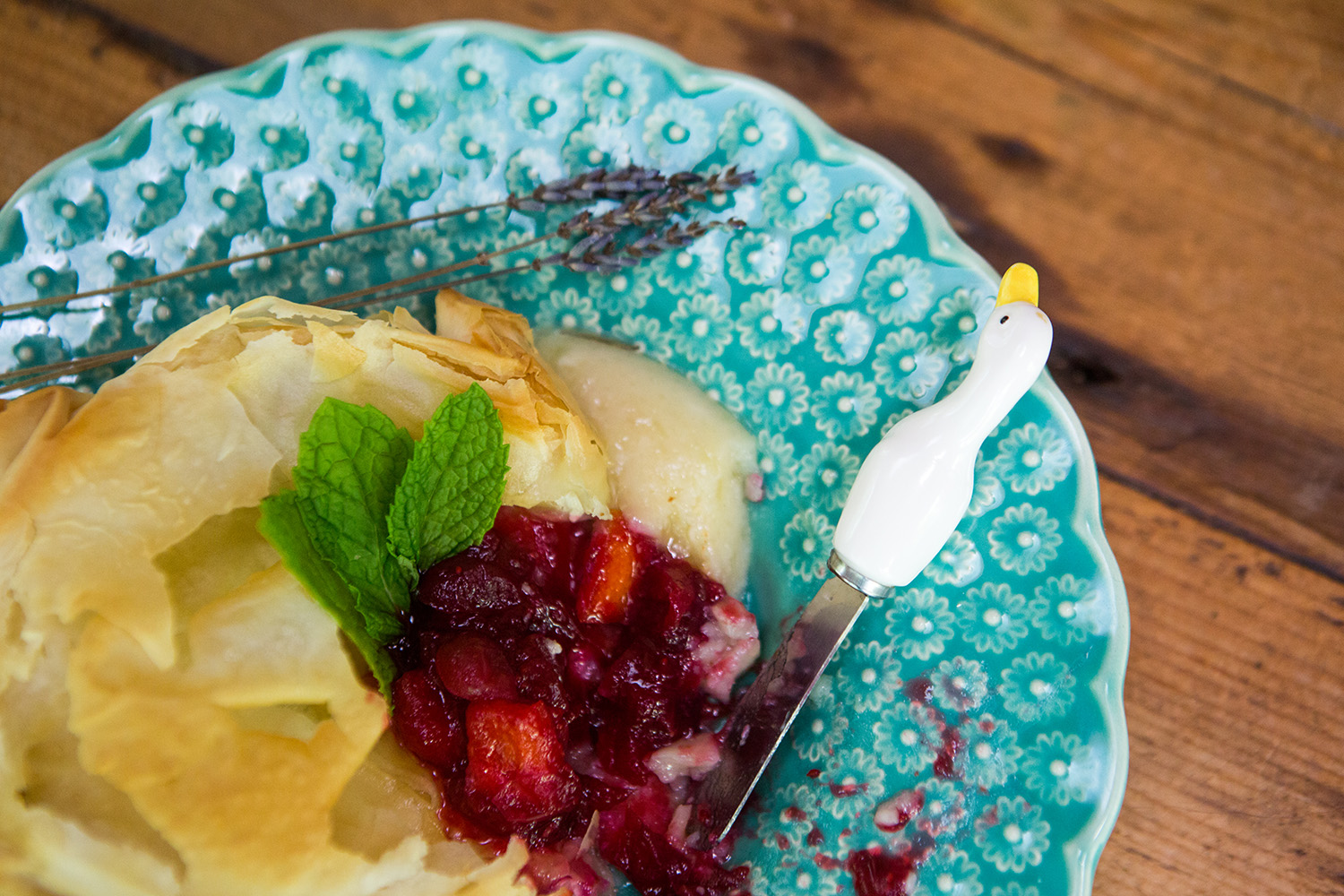 Filo Baked Brie with Orange-and-Lavender Cranberry Relish
Serves 4 to 6 (with leftover cranberry relish)
1/2 cup sugar
1 cup water
1 12-ounce package fresh cranberries
1/2 navel orange, skin and flesh roughly chopped
2 teaspoons chopped fresh lavender (or 1/2 teaspoon dried lavender)
1 teaspoon pure vanilla extract
Kosher salt
3 sheets frozen filo pastry (18×14 inch), thawed
1/2 stick unsalted butter, melted, for brushing
1 round good-quality Brie cheese, paper removed but rind left intact
Lavender flowers, for garnish (may substitute mint leaves)
Crackers, for serving
In a medium saucepot over high heat, add the sugar, water, cranberries, orange, lavender, vanilla, and a pinch of salt. Bring the mixture to a boil, reduce the heat to medium, and cook (stirring occasionally) until the cranberries break down, about 10 minutes. Cool to room temperature.
Preheat the oven to 400 degrees F.
Unroll the filo dough and lay one sheet onto your work surface. Lightly brush the edges with some of the melted butter. Place another sheet of filo on top and brush the edges of that one with butter. Place the final sheet of filo over the first two sheets, brush the edges with butter, and place the brie in the center. Wrap the dough around the cheese (trimming off any excess dough if necessary), and flip the Brie over so it's folded-side down. Brush the smooth top of the filo-wrapped Brie with butter, and place it on a lined baking sheet. Bake until lightly golden brown, 15 to 20 minutes.
Allow the Brie to rest for at least 5 minutes before cutting into it. Just before serving, top it with the cranberry relish, lavender flowers (or mint), and serve with crackers.