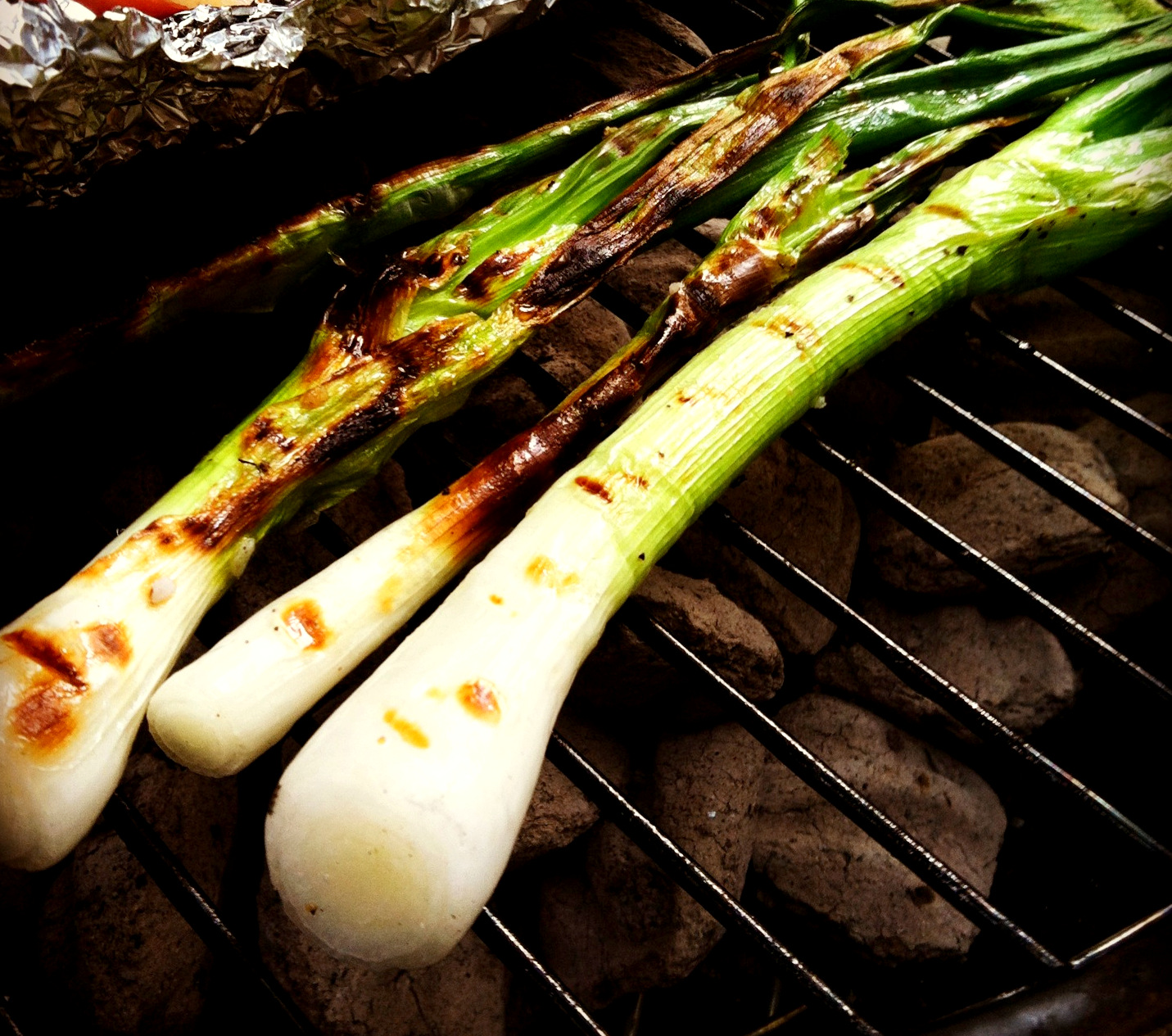 When I was eight years old, I asked my dad how the vacuum cleaner worked.
Without a moment of hesitation he looked down at me and replied, "The same way the light switches work.  Magic."
It's almost twenty years later and I still believe that my dad has all of the answers to life's secrets.  However, he forgot to mention that there are not just two, but three items that materialize through magic.  The third of course–is pesto.
Traditionally, pesto consists of basil, pine nuts, parmesan, and garlic.  It's then transformed from an herby mess to a luscious and velvety sauce.  This process happens through magic.  It also occurs when olive oil streams into the mixture and emulsifies the ingredients.  The variations of pesto are limitless, and ever since a large Cuisinart box arrived outside of my door last Hanukkah (thanks mom and dad) I've been exploring all of my options.  From pistachios to pumpkin seeds and rosemary to parsley–my food processor has seen its share of green.  This pesto recipe was inspired by a day of outdoor grilling with my boyfriend.
It may not be normal or even acceptable to use your apartment's outdoor walkway as your own personal patio, but hey, a girl's gotta eat.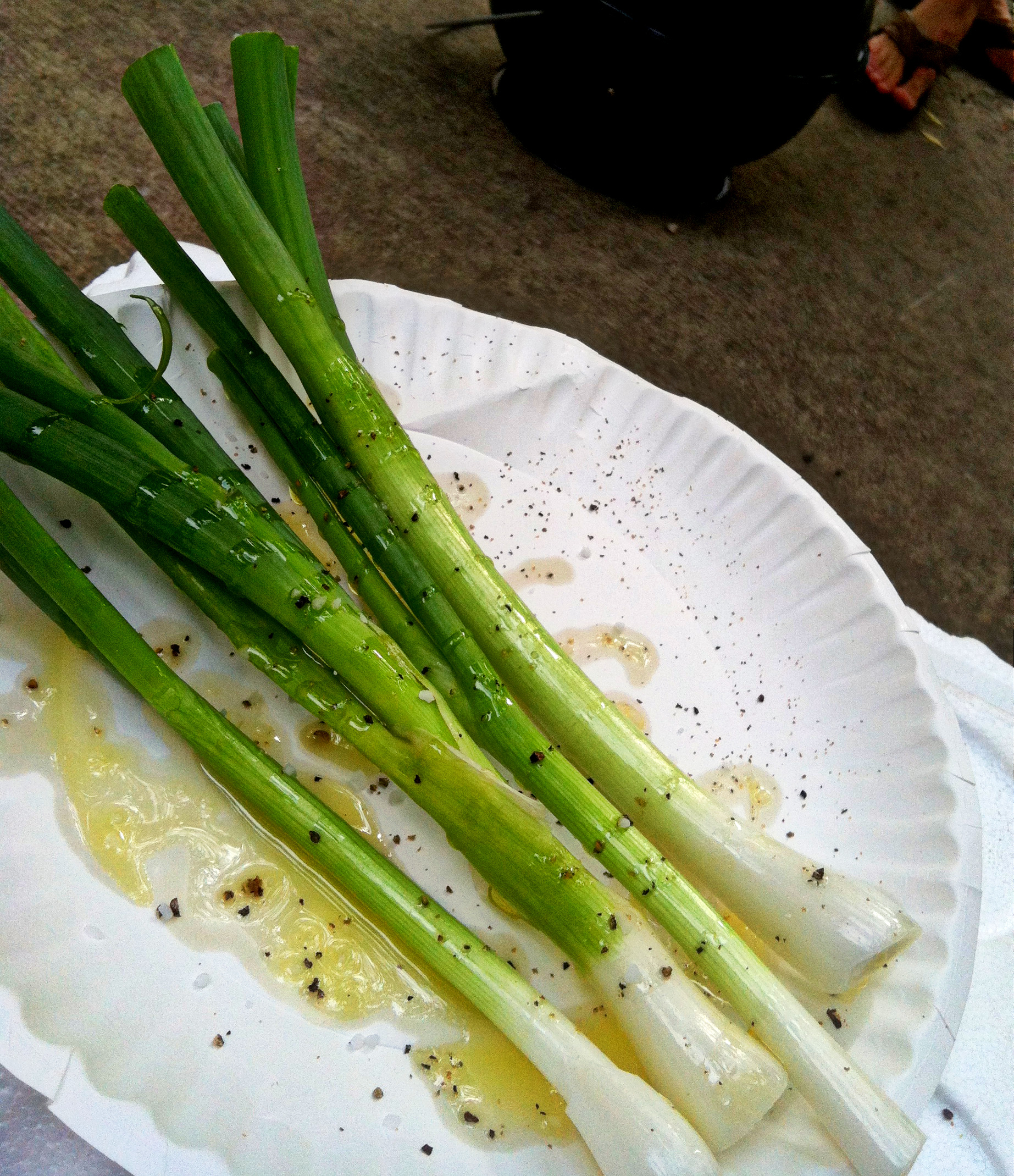 Also, when you live across from a bar where the neighborhood dogs joyously skip in and out of the door, you start to feel bad that your pet can't participate in social activities.
Enter: brilliant solution.
*See window*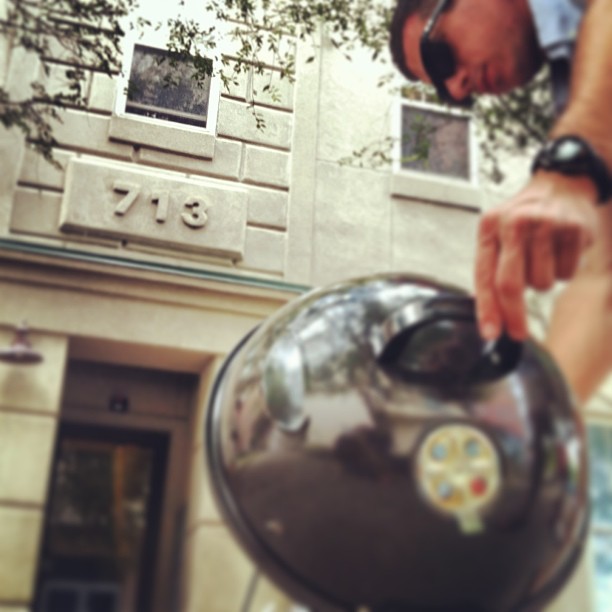 In an attempt to simplify the toppings for our gourmet gouda-stuffed burgers, we opted for ingredients that would be easy to handle–and gorgeous local spring onions from the Farmer's Market happened to catch our eye.  A little olive oil, salt, pepper, and some heat would give these oniony scallions the caramelized crunch we needed.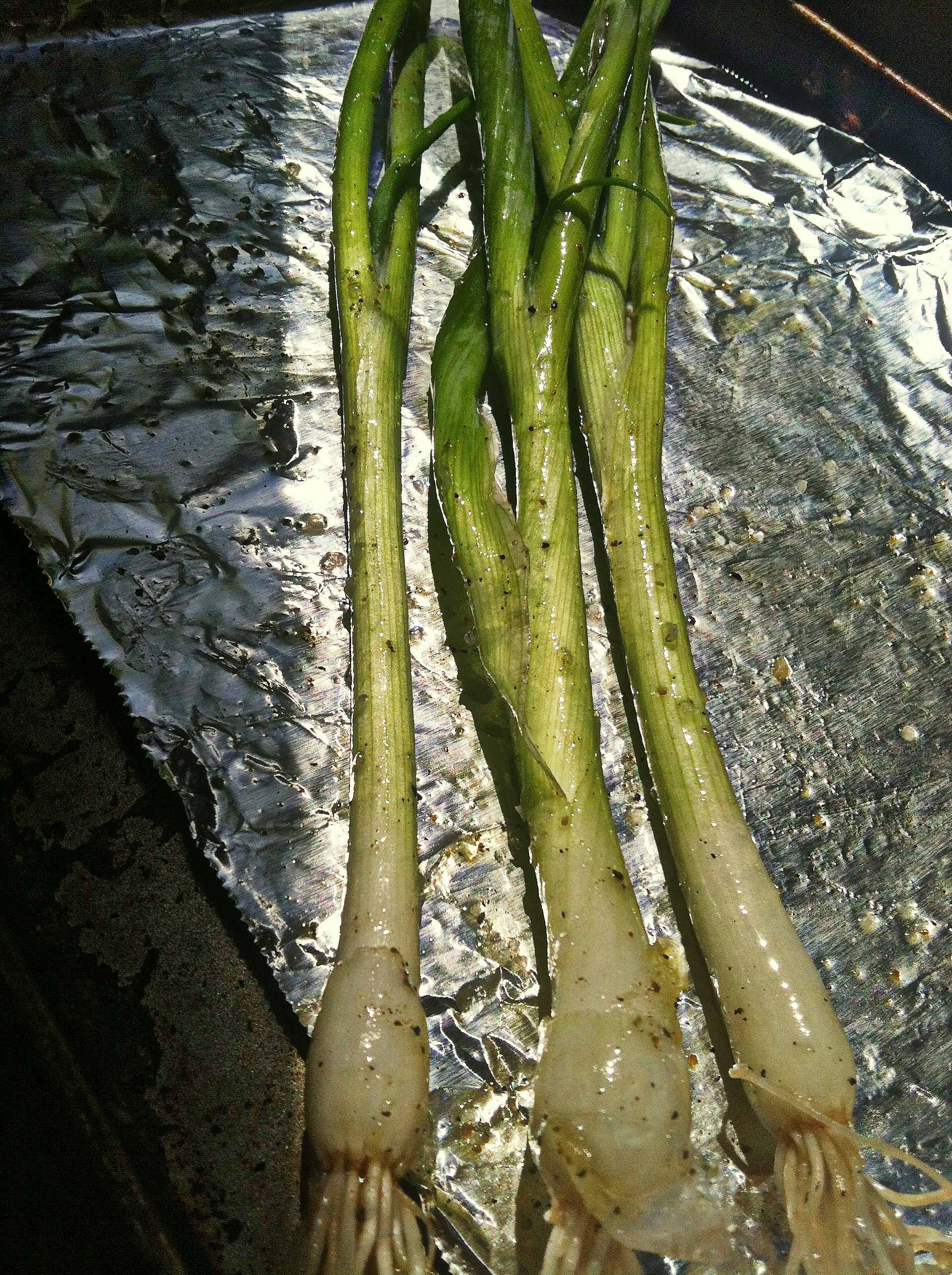 As the sweet, rich smell of charred onions lingered in the air–an idea popped into my head.
And just like magic, Grilled Scallion Pesto was born.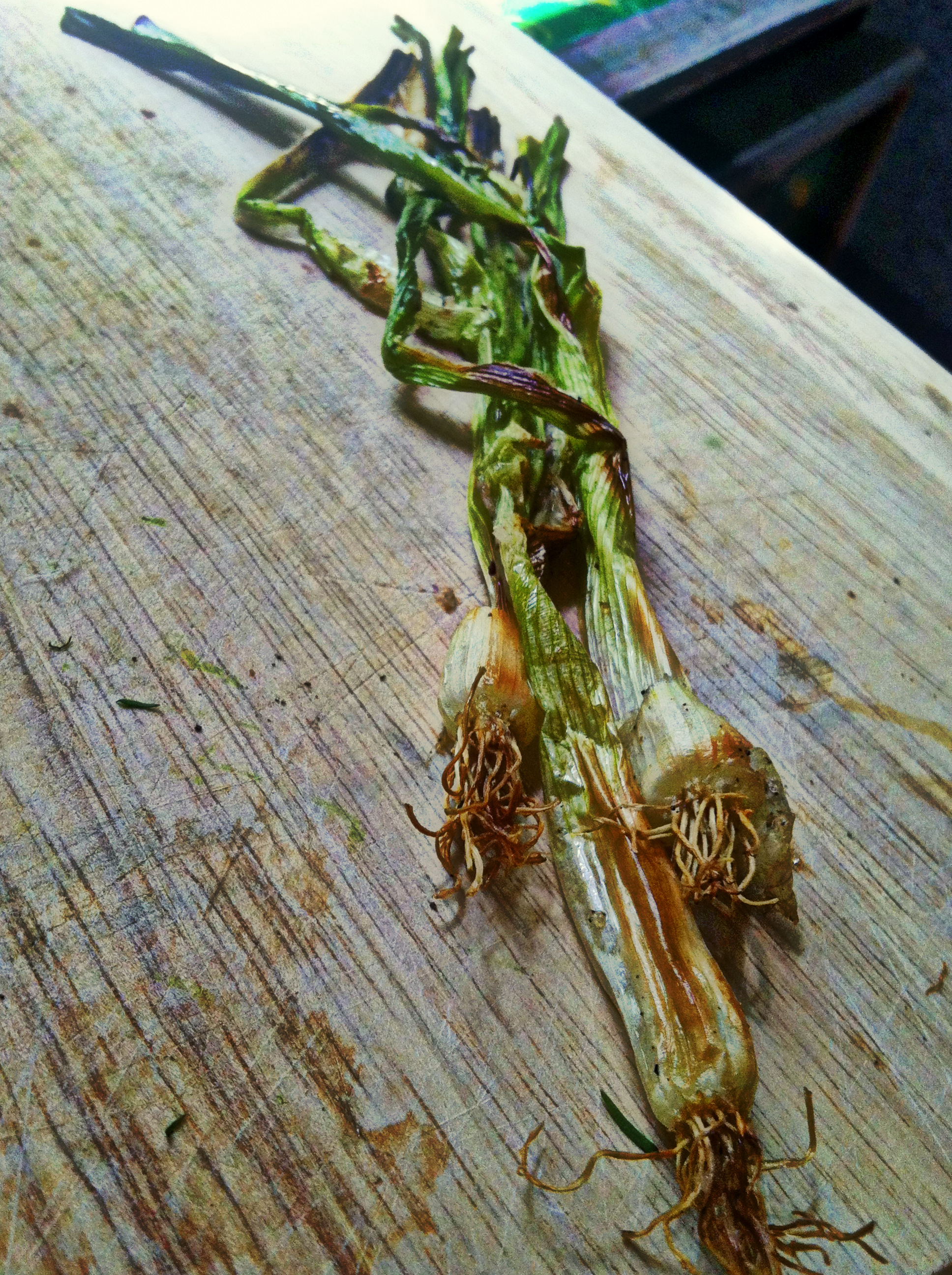 I know what you're thinking.  "Sounds delicious, but I don't have a grill handy to just light up some scallions whenever I feel like it."  Hey, that makes two of us.  Although the grill adds a smoky flavor, the scallions simply just need to be caramelized–which can be accomplished by popping them under the broiler (see above picture).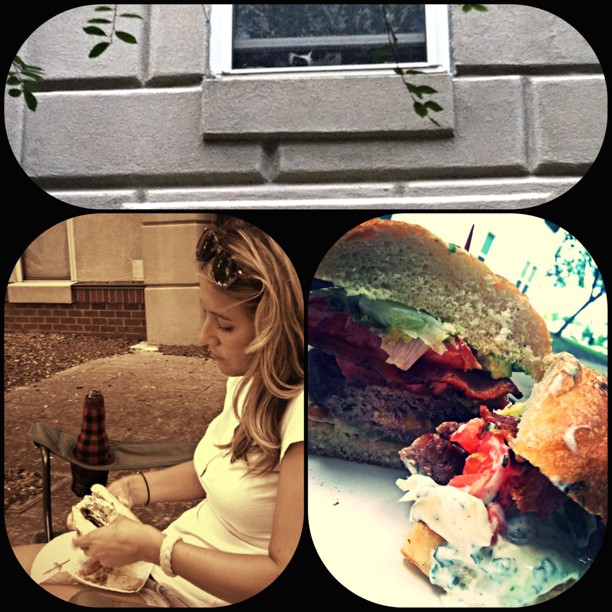 *Full recipe at the bottom.*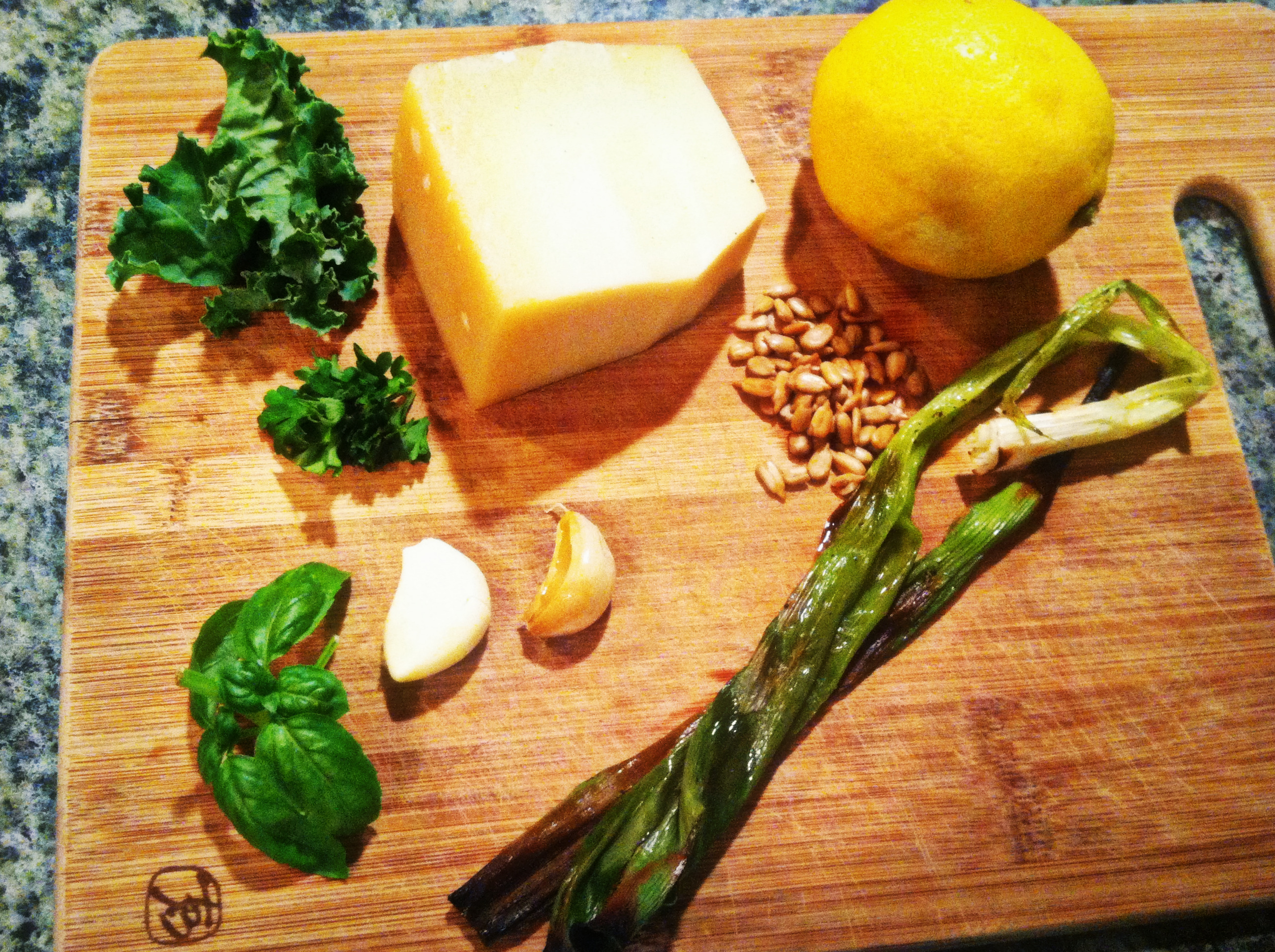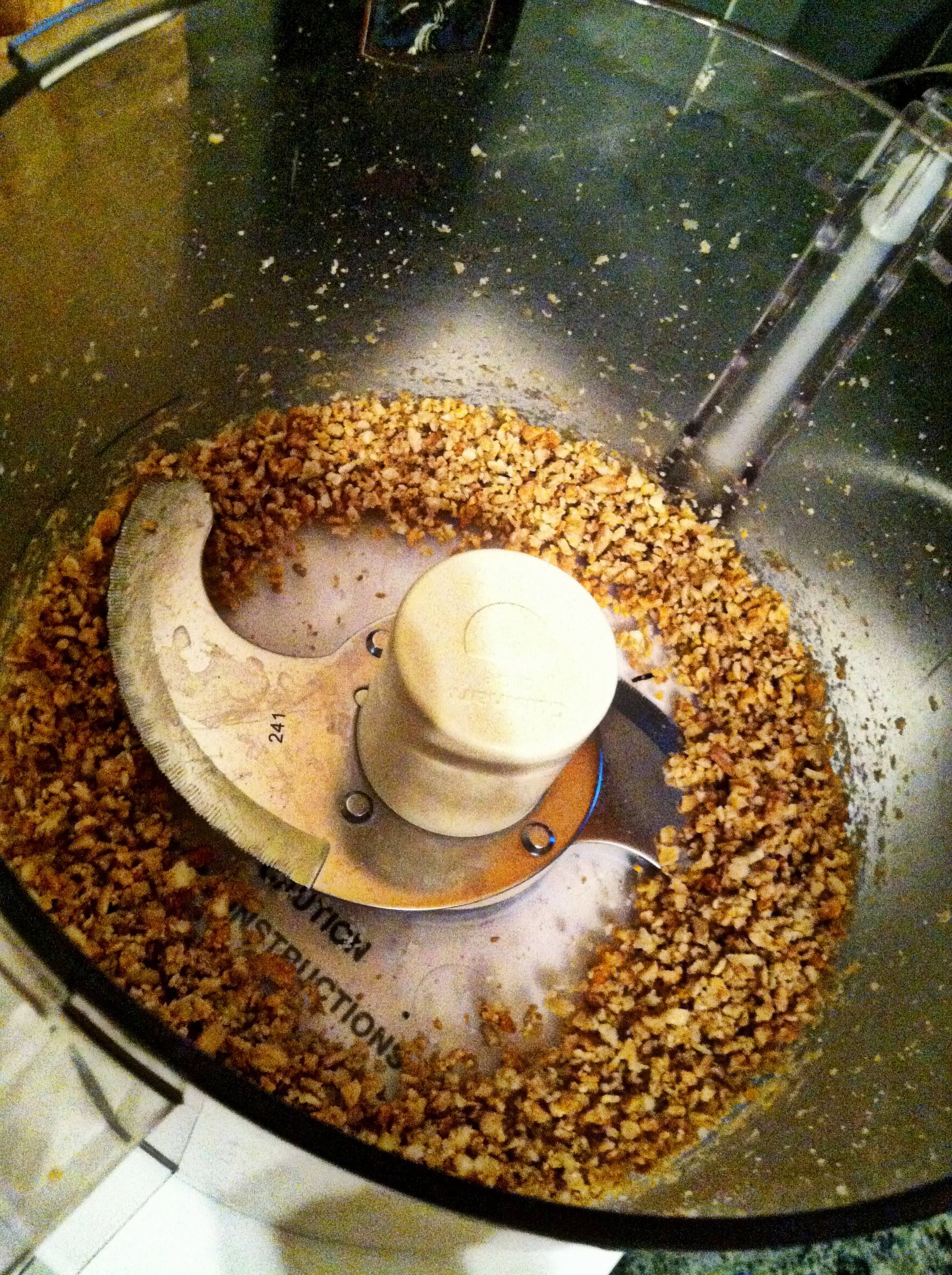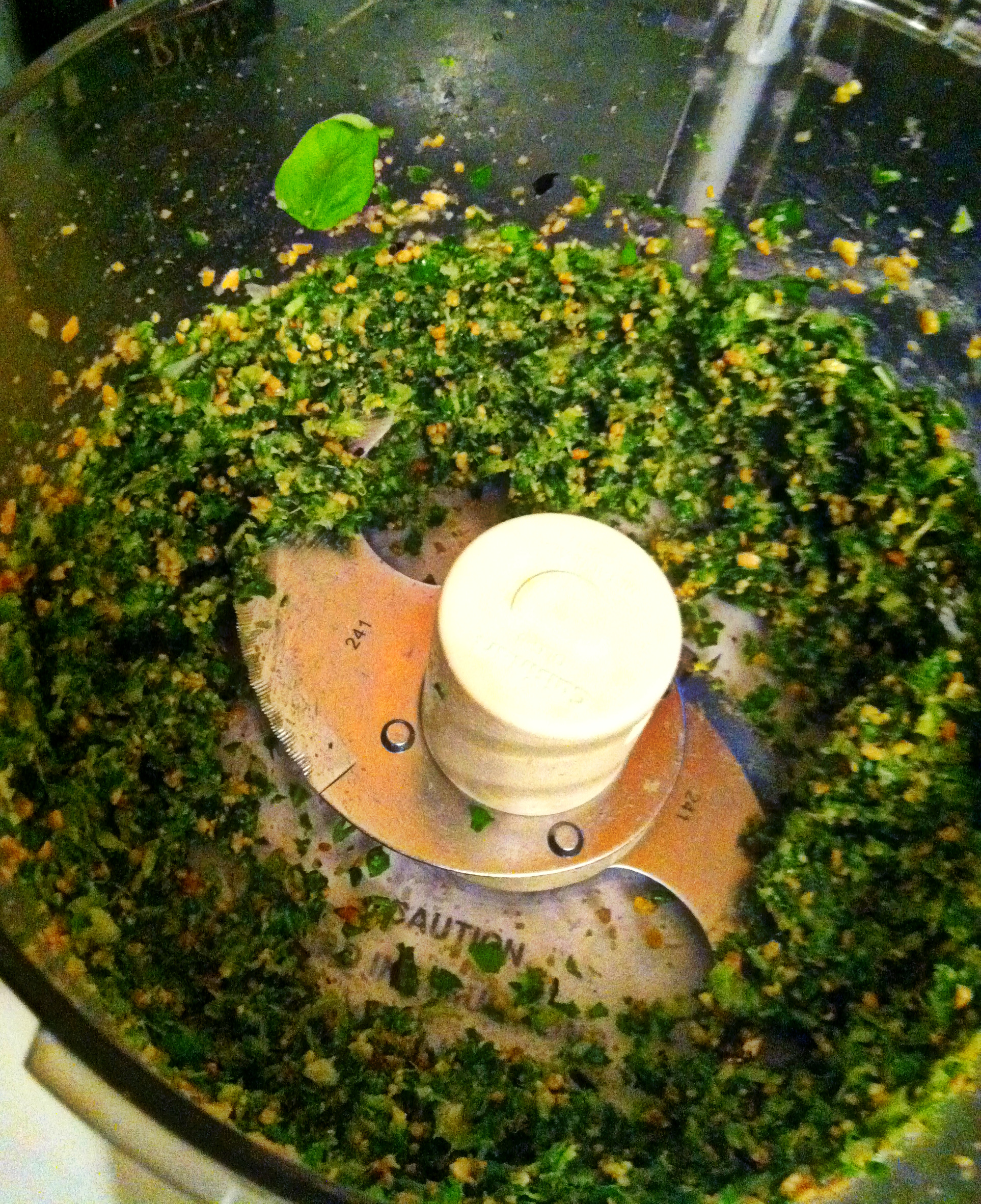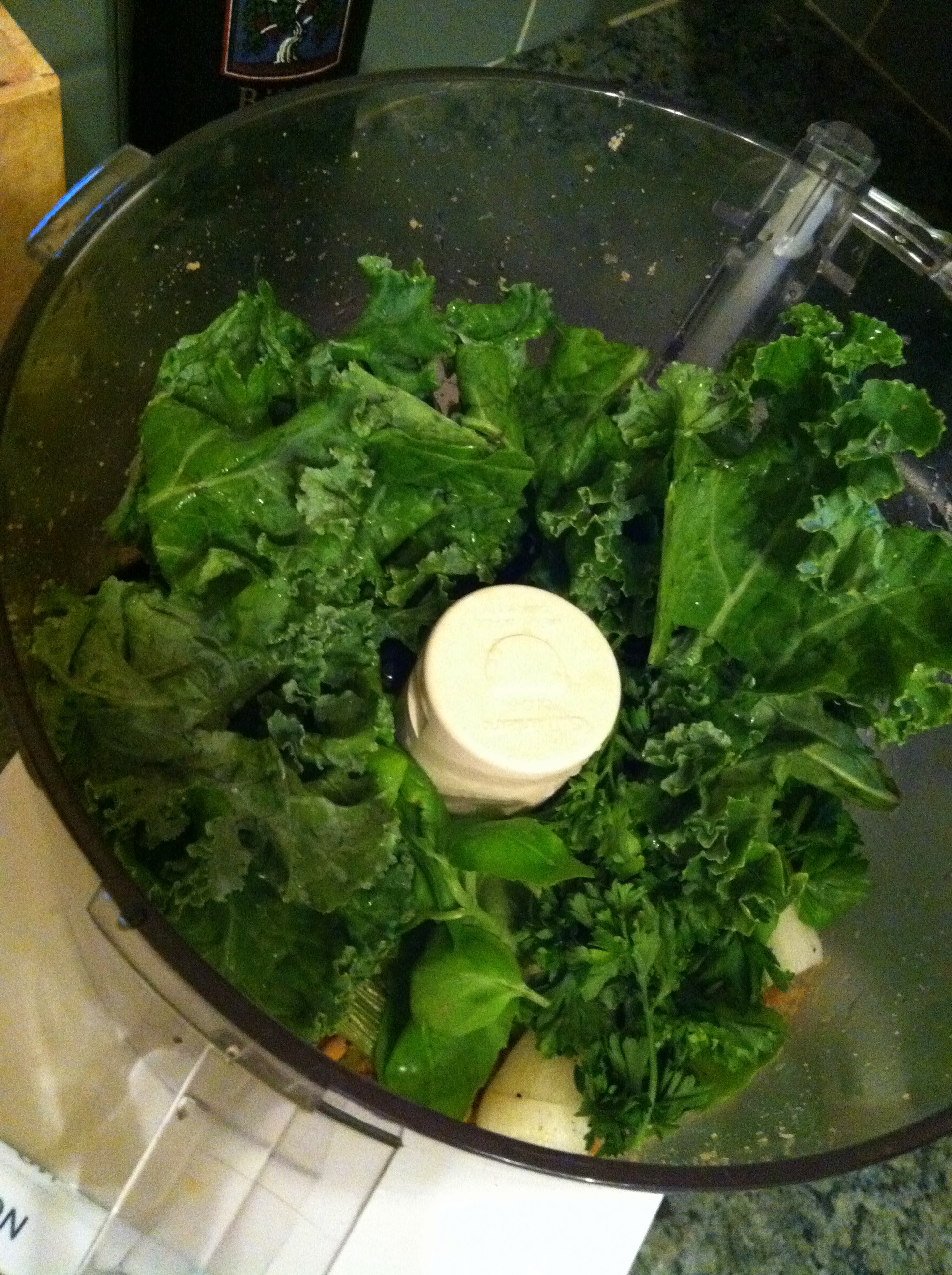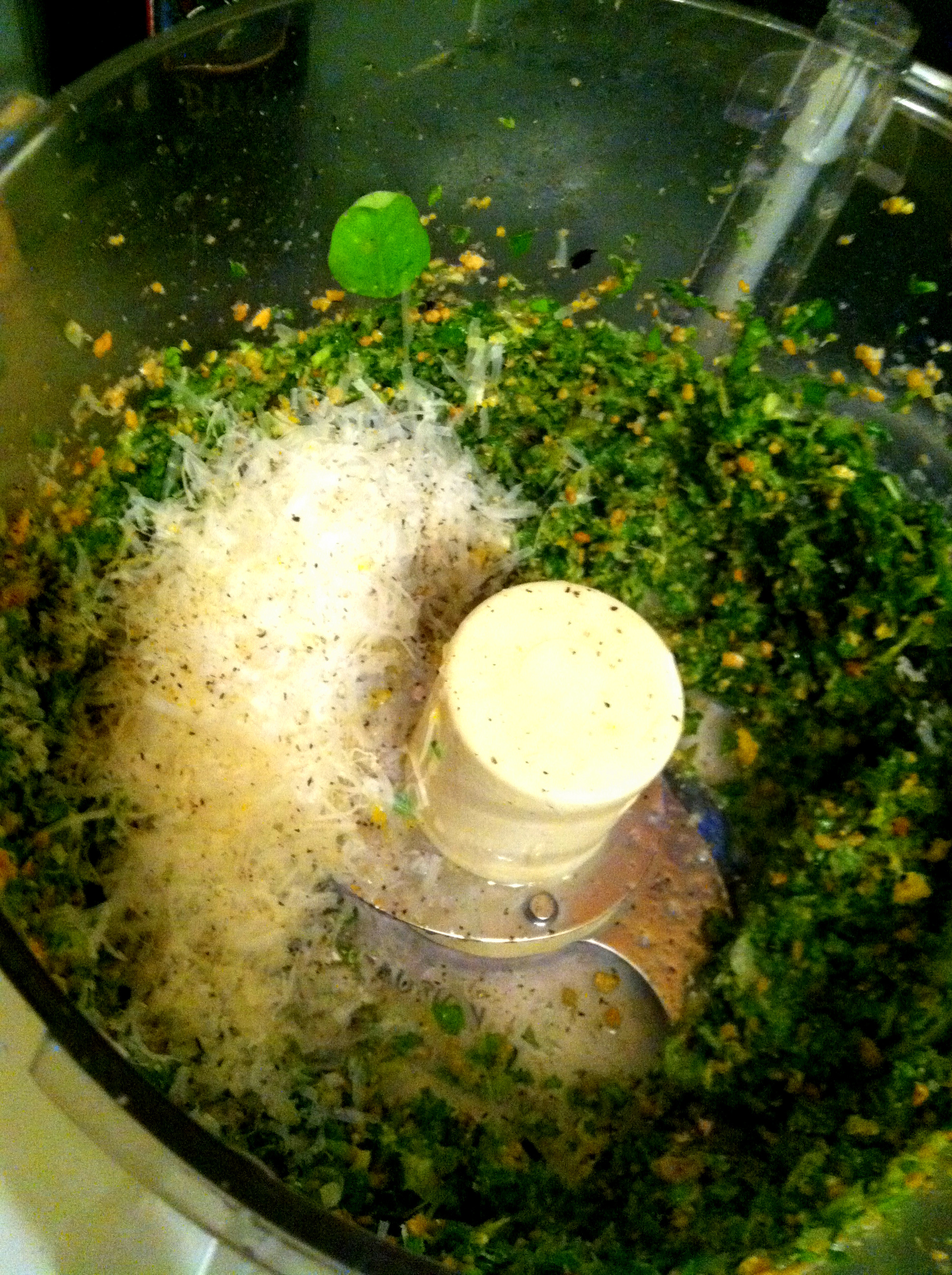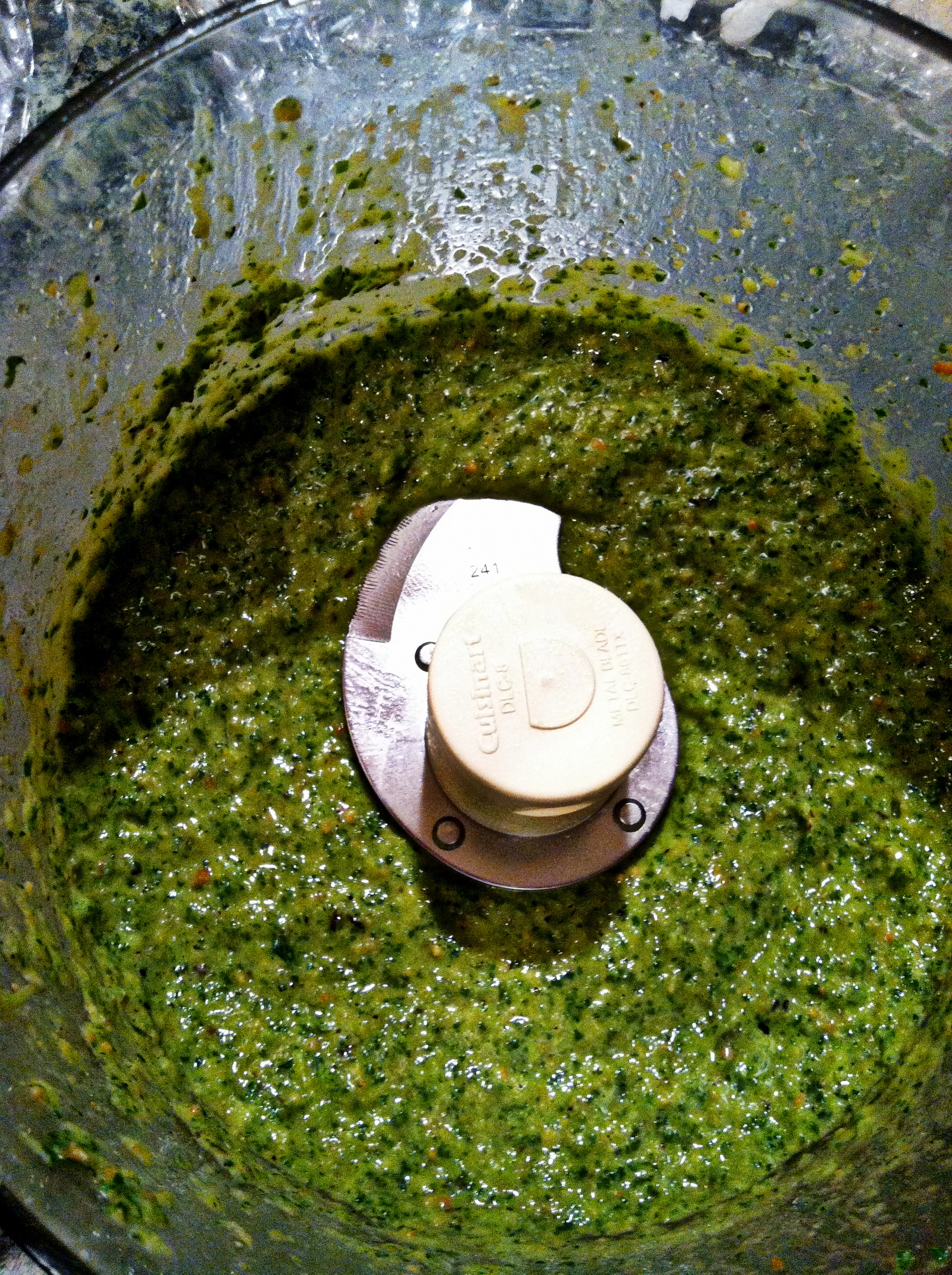 Grilled Scallion Pesto with Roasted Garlic and Lemon
Makes approximately 1-1.5 cups Pesto
Ingredients
Magic
1 cup Fresh Basil Leaves
1/2 cup Dino or Lacinato Kale
1/2 cup Parsley
2 Small Bunches Scallions 
1/3 cup Toasted Sunflower Seeds
1 Small Clove Roasted Garlic
1 Small Clove Raw Garlic
Kosher salt
Black Pepper
Juice of 2 small lemons + 2 teaspoons zest
1/4 cup Parmesan Cheese
1/2 – 1/3 Cup Extra Virgin Olive Oil
Roasted Garlic: You only need one clove for this recipe, but if you roast the whole head you can store it in the fridge and use the extra it for sauces, garlic bread, etc.  Preheat the oven to 4o0.  Peel away the outer paper-like layers of the garlic bulb skin, leaving the skins of the individual cloves intact.  Cut off 1/4 to 1/2 an inch of the top of the cloves–exposing the individual cloves of garlic.  Drizzle entire garlic head with olive oil and wrap in foil.  Bake for 30-35 minutes until golden brown and knife tender.
Caramelized Scallions: Wash and dry scallions.  Drizzle with olive oil, salt, and pepper and either grill or broil (on high) until stalks are golden and crisp-tender.  Cut off bulbs and the very tops of the scallion's green leaves.
1. Toast sunflower seeds in 300 degree oven for 5-7 minutes (keep an eye on them–you don't want them dark brown, you just want to smell that they're toasted)
2. In a food processor, combine 1 roasted garlic clove, 1 raw garlic clove, toasted sunflower seeds, and 1 teaspoon kosher salt. Pulse a few times until the seeds are broken down.
3. Add basil, kale, parsley, scallions, lemon juice and zest, and Parmesan cheese.
4. Pulse until the mixture is combined and then stream olive oil in (with the machine still running). You may need anywhere from 1/2 to 1/3 cup or more of olive oil. You don't want the pesto to be watery, but you want it to be smooth and velvety..
5. Season to taste with salt, pepper, lemon, and honey.
Note: Toss with angel hair and shrimp to bring magic to life.