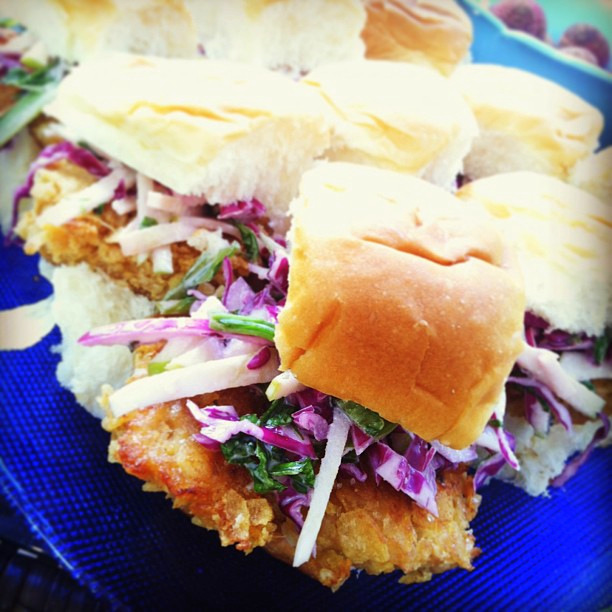 The title of these sliders is a mouthful.  And so were they.
As most of you know, this is not just a food blog.  This is an ongoing tale about life and learning and growing and experiencing new things.  For the past two weeks I've been in Hawaii with my family.  My sister has lived there for ten years and this trip marked my 9th visit in a row.  Each year as my mom, dad, and I soar across the map to our island destination–we know exactly what greets us on the other side.
Hugs.  Homemade breakfasts.  Fruity mid-afternoon cocktails.  Daily trips to beaches where the water is so clear you can see all the way down to your toes.  Sushi that comes in butter sauce.  Skinny fries from the North Shore.  Wine.  Coconut everything.
Although my family savors these once-a-year treats, we try to not plan every moment–as life itself is unplanned.
My unplanned moment happened over pizza.
As the four of us sat outside an eclectic and modern Italian-style restaurant oddly misplaced in a strip mall shopping center, we drank Apothic Red wine–a popular California blend with intense fruit aromas and flavors of rhubarb, black cherry, and mocha.  I sipped from my glass and studied my surroundings.  I became lost in my thoughts and drifted far away from the table.  My mind wandered and became consumed with the recent anxiety I had been experiencing.
The kind of anxiety that makes you short of breath and out of touch with reality.
Have you ever felt that?  You're not alone.
The voices around me had been completely drowned out and replaced with a muffled hum when suddenly, as clear as the sky my eyes were staring through–a sound broke through.
"Here's to Life."
The woman at the table beside us had raised a glass to her family and spoke these words.  Like glass shattering all around me I was shaken out of my trance and spun back into the present moment.  It felt as if I had resumed consciousness.  Sights and sounds regained their full exposure.  I felt my fingers around the warm glass and heard my sister laughing about something my dad had just said.
It was this moment. 
This moment that three simple words, if only for this very moment, reminded me of how great it is to live life.
Then I ate this pizza.
It was this moment that reminded me to marvel in every moment of my existence–whether it was a ten minute nap with our vacation puppy or the world's messiest falafel sandwich that I ate on the beach in my bathing suit.
These sliders are a tribute to those extraordinary moments where everything is playful and colorful and bursting with life.  They are also insanely delicious and represent the beauty of Hawaii to a T.  I used ingredients that are characteristic of this tropical paradise–Sweet Maui Onion Potato Chips and POG (Passion Fruit Orange Guava Juice)–but have provided substitutions so that these are "Mainland" friendly.
Sweet Maui Onion Potato Chip Crusted "Fried" Chicken Sliders with Passion Fruit Orange Guava Slaw
*Makes 12 sliders for 12 sweet Hawaiian rolls*
Passion Fruit Orange Guava (POG) Slaw with Bokchoy and Green Apples
Ingredients: 2 large Granny Smith Apples, 1 head Bokchoy, 1 small red Cabbage, 2 cups Plain Greek Yogurt, 2 Tablespoons Dijon Mustard, 1 tablespoon Apple Cider Vinegar, 2 Tablespoons Honey (plus more to taste), 1/2 cup POG (made by Bolthouse Farms OR substitute: juice from 2-3 fresh squeezed oranges), Salt and Pepper to Taste
Cut apples into matchsticks
Slice cabbage into shreds
Slice the bottom of the stalk off of bokchoy.  Slice the remaining pieces of the stalk into strips.  Roll the leaves up together and run your knife along the rolled up bunch horizontally–turning the leaves into a series of strips
Put all vegetables into a large bowl and set aside
In a medium size bowl whisk together all remaining ingredients and season to taste with salt, pepper, and additional honey if needed.  *Note: This will be more like a creamy vinaigrette rather than a thick traditional coleslaw dressing*
Start by pouring half of yogurt vinaigrette on veggies and mix together well with hands.  Keep adding until mixture is thoroughly combined but not overly saturated
Let this sit for at least 3 hours, or best–overnight
Potato Chip-Crusted "Fried" Chicken
Ingredients: 6 6 oz. Boneless Skinless Chicken Breasts, 1 1/4 cup All Purpose Flour, 1/2 cup Milk or Half and Half, 2 eggs, 1 tablespoon Dijon Mustard, 2 8 oz. bags Kettle Style Onion Flavored Chips (any brand), Salt and Pepper
Preheat oven to 375
Line 1-2 baking sheets with foil and mist with non-stick spray
Crush potato chips into "breadcrumbs" using a rolling pin or a food processor
Place 1 cup of flour in medium bowl and season with salt and pepper
In another medium bowl, whisk together milk, eggs, and Dijon and season with salt and pepper
In a large bowl combine the remaining 1/4 cup of flour with the crushed potato chips
Place the above three bowls so that they are in an assembly line from left to right and set foil-lined baking sheet on the end
Butterfly chicken breasts so that you have a total of 12 small, even pieces and season with salt and pepper
Dip 1 chicken breast in first bowl of seasoned flour, shaking off any excess
Next, dip chicken into milk/egg mixture
Last, coat chicken in the crushed potato chip mixture–pressing to help them adhere
Transfer chicken to baking sheet and repeat until all chicken pieces are crusted
Spray (or drizzle) the chicken with oil
Bake chicken for 15-18 minutes or until golden brown outside and white in the center; *Note: check at 15 minutes as some ovens are hotter than others*
Assembly: Slice all Hawaiian sweet rolls in half (I like the King's brand because 12 come in a pack).  Top rolls with one chip-crusted chicken piece and one heaping spoonful of slaw.  Serve immediately, preferably poolside with other delicious appetizers like my Strawberry and Goat Cheese Bruschetta with Honey-Balsamic Reduction.  Recipe here!