In honor of Taco Tuesday (and the upcoming ex-taco-ganza Cinco de Mayo), you should be armed and ready to roll. Tortillas, that is.
These simple fish tacos get a zip from a zesty Lime Crema (a fancy word for limes + Greek yogurt) and a crunch from vibrant Watermelon Radishes. Top them with my homemade Pineapple Salsa and pair them with a floral, piney Session India Pale Ale such as Founder's All Day or Ballast Point's Even Keel.
---
Mahi Tacos
 with Watermelon Radishes, Pineapple Salsa & Lime Crema
Serves 6
1/4 cup extra-virgin olive oil
1 tbsp honey
2 tsp paprika
1 tsp fresh thyme, chopped
1 tsp fresh oregano, chopped
1 tsp fresh chives, chopped
2 pounds mahi-mahi
Pinch kosher salt and coarse black pepper
1 tbsp neutral oil (such as vegetable, grape seed, sunflower)
1/2 tbsp unsalted butter
12-14 small (6-inch) flour tortillas, warmed just before serving
Juice of 2 limes
1 cup plain Greek yogurt
2 cup finely shredded green cabbage
2 small watermelon radishes, cut into matchsticks
In a small bowl, whisk together the oil, honey, paprika, thyme, oregano and chives. Pour the mixture over the mahi filets and season both sides generously with salt and pepper. Allow to marinate 10 to 15 minutes.
In a large nonstick skillet, heat the neutral oil and butter over medium-high heat. Add the fish and sear for three minutes on the first side and two minutes on the second. If the fillets are very thick, cover the pan with a lid, reduce the heat to low, and cook until the center of the fish is opaque. Remove the pan from the heat, squeeze the juice of one lime over top, and gently flake the fish into large pieces with a fork.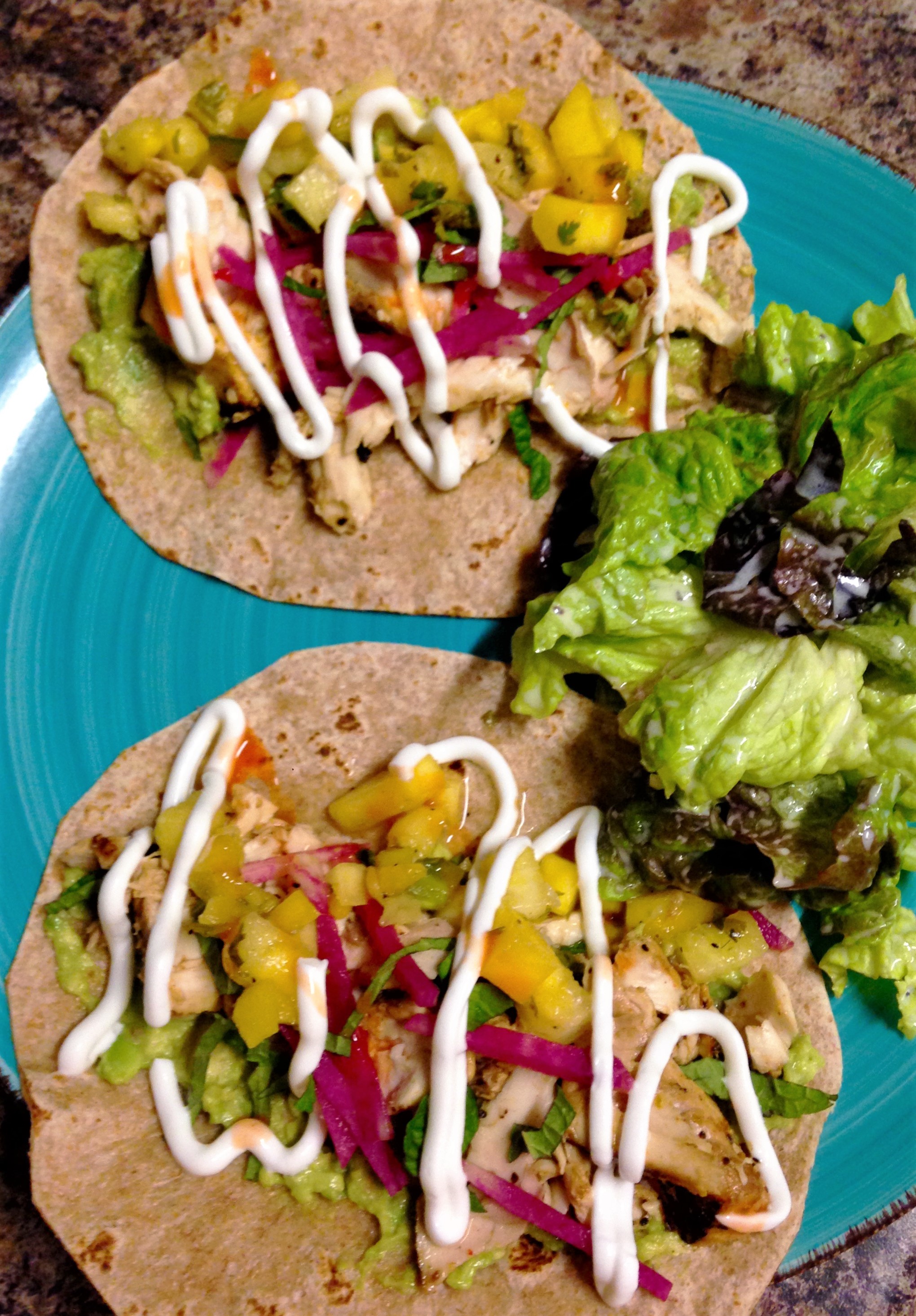 In a small bowl, whisk together the Greek yogurt and the remaining lime juice and season to taste with salt to create the lime crema. To assemble the tacos, top each warm tortilla with a serving of fish, shredded cabbage, watermelon radishes and pineapple salsa. Drizzle the lime crema over top. Other optional fillings: mashed avocado, shredded lettuce, pickled red onions, crumbled queso fresco.
Pineapple Salsa
1 1/2 cup fresh pineapple, diced
1/2 cup tomatoes, diced
1/2 bunch fresh cilantro, roughly chopped
2 tbsp red onion, finely diced
1 small jalapeño, seeded and finely diced
Juice of 1 lime
In a small bowl, mix together the pineapple, 
tomatoes, cilantro, red onion, jalapeño, and lime juice. Season to taste with salt and allow salsa to chill for at least 20 minutes before serving.
---
For more tips and tricks on pairing brews with good eats, check out my article "Beer: It's What's for Dinner" in the spring issue of Ideal-Living Magazine. Want to explore the explosion of America's craft brew scene with me? Hop Along for the Ride as I break down the bubbles and share the best taprooms, bottle shops, and breweries the east coast has to offer.
Not feeling fishy? Watch me make Pulled Buffalo Chicken Tacos with Red Onions & Poblanos on The Rachael Ray Show here!