Today's Foodcast: Cloudy with a chance of…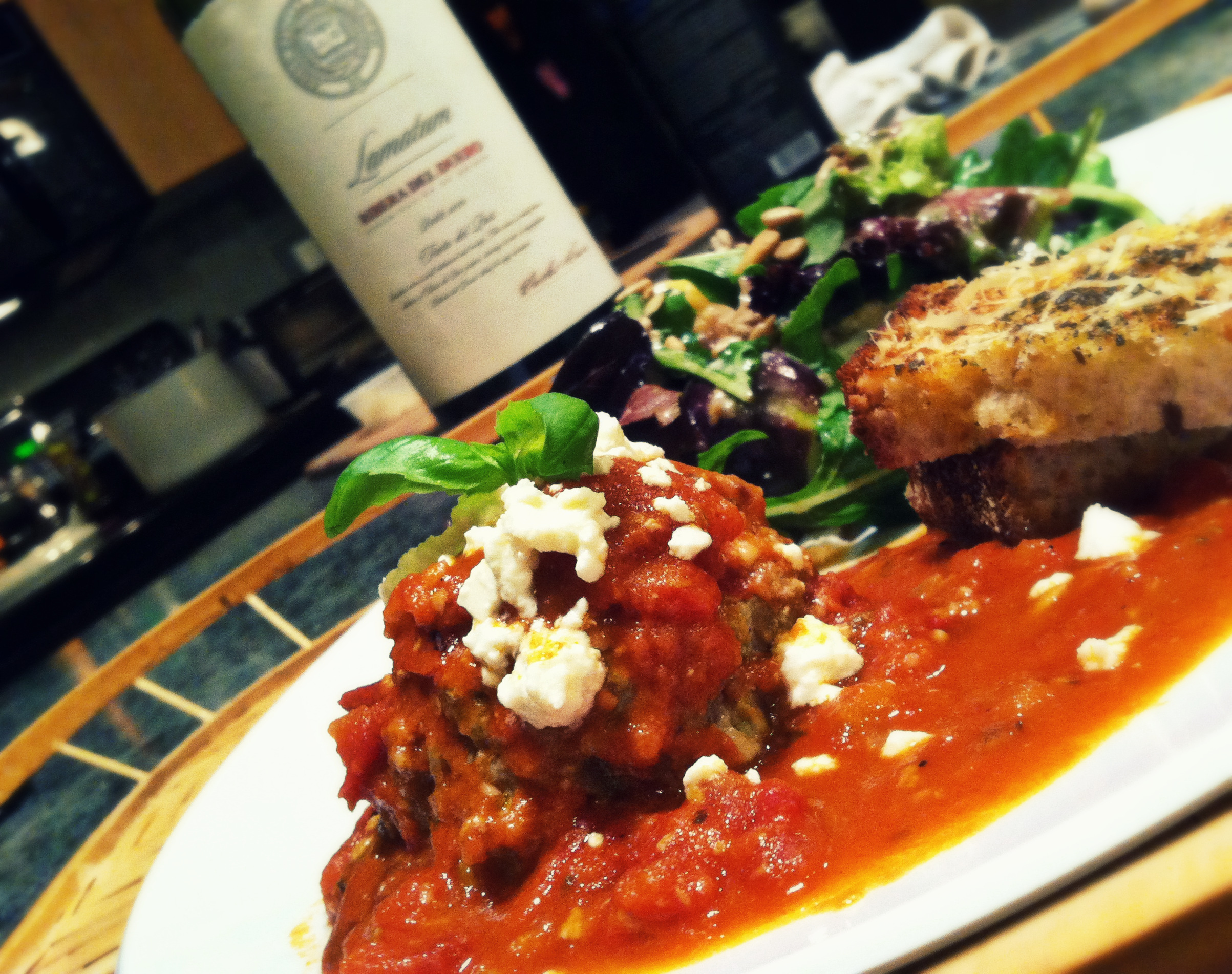 I really do love spaghetti.  
But I'll be honest, sometimes pasta just fills me up a little too much.  For those nights that I'm craving a hearty, Italian-style meal without the food coma for dessert–I came up with this recipe.  Or maybe it came to me in my sleep.  I'm not entirely sure.  All I know is that one day I woke up and couldn't get this dish out of my head.  Cumin-scented meatballs…marinara…coconut milk.  How had this combination never occurred to me before?
One style of cuisine that I truly can't get enough of is Mediterranean.  Oh how I adore Greek food.  Lamb, chicken, lemon, oregano, cumin, tzatziki–to me, these words are like beautiful notes plucked on a classical guitar.  Like beams of sunshine that spray through fluffy clouds.  The savory flavors, the warm spices, the salty feta…
Oops.  Fell off my chair.
Meatballs will do that to you.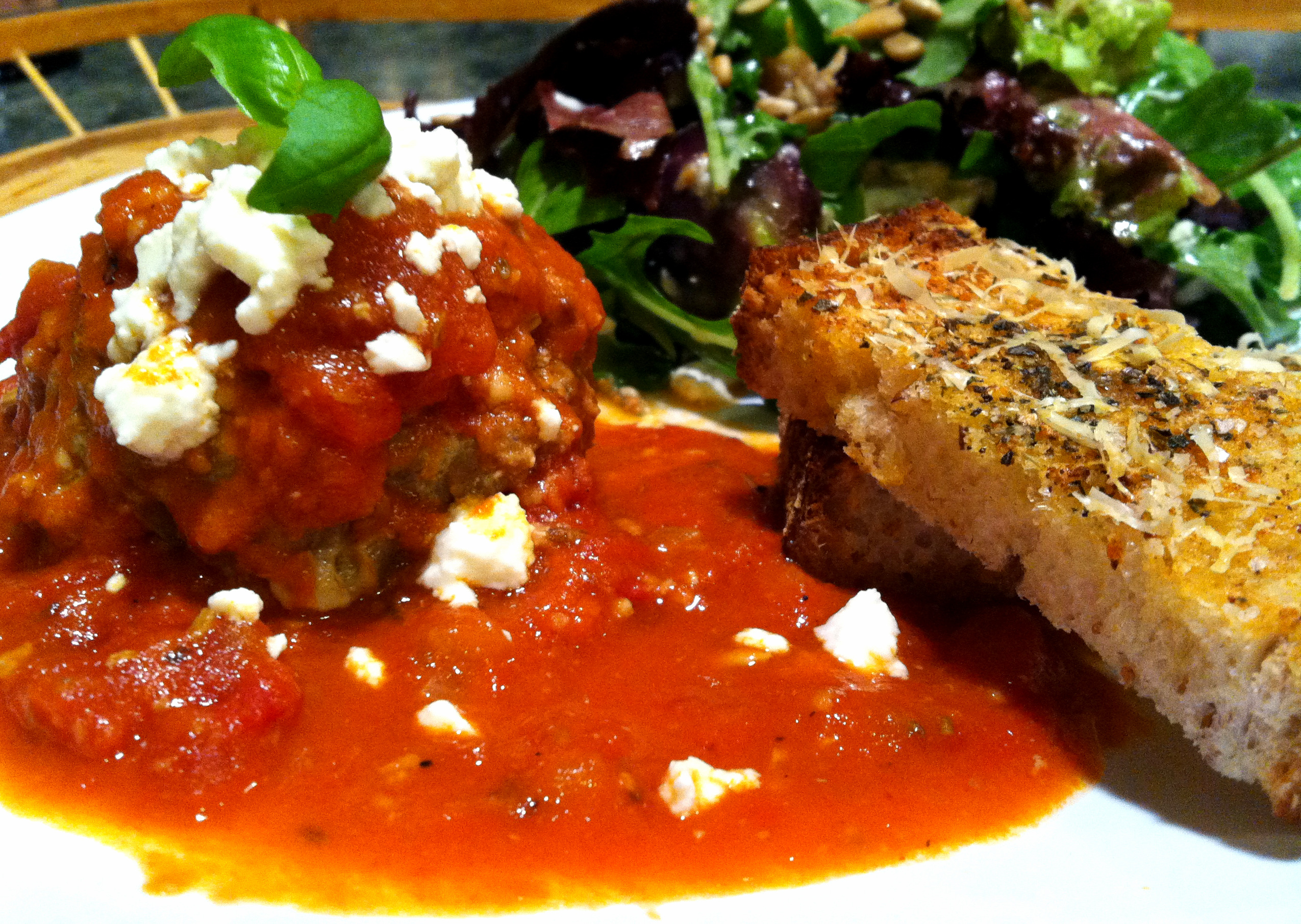 Besides all of those fragrant Mediterranean spices–sweet, creamy coconut milk is another ingredient I find myself reaching for often.  Not only can it add an extraordinary level of luscious flavor, but the smell alone inspires palm tree-swaying, piña colada-sipping fantasies that escape you from reality and whisk you to a far-away land.
And all you did was open up a can.
Note: Cat food does not have a similar effect.
This nontraditional, comfort-inspired meal combines those ancient, earthy Mediterranean aromas with that velvety coconut milk.  The acid from the tomatoes is balanced by sweet, decadent notes of coconut and floral fresh herbs like basil and mint.  The meatballs are seared on the outside to seal in the flavor and then finished in the bubbling marinara.  I use lean ground turkey to keep this meal light and low in fat.  Want to cut the calories down even more?  Opt for the "Light Coconut Milk" instead of the regular.  In fact, this protein-packed dish is so rich in flavor–no pasta necessary.
Just a Spanish wine, a simple salad, and some crusty bread to wipe the plate clean.
Recipe at the bottom.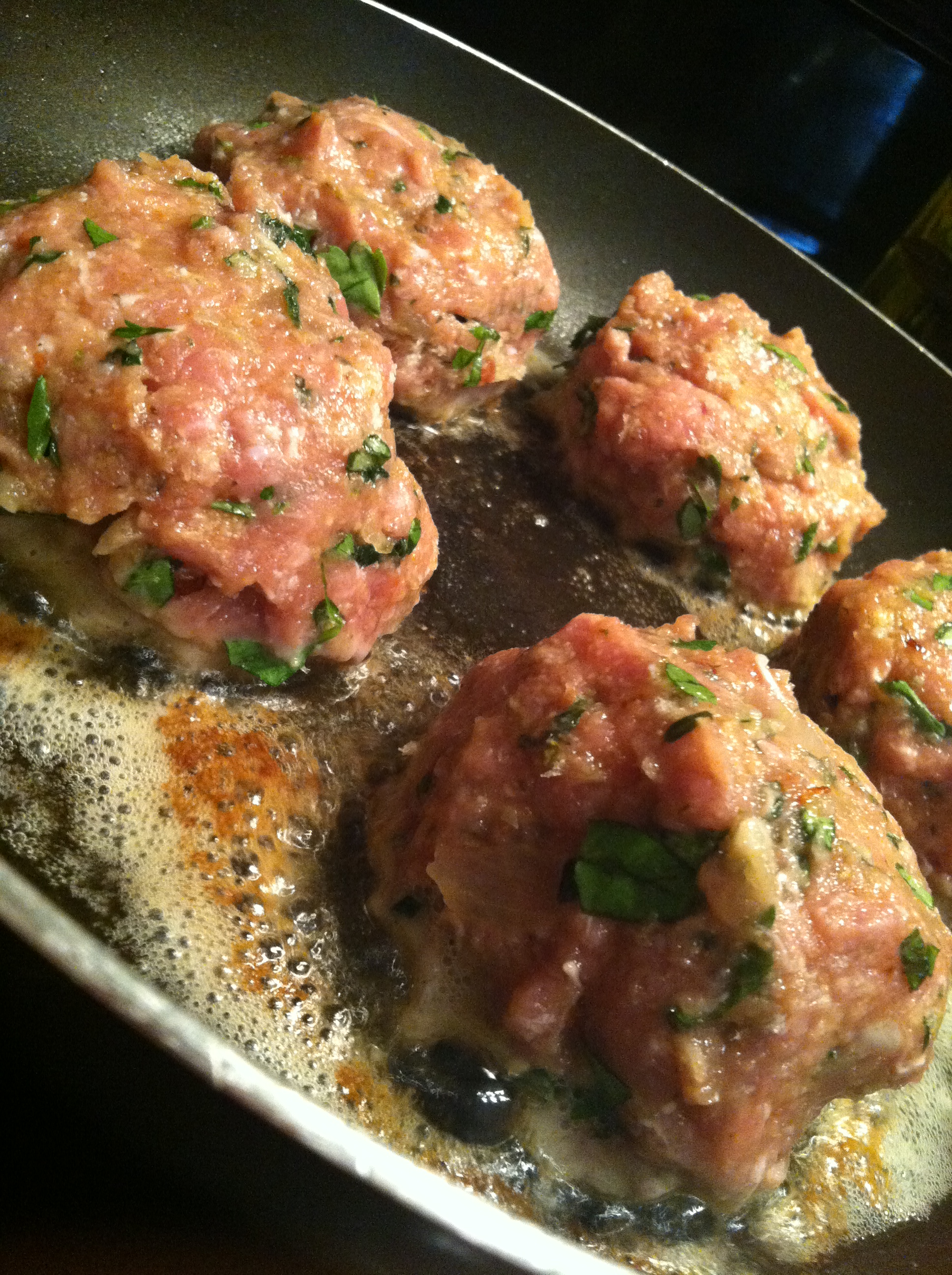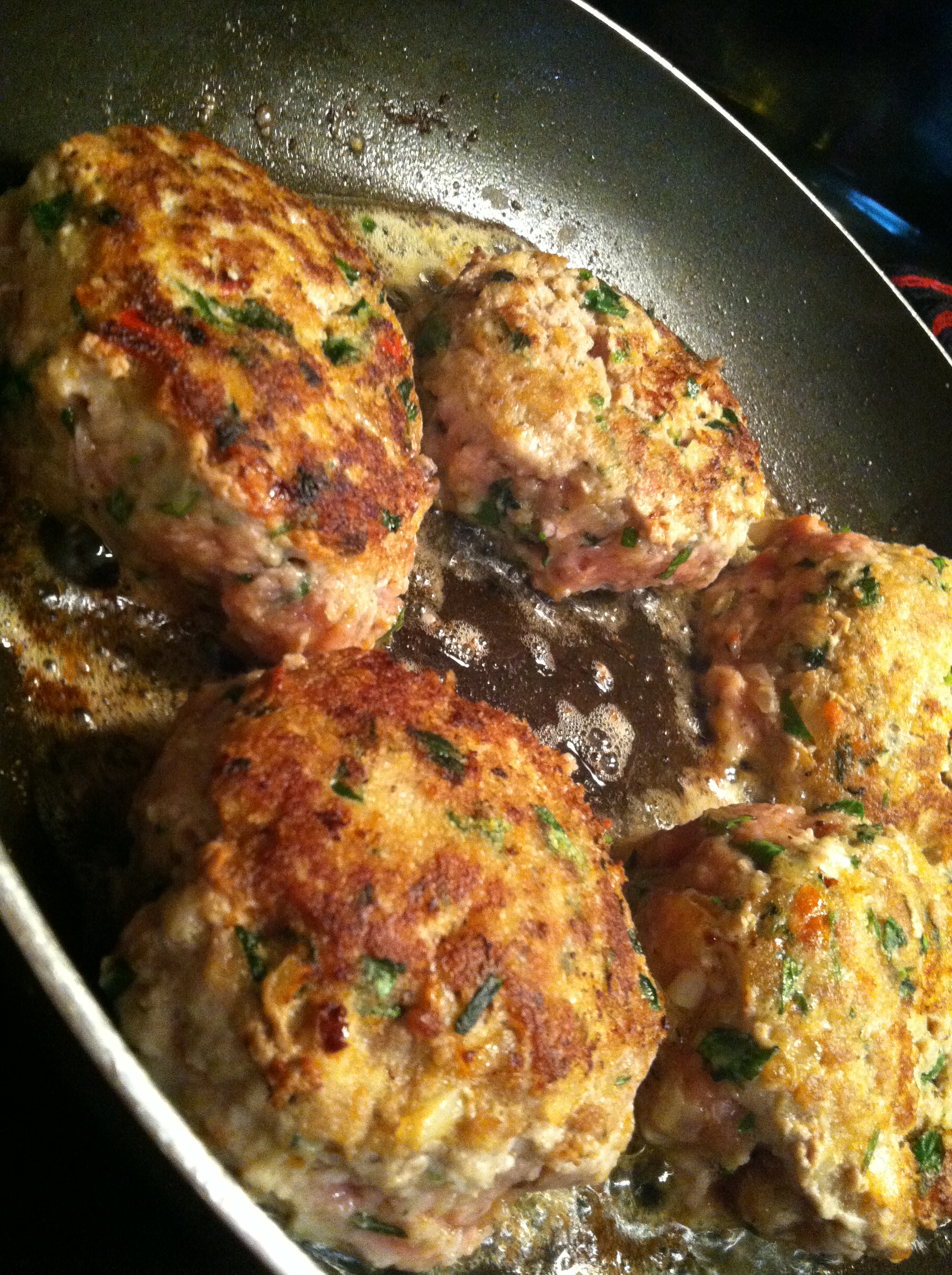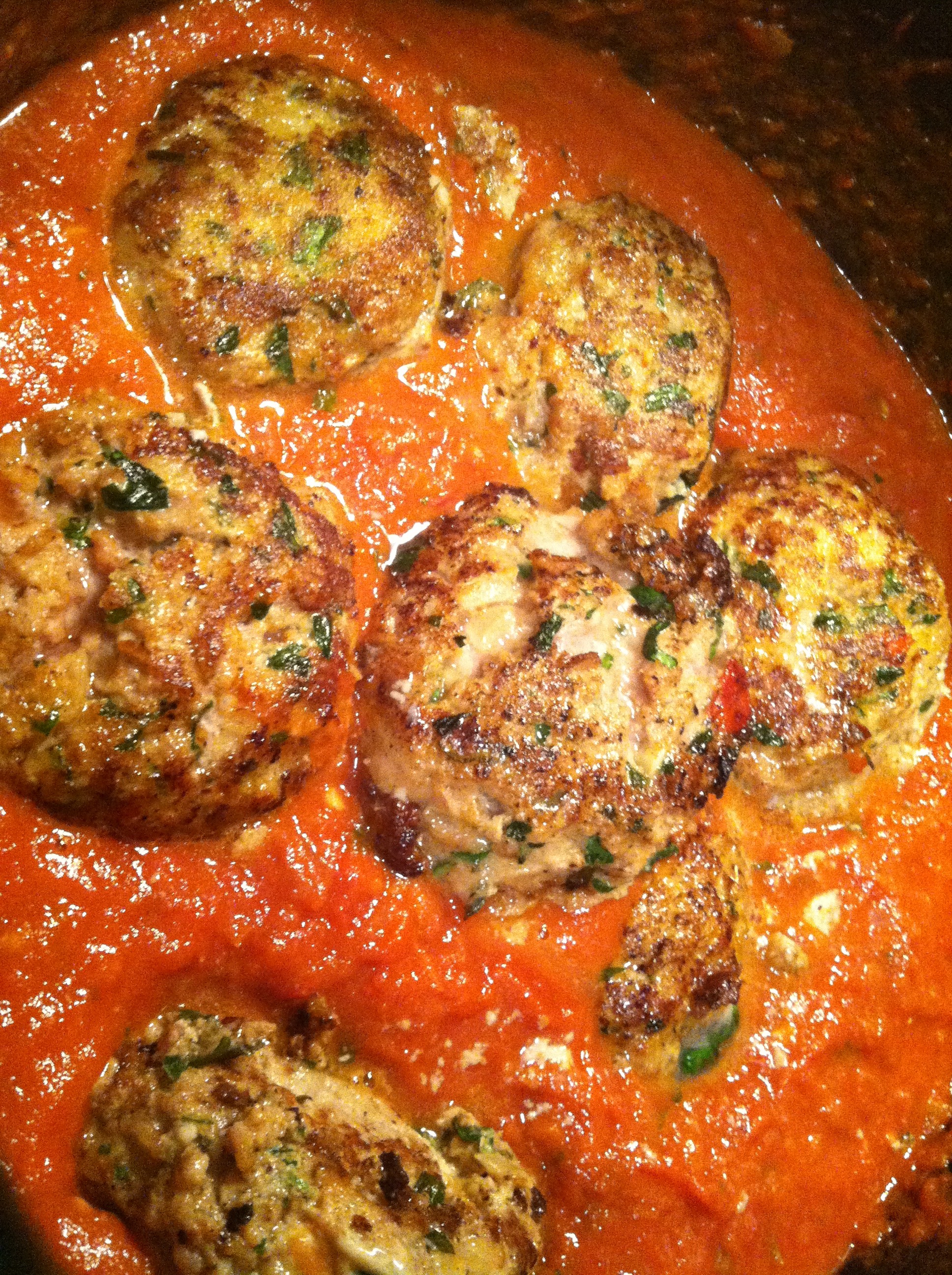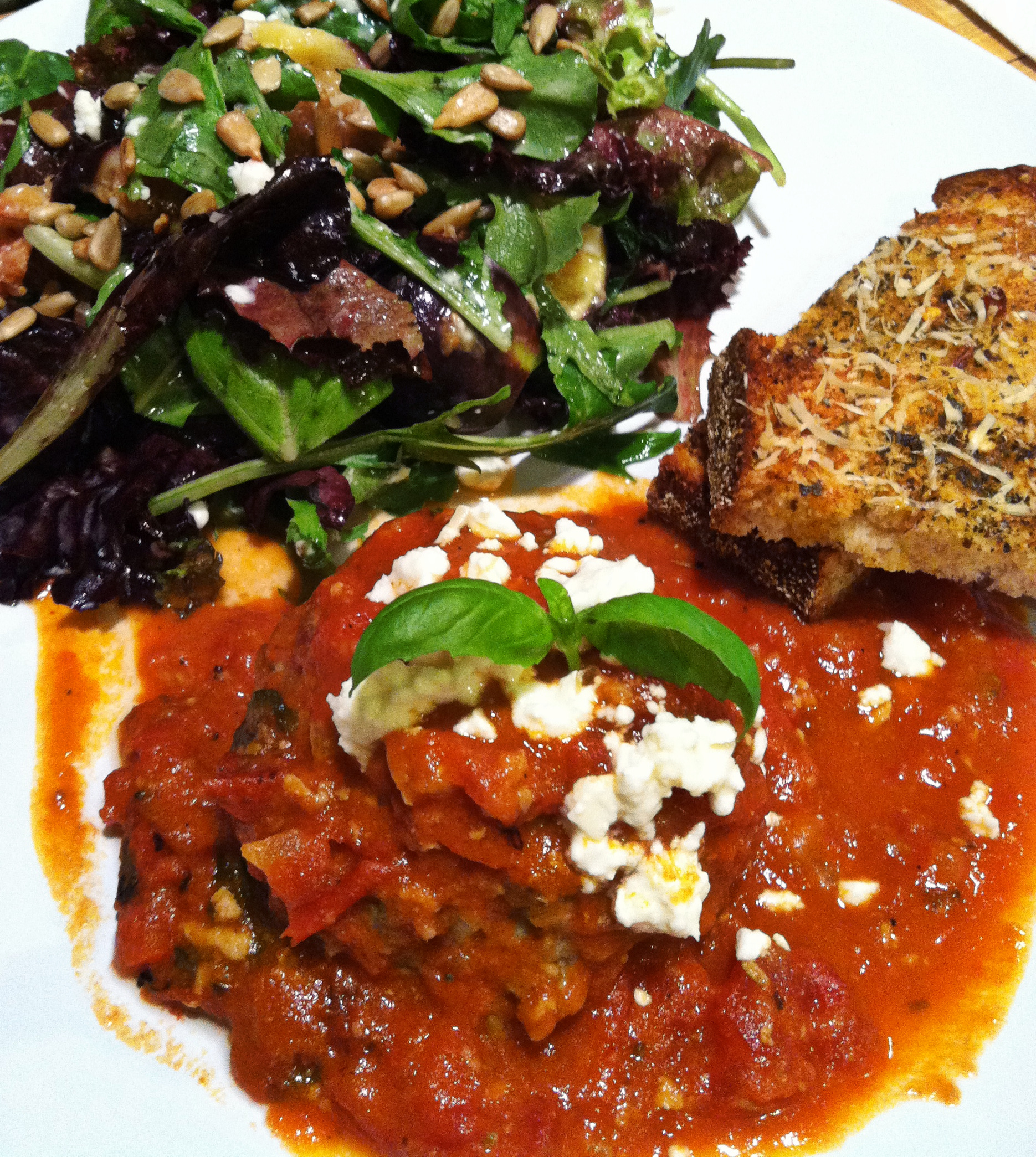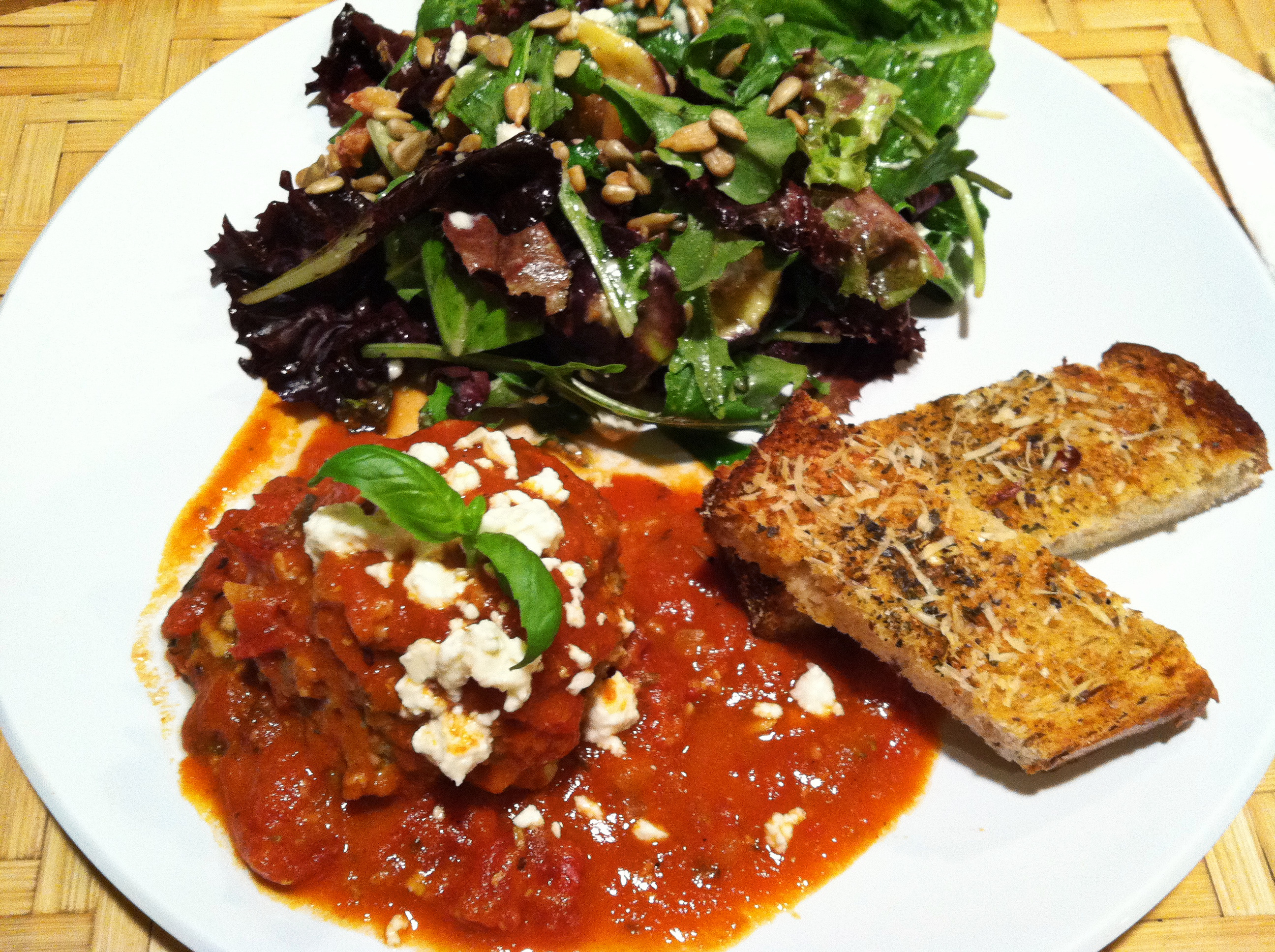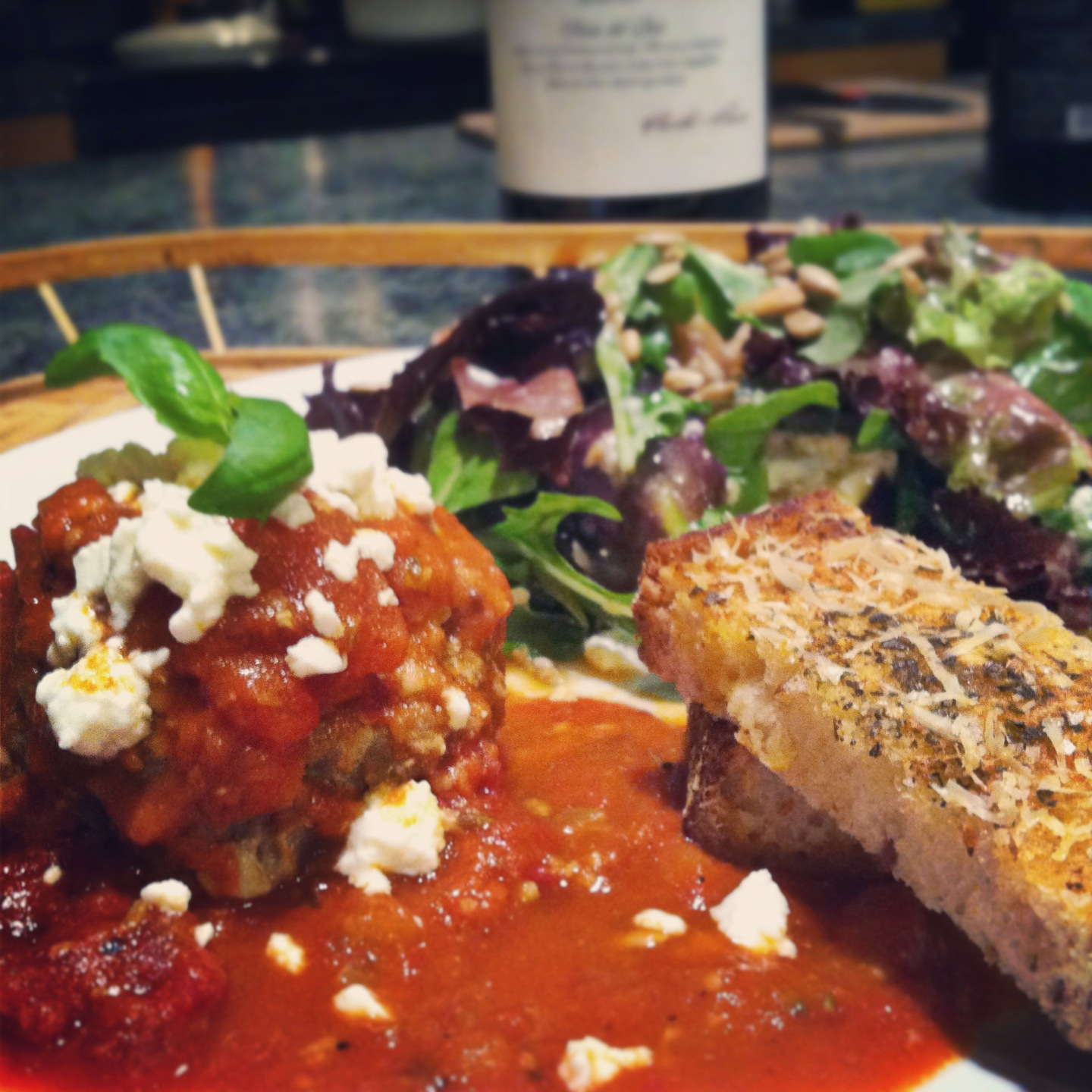 Mediterranean Spiced Turkey Meatballs with Coconut Marinara
Serves 4
Meatballs:
1 lb. Lean Ground Turkey
1 egg (beaten)
1/2 cup Panko Breadcrumbs 
1 medium finely chopped Shallot
1 tablespoon chopped Fresh Mint 
1 tablespoon chopped Fresh Cilantro
1 teaspoon Ground Coriander
1 teaspoon Ground Cumin
1/4 teaspoon Cinnamon
2 tablespoons Olive Oil
Salt and Pepper
1/4 cup Crumbled Feta 
Coconut-Basil Marinara:
1 tablespoon Olive Oil
1 diced small Sweet Onion 
1 minced medium Garlic Clove
1 pinch Dried Red Pepper Flakes
1 tablespoon Ground Cumin
3 chopped medium size tomatoes (any variety)
1 12 oz. can Crushed Tomatoes
1 can (about 1 cup) Unsweetened Coconut Milk (shake well before opening)
1 cup Fresh Basil leaves (reserve several leaves for garnish)
Salt and Pepper
For the marinara: In a large pot, heat the oil over medium heat until sizzling.  Add the onion, garlic, red pepper flakes, cumin, and a pinch of salt and pepper.  Stir, and then cook until onion is softened–about 2 minutes.  Add the chopped fresh tomatoes, canned tomatoes, and coconut milk.  Add another pinch of salt and pepper.  Bring to a boil and then turn down heat to medium low.  Simmer for 15 minutes, stirring occasionally.  Using a handheld blender (or transferring half of the mixture into a regular blender), pulse sauce a few times–keeping the consistency somewhat chunky.  Tear in fresh basil leaves and turn heat to low.  Begin making meatballs.
For the meatballs: In a large bowl, combine ground turkey, egg, breadcrumbs, shallot, mint, cilantro, coriander, cumin, cinnamon, 1 tablespoon olive oil, and a large pinch of salt and pepper.  Form into medium size meatballs.  Heat the remaining 1 tablespoon of oil in a large saucepan over medium high.  When the oil begins to sizzle, carefully drop meatballs into the pan.  Sear each meatball approximately 1 minute per side until golden brown crust forms.  Drop meatballs into marinara to finish cooking.  Carefully spoon marinara over meatballs so they are covered.  Stirring occasionally, simmer meatballs on low heat for 15-20 minutes in sauce.
To serve: Garnish meatballs with crumbled feta and basil leaves.  Serve alongside crunchy herbed garlic bread and a simple green salad.  Pair with a full-bodied Malbec.