Muffins make me time travel.
Let me explain...
My mom started a famous wholesale bakery business in 1975. Although her specialty was decadent double chocolate brownies, she, along with my dad, once created a line of wholesome breakfast bars for an airline called People's Express that was really taking off—pun intended. These morning treats boasted spicy cinnamon, cloves, carrots, and currants and they were swimming in whole grain flour. I was three years old when my parents sold Rachel's Brownies, so my memories of these breakfast bars are slightly distant. When they no longer produced these mouthwatering morsels, they hungered for the warm, comforting flavor and aroma that the bountiful breakfast bars once brought. They ended up finding solace in nutty, orange-scented muffins from their favorite specialty foods shop. Filled with delicate carrot ribbons, juicy raisins, and toasty walnut pieces, these muffins were certainly an acceptable substitute.
Many muffins later, there I was—standing alongside my parents, staring through the clear glass of the toaster oven as our puffed, golden brown breakfast treats warmed through. I developed my own love for their rich flavor and elegant fusion of fluffy and crunchy textures. I can still smell them today.
You know, in my mind's nose.
Fast forward to 2010; the year that I turned twenty-five. It was also the year that I moved by myself across the country to Hollywood to pursue a lifelong dream of becoming an actress. I spent many evenings walking through the sunlit, picturesque hills of my neighborhood, but somehow always ended up back in my tiny one-bedroom apartment where I discovered that my serenity only surfaced in the kitchen. It was there that I could be at peace with my inner spatula—craving those scintillating cinnamon bars.
As it turns out, that aforementioned specialty shop also happened to exist on the west coast. Several nights a week I would wander through their fruitful aisles losing time and seeking out inspiration for new dishes. One evening on a pre-dinner excursion to my beloved food store, I snagged a sole, sad-looking lonely little muffin from the baked goods section and plunked it beside the oversized coffee maker onto my tiled countertop when I got home.The following morning I shuffled towards the kitchen in my typical groggy state. Having yet to put in my contacts, I wrinkled my face and squinted at the tan, crumpled up parchment paper that leaned up against my nearly empty canister of French Roast. I unwrapped, in my virtually blind condition, what appeared to be either a misshapen morning glory muffin or a large cinnamon-scented rock. I heaved the ambiguous item into the toaster oven, wound the knob in a circle, and proceeded back to my room to find my eyes.
Ten minutes later, my nose navigated me back towards the kitchen where the gentle wafting perfume of earthy nuts, warm spices, and citrus danced through the air. The smell enveloped me like an enormous, peaceful hug. I closed my eyes. When I openedthem, Iwas standing in my parents' kitchen with each one at my side. The three of us were gazing through the clear glass of the toaster oven, anxiously waiting what was on the other side. The sharp ping! of the appliance suddenly shook me back into the present moment. The muffin crackled and heaved as if it had just arrived from a very long journey.
Breakfast was ready.
Nowadays I still time travel as often as possible. When using muffins as my vehicle, I prefer to orchestrate an entire symphony of flavors. I've found that I still love the burst from citrus, the chew of dried fruit, and the fragrant prickle of nutmeg and clove. I've taken my parents' original creation and turned it on its head with the addition of woody maple syrup and toasted coconut.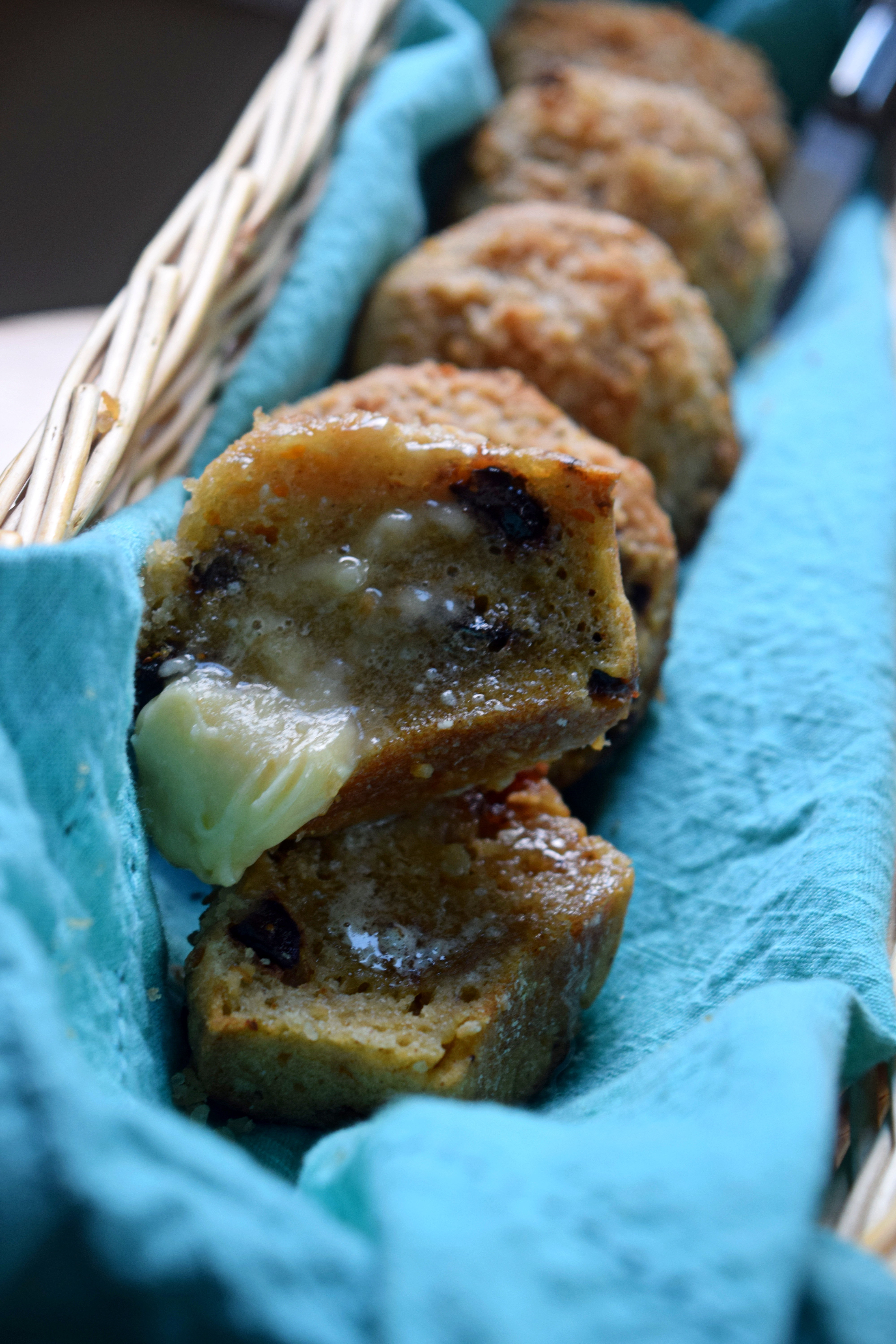 Most importantly—in search of a healthier, more nutritious alternative—I've replaced all-purpose flour with Manini's fiber-rich, gluten-free Multi-Purpose flour. The naturally gluten free whole grains give the muffins an extraordinary texture and nourishing, satisfying flavor. And, in keeping the spirit of time travel alive—those ancient grains somehow connect me even further back to the future. Or past, in this case.
The Multi-Purpose flour has inspired me to recreate my memories of breakfast bars and cinnamon-laced morning happiness. Best of all, I can make wonderful muffins for my Mom, who is now wheat sensitive and always in search of truly tasty gluten-free products.
So, who's up for a delicious journey?
Check out Manini's full line of Gluten Free products AND get more of my recipes by clicking...
HERE!