It may be late August, but summer in still in full swing. This means it's totally cool to

pop chilled bottles

of Prosecco at any time of day.
I recommend getting your bubbly on with my absolute favorite: DOC Spumante Extra Dry by Sfriso Winery in Italy. The best part? This stellar wine is available (in super limited quantities) for delivery to the US and Europe. Order at info@sfrisowinery.com and check out Sfriso's site for all of your wine-drinking needs.
Now what to eat with this gloriously unconventional, delicate, fruity Prosecco? I've got you covered.
Spicy Scallop Salad with Crushed Peanuts & Ginger Dressing
Makes 4 salads
Pair with: Sfriso Prosecco DOC Spumante Extra Dry
1/4 cup crushed peanuts (60 mL)
Ginger Dressing (recipe follows)
2 cups microgreens (475 mL)
1 fresh red chilli, sliced into thin discs
1 small bunch fresh mint, leaves picked and gently torn
2 seedless cucumbers, spiralized (or sliced with a vegetable peeler) into ribbons
2 carrot sticks, sliced into ribbons with a vegetable peeler
1/4 cup thinly sliced radishes (60 mL)
12 large sea scallops, small side muscle removed, rinsed with cold water and patted dry
Coarse salt and cracked black pepper
Generous pinch ground cayenne pepper
1/2 tablespoon unsalted butter (7 1/2 mL)
1/2 tablespoon neutral oil, such as vegetable, sunflower, or grape seed (7 1/2 mL)
In a dry small skillet, toast the peanuts over medium-low heat, tossing frequently, until lightly golden and very fragrant, about 5 minutes. Immediately remove the nuts from the pan and transfer to a bowl to stop the cooking process.
Prepare the Ginger Dressing and set it aside. Divide the microgreens, chilies, mint leaves, cucumber ribbons, carrot ribbons, and radishes among four plates.
Season the scallops on both sides with a pinch each of salt, pepper, and cayenne. In a large skillet, heat the butter and oil over moderately high heat. Once the pan begins to smoke, add the scallops and sear until golden brown—about 1 1/2 to 2 minutes per side.
Top each salad with three scallops and a generous drizzle of Ginger Dressing. Garnish each plate with toasted crushed peanuts.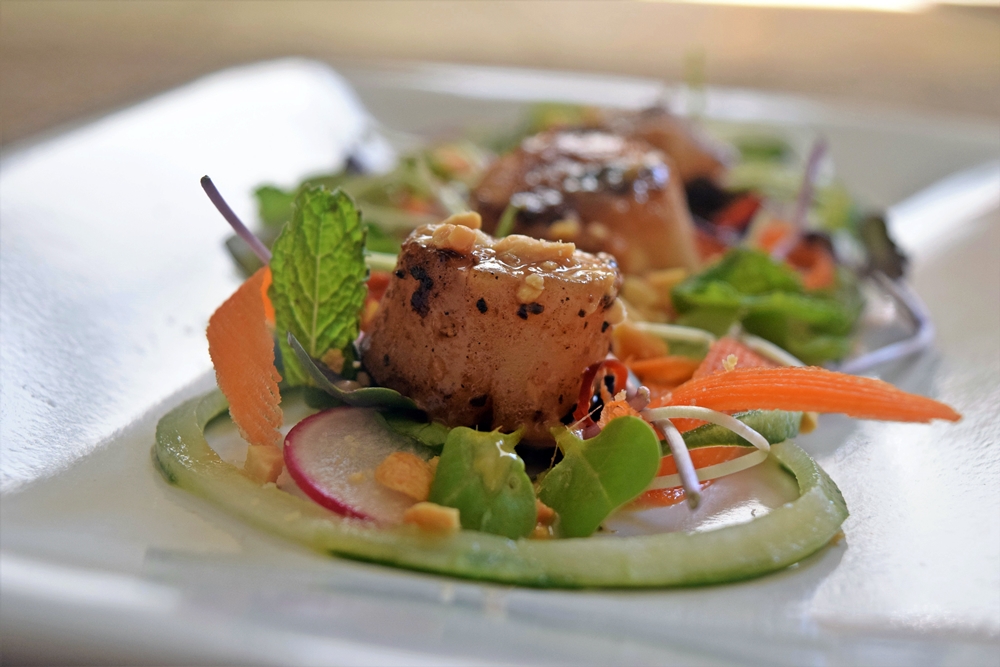 Photo Courtesy of Fanny Slater (that's me!)
Ginger Dressing
Makes approximately 1 cup (240 mL)
1 1/2 tablespoons minced fresh ginger (22 1/2 mL)
1 medium clove garlic, minced
1 tablespoon toasted sesame oil (15 mL)
1 tablespoon Dijon mustard (15 mL)
2 tablespoons fresh lemon juice (30 mL)
3 tablespoons rice vinegar (45 mL)
1 1/2 teaspoons honey (7 1/2 mL)
2 teaspoons lower-sodium soy sauce (10 mL)
3 tablespoons neutral oil, such as vegetable, grapeseed, or sunflower (45 mL)
Coarse salt and cracked black pepper
In a blender or food processor, pulse the ginger, garlic, sesame oil, mustard, lemon juice, vinegar, honey, and soy sauce until thoroughly combined. With the motor still running, stream in the neutral oil until the dressing is thick and emulsified. Season to taste with salt and pepper.
---
Have I mentioned that this recipe was exclusively developed to match with Sfriso's Prosecco? Go on and order it. You know you wanna.
Keep an eye out for more of my Sfriso pairings, recipes, and videos coming soon!