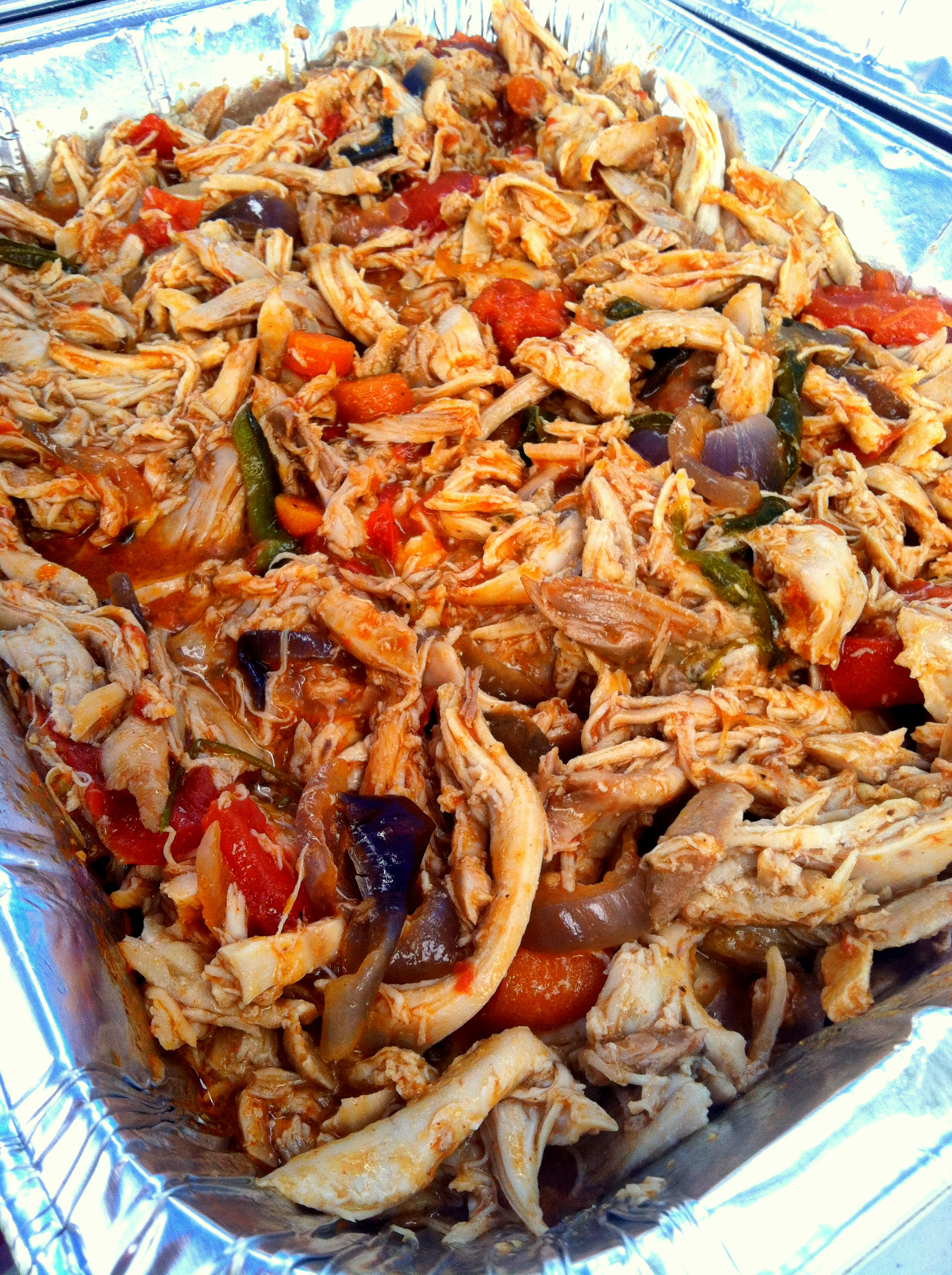 I know, right.
And the answer is yes.  Yes, it was just as delicious as it looks.  For those of you who have been following me through various forms of social media (Facebook, Instagram, and my website), you know that this is one of many delicious meals I cooked during October's catering adventure.  For one month, I prepared breakfast and lunch six days a week for a cast and crew of 35 people.
That's 1,820 total mouths fed.
Needless to say, I was very tired in November…
This hardworking group spent twelve hours a day shooting a feature film while I simultaneously in the same amount of time cooked, prepped, and cleaned in a small hotel kitchen nearby.  Not only was this an incredible experience for me, but it was an invaluable learning opportunity.  I have catered various lunches, dinners for small groups, and several larger events–but never have I been faced with such a tremendous amount of food to prepare on a daily basis.  I spent the month prior coordinating and laying out every detail into a well-structured, methodical folder.  Although I wedged that green binder into my purse each day, I relied on daily list-making and thought-organizing to get me through every meal.
The truth?  
There were not only ups and downs.  There were broken fridges, defective bathrooms, ant problems, air conditioning issues, and no dishwashers.  There was blood, sweat, and tears.  There was no sleep.  There was some sleep.  There were 4 AM alarm clocks.  There was the first night, when I sat teary-eyed in a heap of English Muffins and panic attacks listening to my parents' voices on the phone as they told me that everything would be okay.  It was in that moment that I considered giving up.  I was no longer an almost 28 year old professional caterer, but a lost child in the supermarket who was searching for her mommy and daddy and a closet to hide in.  The reason for sharing these intimate moments with you?
Because I made it.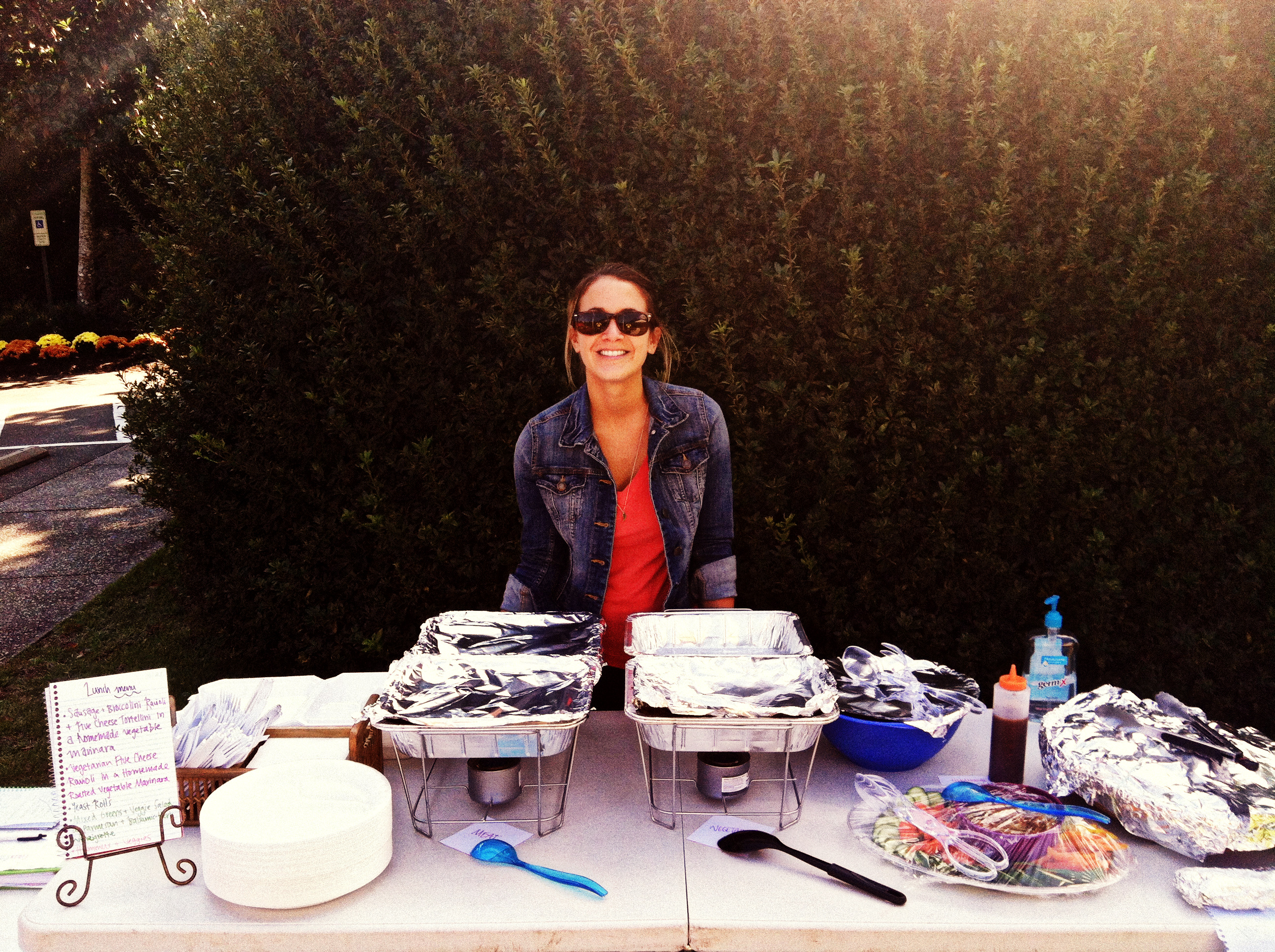 Because in that moment when, for the first time, I doubted myself and what I had taken on–I stepped back and realized that I could do anything.  And when those four weeks had passed and I looked back onto what I had accomplished, I was able to say,
"I knew you could do it."
There were many, many meals during this month-long journey.  However, this one stands out as one of my favorites.  This was the lunch I served one week after our start date.  In those seven days, I dealt with a 10 PM fridge outage, a food shortage, a meatball fiasco, and some up-and-down feedback on the type of food that I was serving.  I was under the impression that quick sandwich-type meals were mandatory, when it turns out that hot, dinner-like food was desired.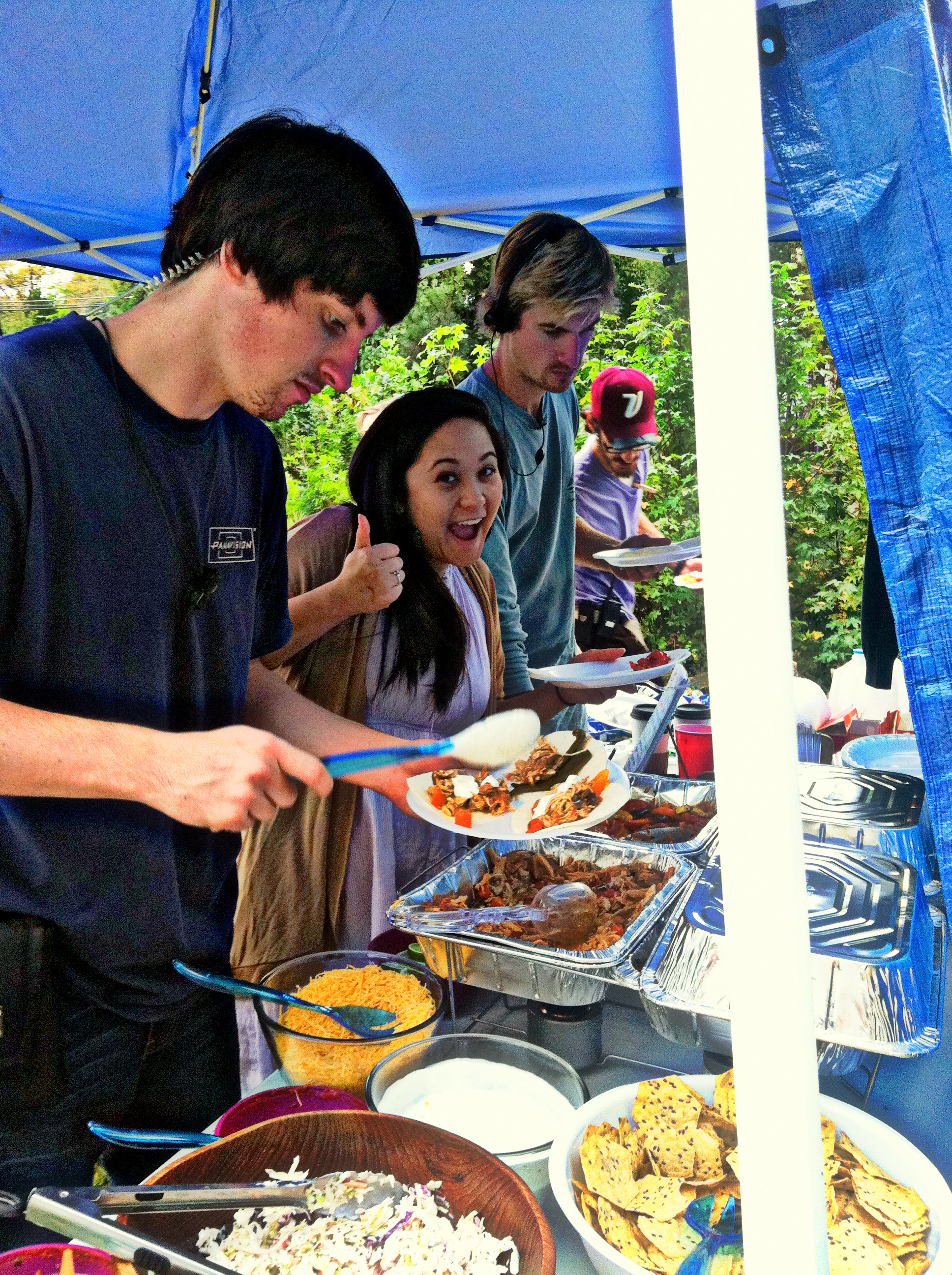 So on that gloomy Saturday, with an updated collection of recipes in mind, I set out on a mission to fill 35 bellies with a hearty, comforting meal.  And thus, the Buffalo Chicken Taco Bar was born.
Full recipe at the bottom.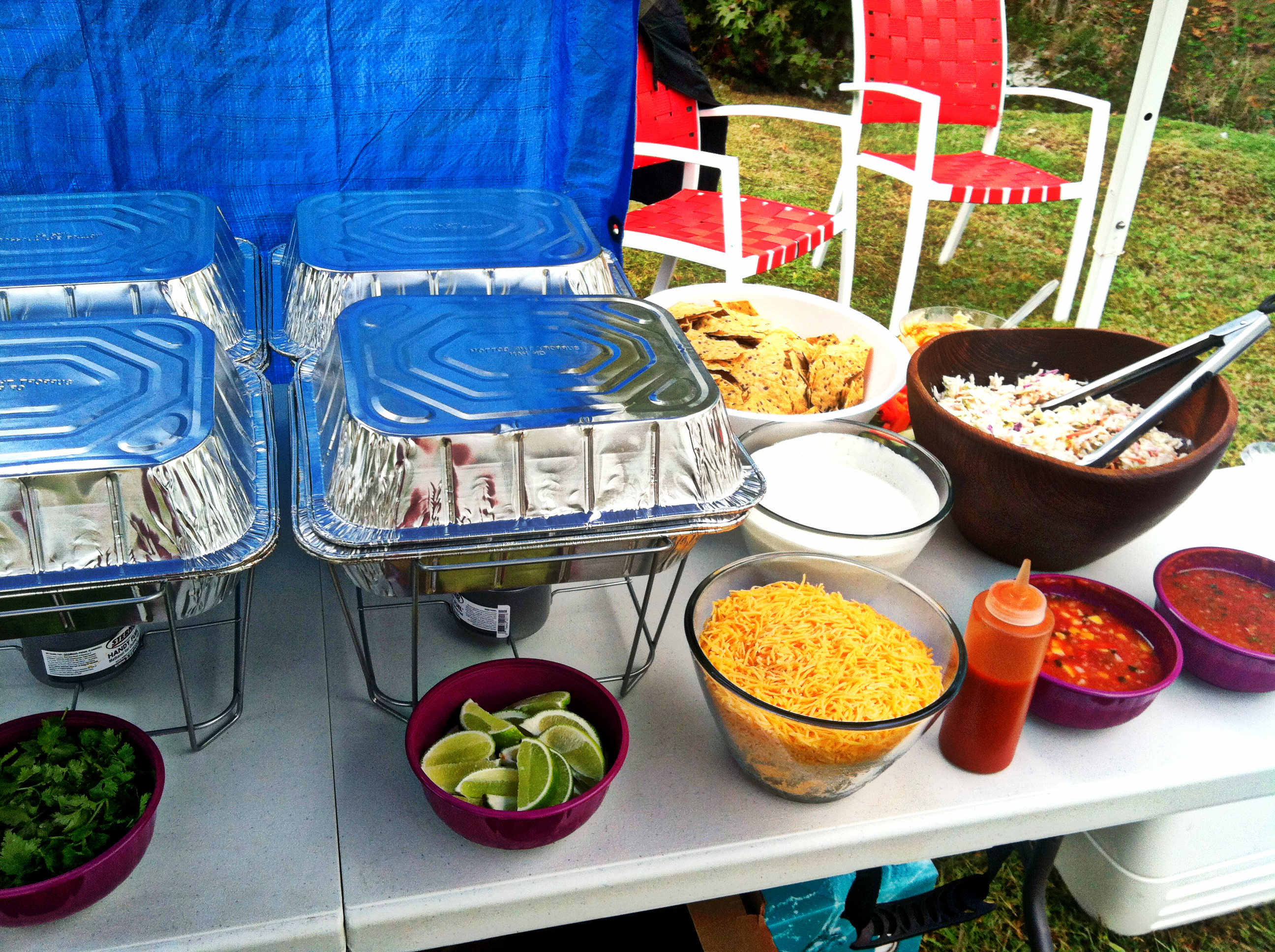 Flour tortillas were cut into small rounds so that each person could fill their plate with a heaping pile of tacos.  When serving these at home, keep tortillas warm in a very low temperature oven.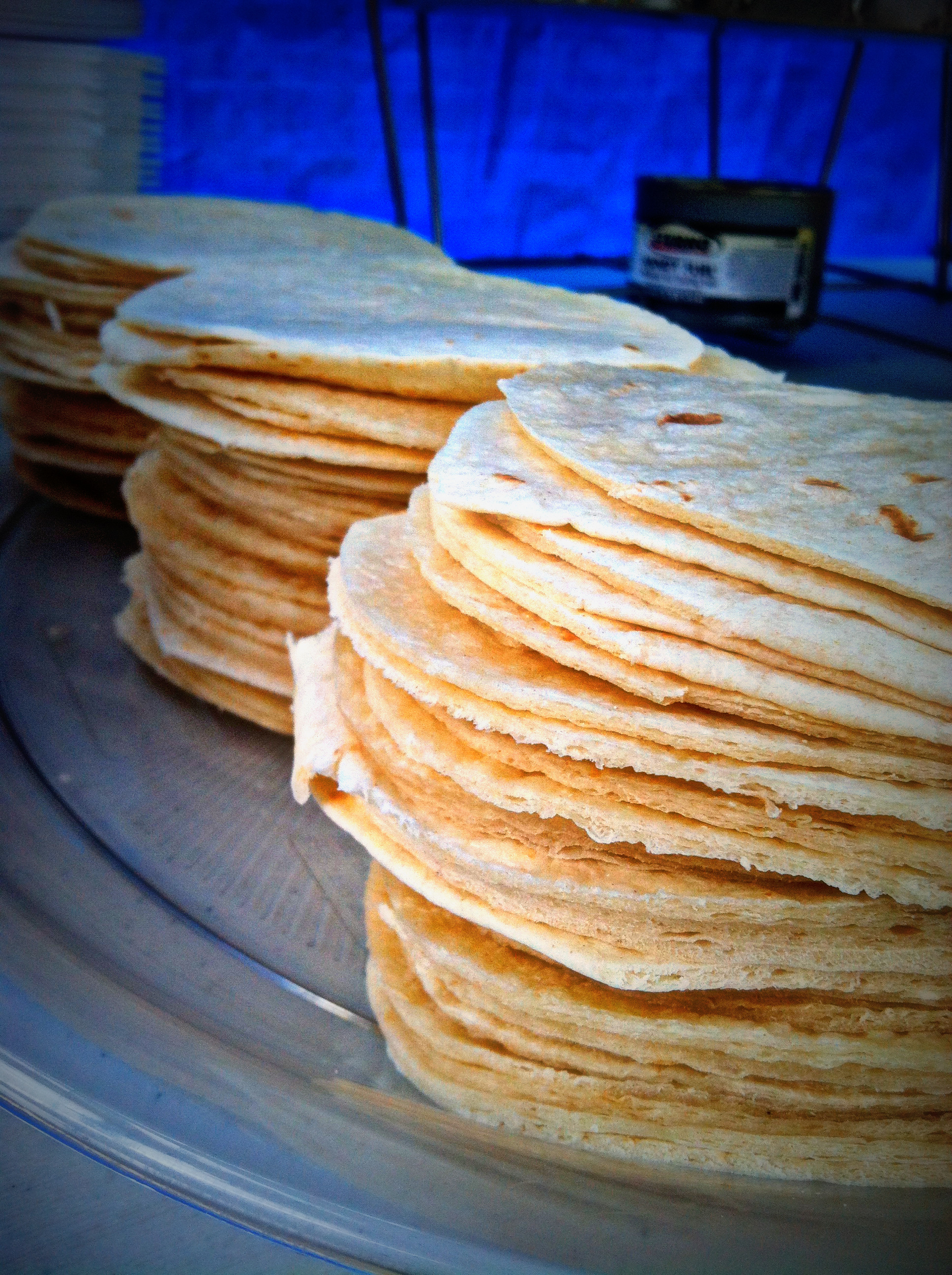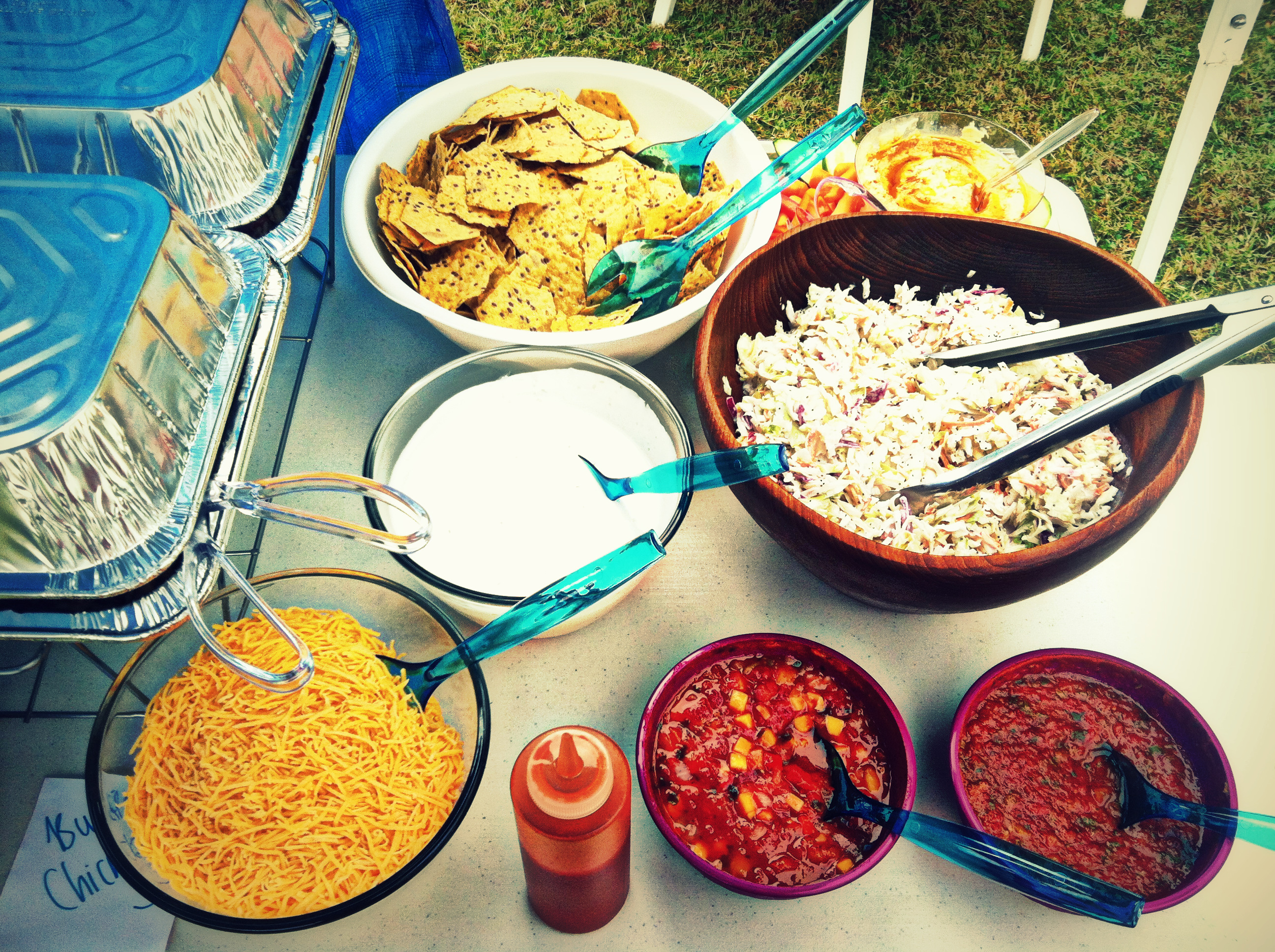 Always keep hot sauce handy for your guests when serving a mildly spicy meal.  Why?  Because some like it hot.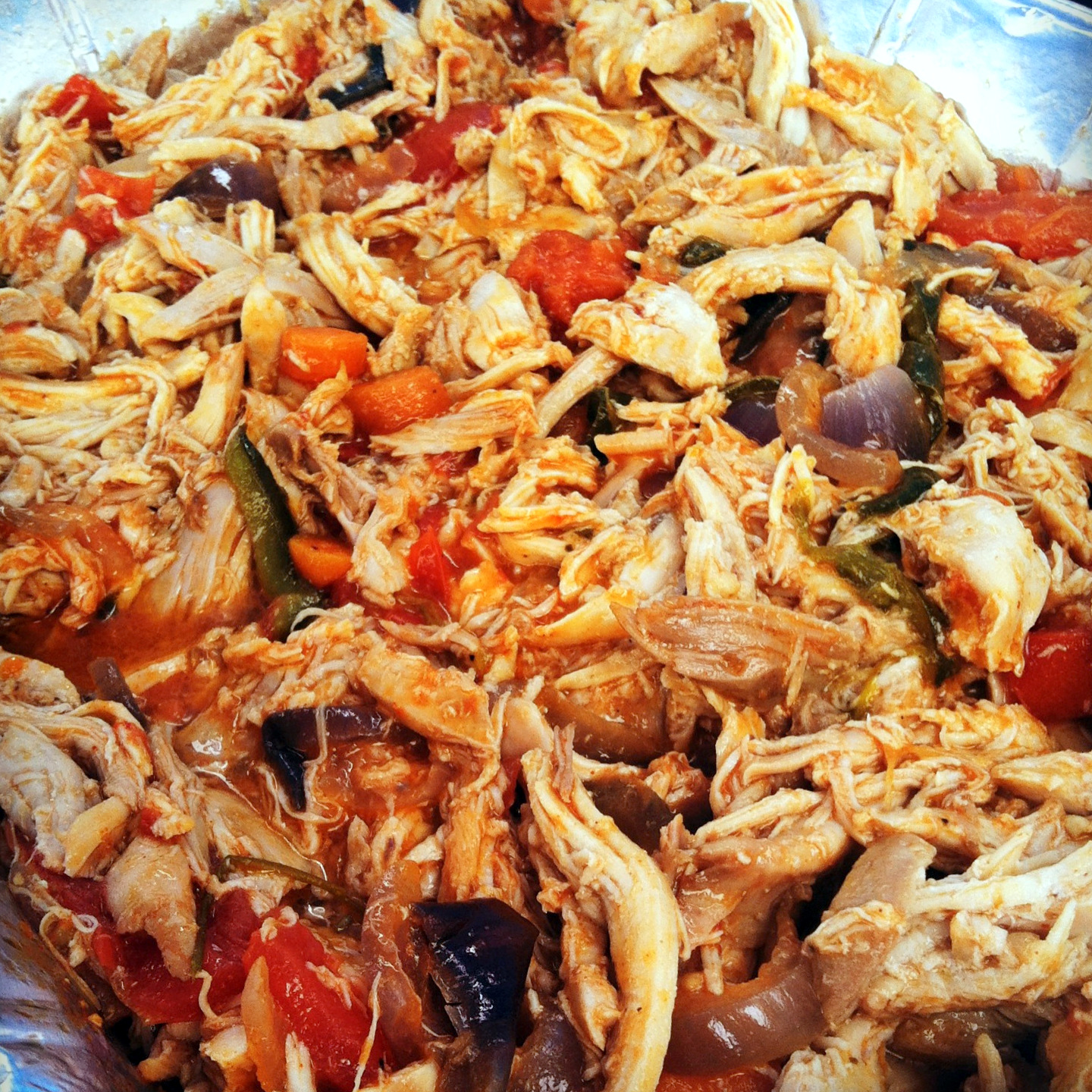 The vegetarian version of this dish included local veggies–squash, red onions, red peppers, poblano peppers, tomatoes, and carrots–tossed in the same homemade buffalo sauce as the chicken and roasted until charred to perfection.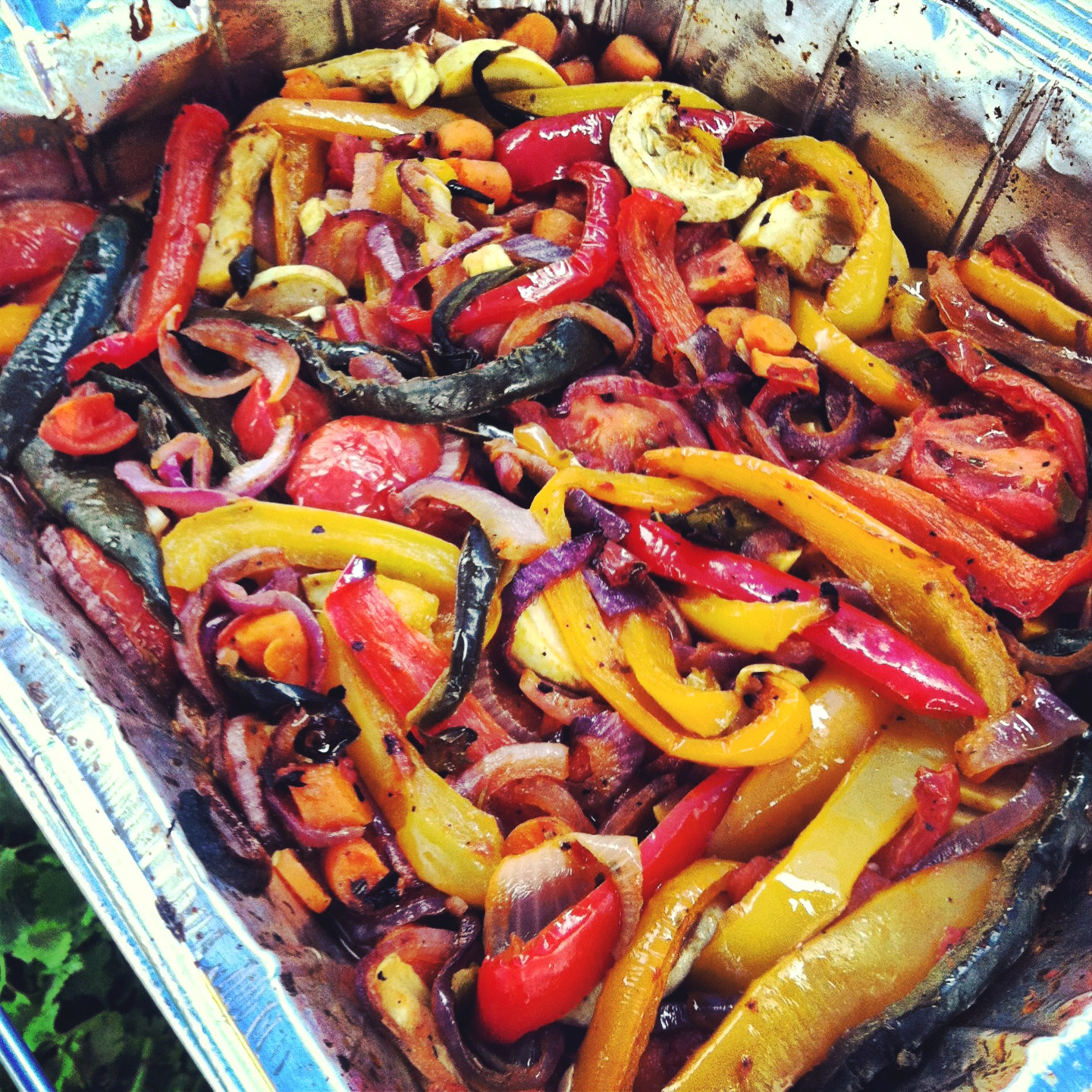 Crunchy slaw is a must-have for a taco bar, especially when your fillings are spicy.  It adds a contrasting texture and cools off the roasted, fiery flavors.  My lightened-up version was made with shredded cabbage and carrots tossed in a simple Greek yogurt, lime, and honey dressing.  Poppy seeds were added at the end for crunch and color.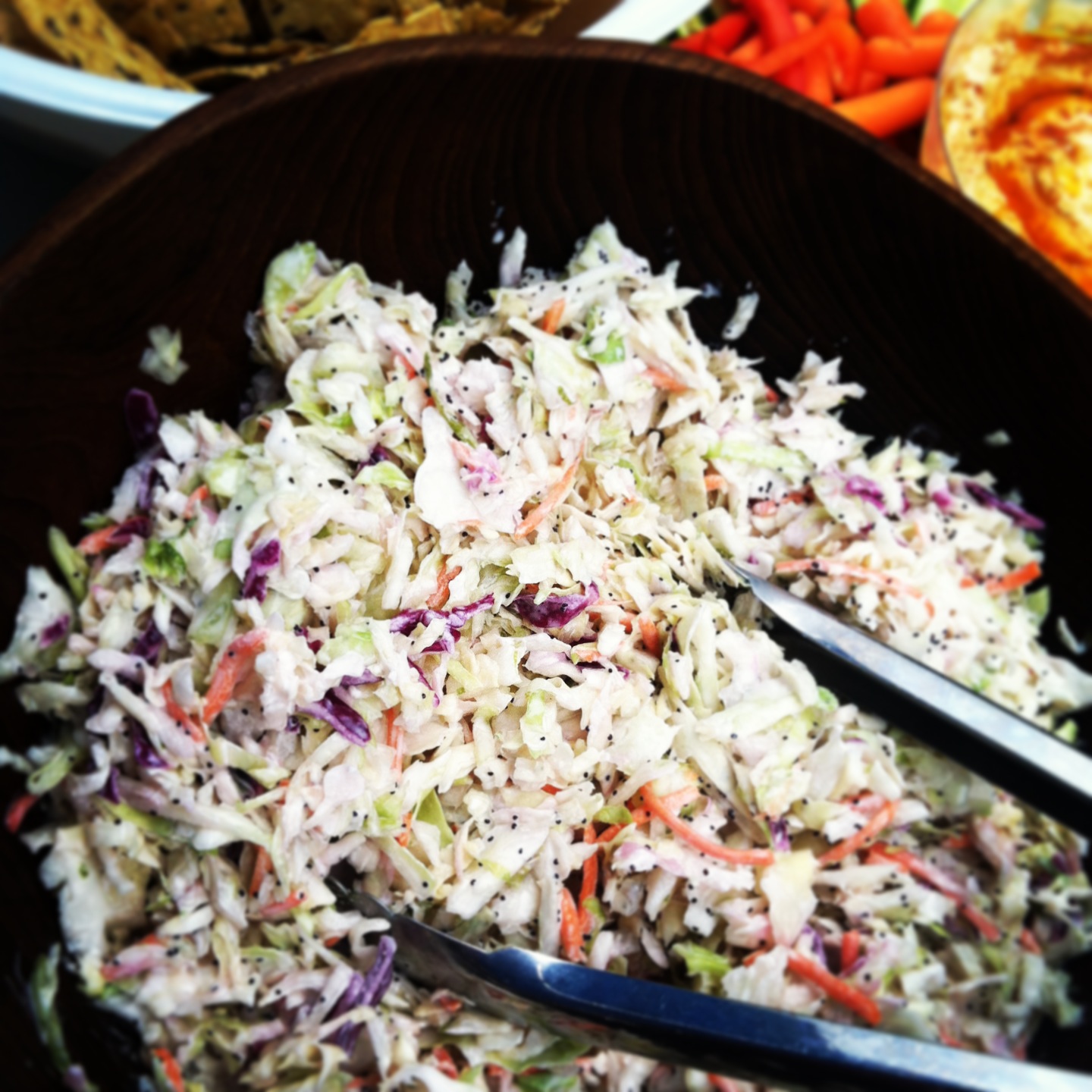 Makes 4-6 servings
6 skin-on, bone-in Chicken Thighs (about 2.25 lbs.)
1 medium Red Onion
3 Tomatoes (any variety)
5 Poblano Peppers (Poblano Peppersare rich and smoky chili peppers with a mild to medium hotness; use Jalapenos for more intense heat)
Homemade Buffalo Sauce (recipe below)
2 tablespoons Canola or Vegetable Oil
1/2 cup White Wine (any kind you have on hand) or Chicken Stock
Salt and Pepper
Heat oven to 450
Slice red onions and poblano peppers into thin strips and dice tomatoes (remove seeds and membranes of peppers for a milder heat)
Heat 1 tablespoon of the canola oil in a large skillet over (almost) high heat
Arrange the chicken thighs on a plate, dry them with a paper towel, and then season with salt and pepper; turn the pieces on their other side and season again
When the oil begins to smoke lightly, carefully add the chicken to the oil (careful, it will sizzle and splatter)
Allow them to brown on their first side, about 3 to 5 minutes
Reduce heat to medium high and using metal tongs, turn the chicken pieces to sear their second side, about 3 to 5 minutes
Transfer the chicken to a clean plate and set it aside
Add the remaining oil to the pan and saute the sliced red onion, tomatoes, and poblano peppers for 3-4 minutes
Season with salt and pepper and then de-glaze the pan with the chicken stock or white wine (scraping up the bits from the bottom of the pan
Place chicken (with all of its juices) and cooked vegetables in a baking dish with a few tablespoons of water
Cover with tin foil and bake for 20 minutes, flipping the chicken halfway through
Chicken is done when the juices run clear and the joints fall apart easily (or when your meat thermometer reads 165)
Once chicken is cooked, remove the thighs from the pan and let cool for at least 25 minutes
While the chicken is cooling, combine all ingredients for buffalo sauce (below) in a small pot 
Using two forks, shred the chicken and discard the bones (or save for homemade chicken stock)
Return the shredded chicken to the pan with the roasted vegetables and pour the warm buffalo sauce over the shredded chicken and veggies–tossing to combine the flavors
Season to taste with salt and pepper
Serve the shredded buffalo chicken with warm flour tortillas, sour cream, fresh cut limes, cilantro, sharp cheddar, salsa, and crunchy cabbage slaw.
Homemade Buffalo Sauce:
Makes approximately 2 cups 
1.5 sticks Unsalted Butter
2 small Garlic Cloves minced
3/4 cup Hot Sauce of your choice (I like Texas Pete or Cholula)
1 teaspoon Salt
Juice of 1 Lemon
~~
Combine all ingredients in a small sauce pot over low-medium heat and stir to combine.  For a spicier version, add more hot sauce.
Check out my video featuring all of the food from October's catering adventure in Raleigh here!