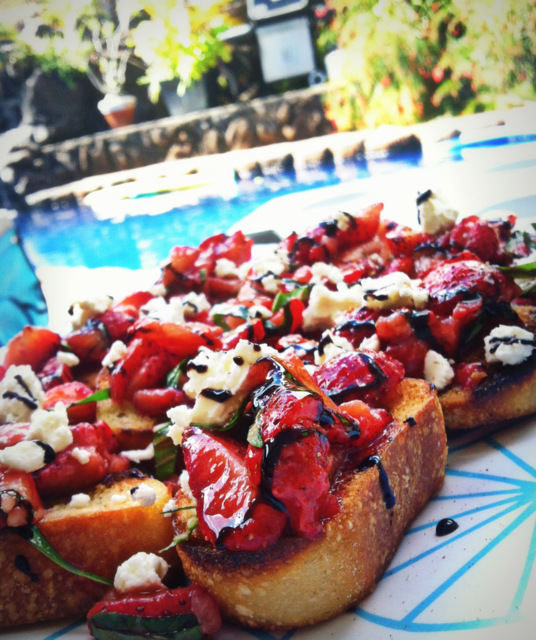 I mean, let's be honest.  Nothing tastes bad pool-side.
However, these bruschetta are exceptional no matter where you are.
These hand-held bites are a play on the traditional tomato and basil bruschetta.  The floral basil brings out the sweetness in the strawberries and the goat cheese plays the perfect creamy partner to the crunchy crostini.  Cracked black pepper gives you an unexpected bite that cuts through the sugary flavors.
You can certainly buy store-bought reduced balsamic, but it's incredibly easy to do yourself.  Traditional balsamic syrup is made by cooking down (or reducing) balsamic vinegar.  You pour in at least twice as much syrup as you'll need, bring it to a boil, and watch as it reduces in volume.  Beware, the aroma of vinegar boiling is incredibly strong–but you need to stick nearby to make sure it doesn't burn.
Reward yourself with a glass of wine for being such a trooper.
With a reduction, you're already making a sweet, sticky substance.  By adding honey, you're creating an even more flavorful gooey syrup that pairs flawlessly with something soft and mild like goat cheese.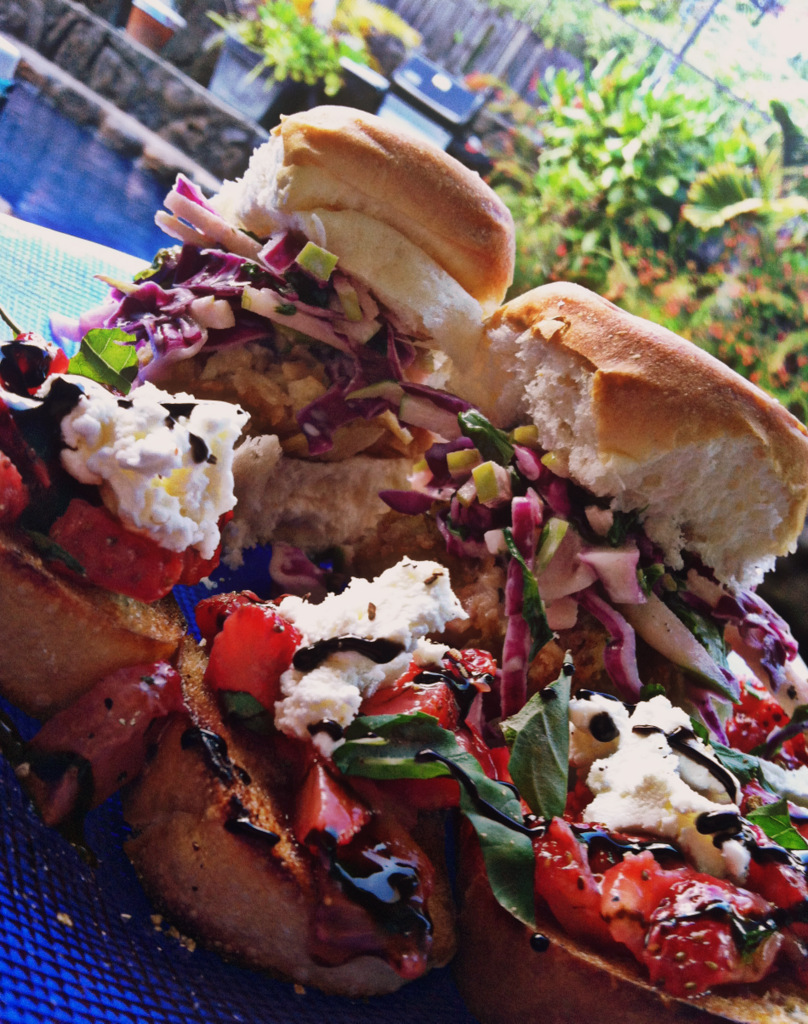 These can be served as an appetizer or as a dessert.  Put them next to my Potato Chip-Crusted "Fried Chicken" Sliders and you've got yourself a hot date.
 …With a pile of delicious.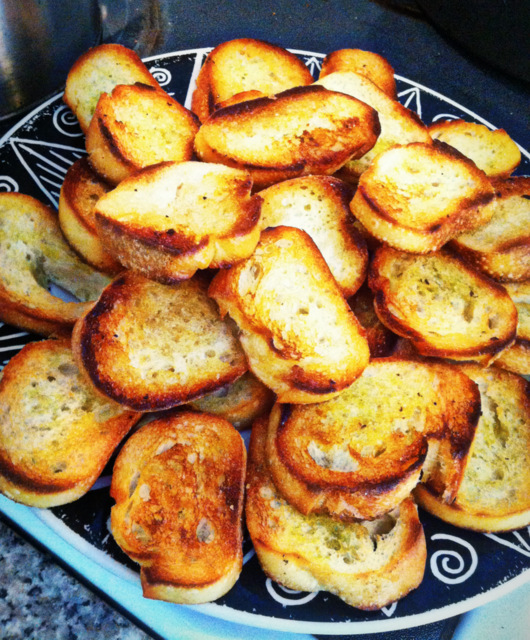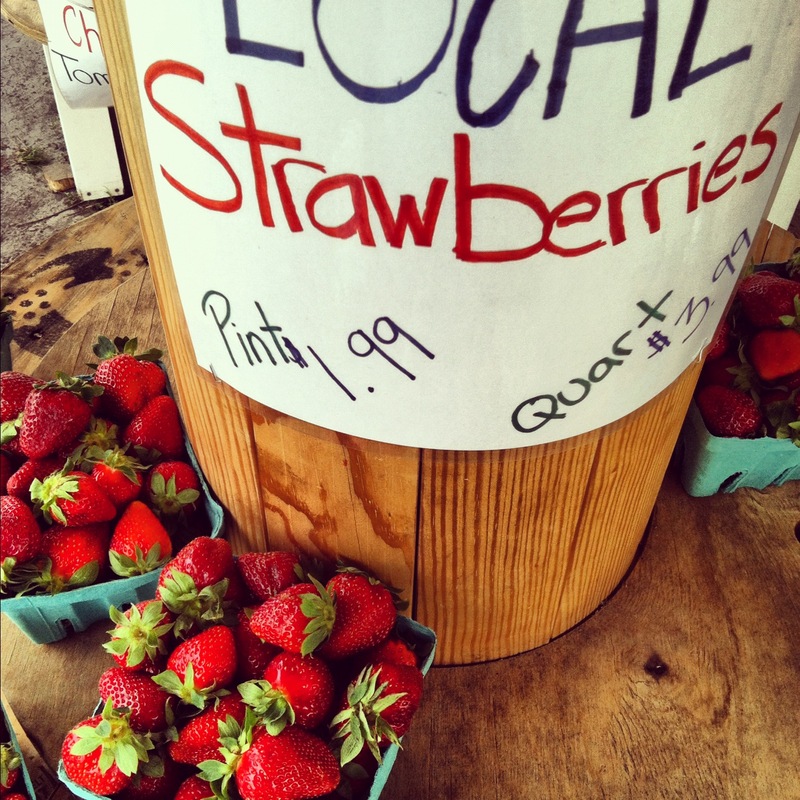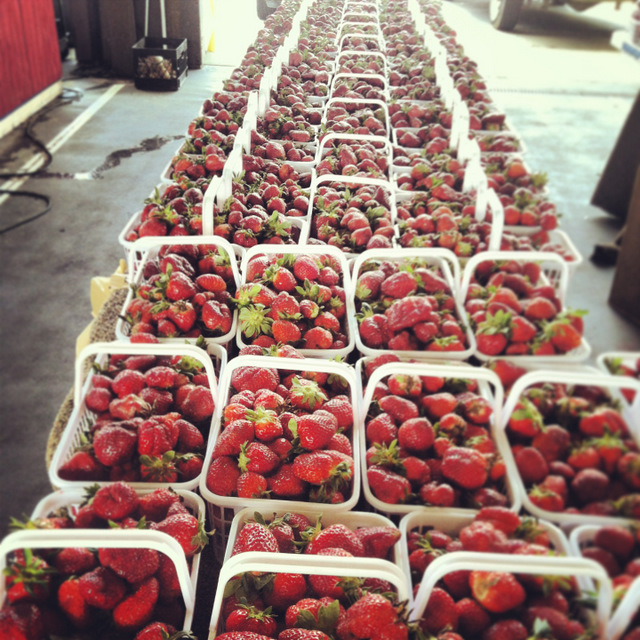 The summertime produce season is coming to a close, so this bruschetta is my send off to those wonderful Farmer's Markets and gorgeous fresh fruits that have been around every corner.
And as they always do, this blog comes with a story…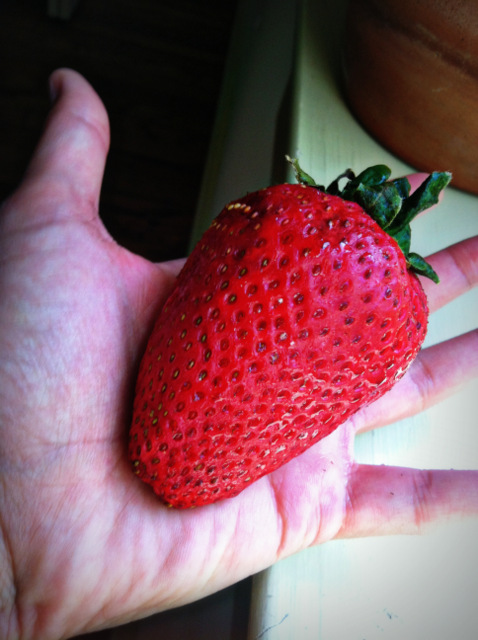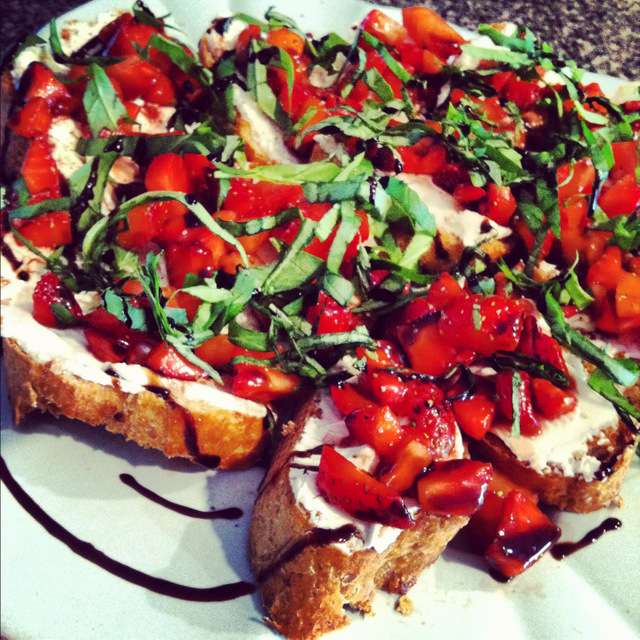 The first time the combination of strawberries, basil, and goat cheese all piled on top of a crostini popped into my head was in Los Angeles two years ago.  I had been working as the "caterer" for the office where my friend Loryn worked.  This form of catering didn't require any cooking.  It required dragging myself out of bed in Hollywood and appearing in a Santa Monica grocery store by 7 AM.
Travel time: 11 miles (that's 1.5 hours of driving in Los Angeles).  
I would then stock up on yogurt and store-bought muffins and arrange them for our incoming guests.  The most cooking I did was explaining to our non-English speaking folks how to use a toaster.
One day, Loryn mention to her boss that I wasn't just a pretty face with a six-pack of Yoplait.  In his Yugoslavian accent he then responded, "Okay.  Fanny cooks tomorrow."
And thus began my first catering event.
Without hesitation, I threw together a menu of my favorite homemade specialties: tzatziki sauce, balsamic vinaigrette, lemon-scented pasta salad with herbed chicken.  I wanted some kind of "appetizer."  And I wanted it to be extraordinary.  The next thing I knew I was at the grocery store with half of a shopping list and a brain still spinning with ideas.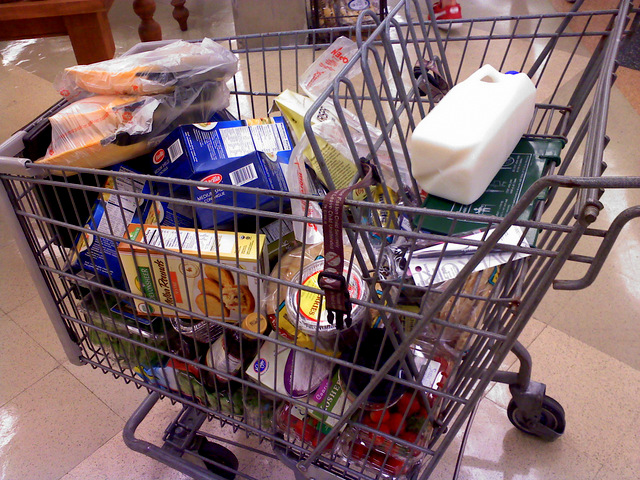 The most valuable tools that come from attempting something new is leaving with a dozen corrections for the next time.
For example, looking back–I probably wouldn't have worked until 5 PM the day before I was supposed to prepare a meal for 25 people.  By the time I drove back to Hollywood, grocery shopped (which included going over-budget and holding up the line while I contemplated which items I could do without), got home, and opened a Coors Light…it was almost 8 PM.
Yes, these pictures are all real.
No, I did not have an iPhone at the time.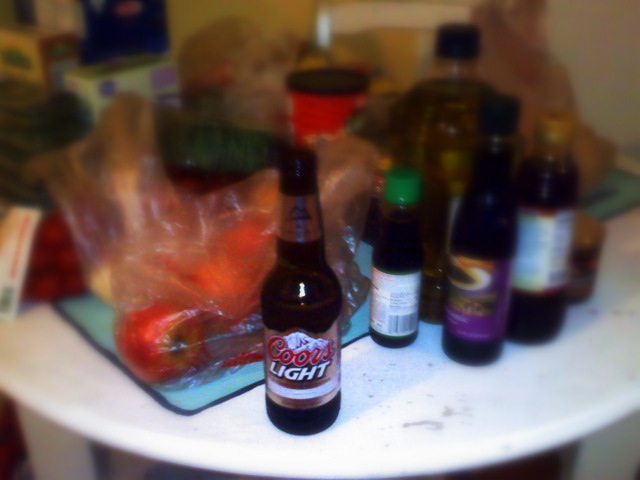 Somehow, I managed to prepare each dish, get a few hours of sleep, and stack the gigantic meal in my car at 6:30 AM the following morning.  With droopy eyes and a racing heart, I watched for the first time as strangers lifted forkfuls of my food to their mouths.  As I saw the smiles domino down the table, I sunk into my chair and felt the satisfaction of pulling off the impossible.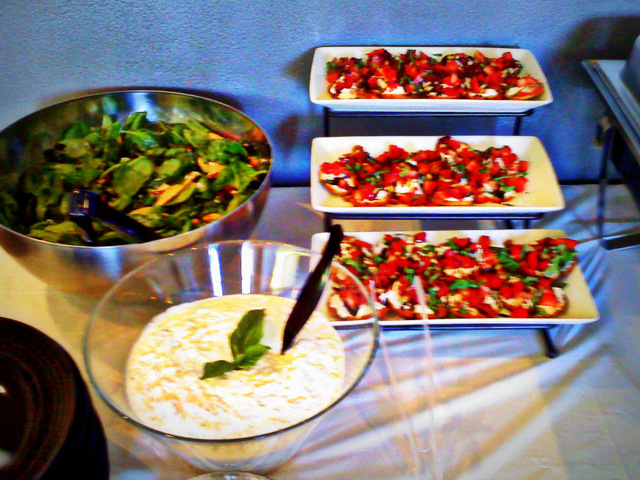 Needless to say, these bruschetta will always hold a special place in my heart.
Make them at your next gathering and I guarantee that you'll feel the same.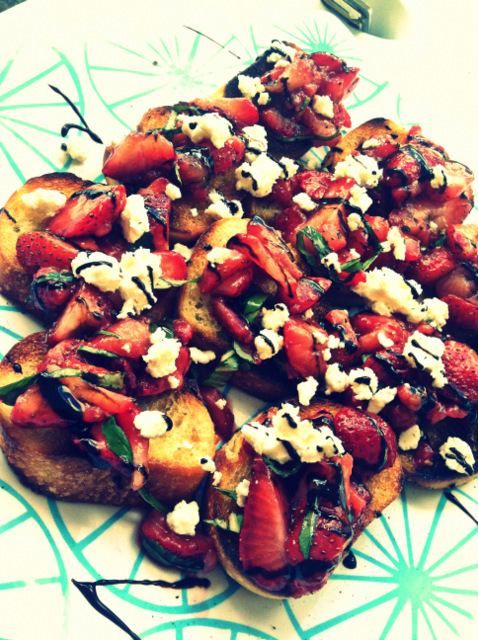 Strawberry Goat Cheese Bruschetta with Fresh Basil, Cracked Black Pepper + Balsamic-Honey Reduction
Makes 12 pieces
Ingredients:
1 lb. strawberries washed and diced
1 small log plain goat cheese
1 baguette (any kind will do but I like either honey wheat or a regular French or Italian loaf)
1 bunch fresh basil (about 1/3 cup or one large handful of leaves)
1 tablespoon olive oil
1/4 cup balsamic vinegar + 1/2 cup for reduction
2 tablespoons honey
Salt
Pepper-mill
Directions:
Slice baguette into rounds.  Either drizzle with olive oil and salt and bake at 350 for 6-7 minutes or toast slices in a saute pan with butter/oil.  Drizzle 1/4 cup of balsamic and 1 tablespoon oil over diced strawberries and toss.  Add a pinch of salt and pepper and half of the basil (either torn or cut as a chiffonade).  Toss again and set aside.  Spread toasted baguette rounds with goat cheese while still warm.  *Note: You could also crumble the goat cheese over top.*  Top crostini with strawberry mixture, cracked black pepper, and sprinkle on remaining basil.  Drizzle with balsamic-honey reduction (recipe below).
For Balsamic-Honey Reduction: In a small pan over medium-high heat, whisk together 1/2 cup balsamic vinegar + 2 tablespoons honey and bring to a boil.  Reduce to low and stir occasionally.  Mixture is done when it's reduced in volume by half and is sticky like a syrup.  Refrigerate until ready to use and heat for a few seconds in the microwave.