Throw on your eating and drinkin' shoes because tailgate season has arrived!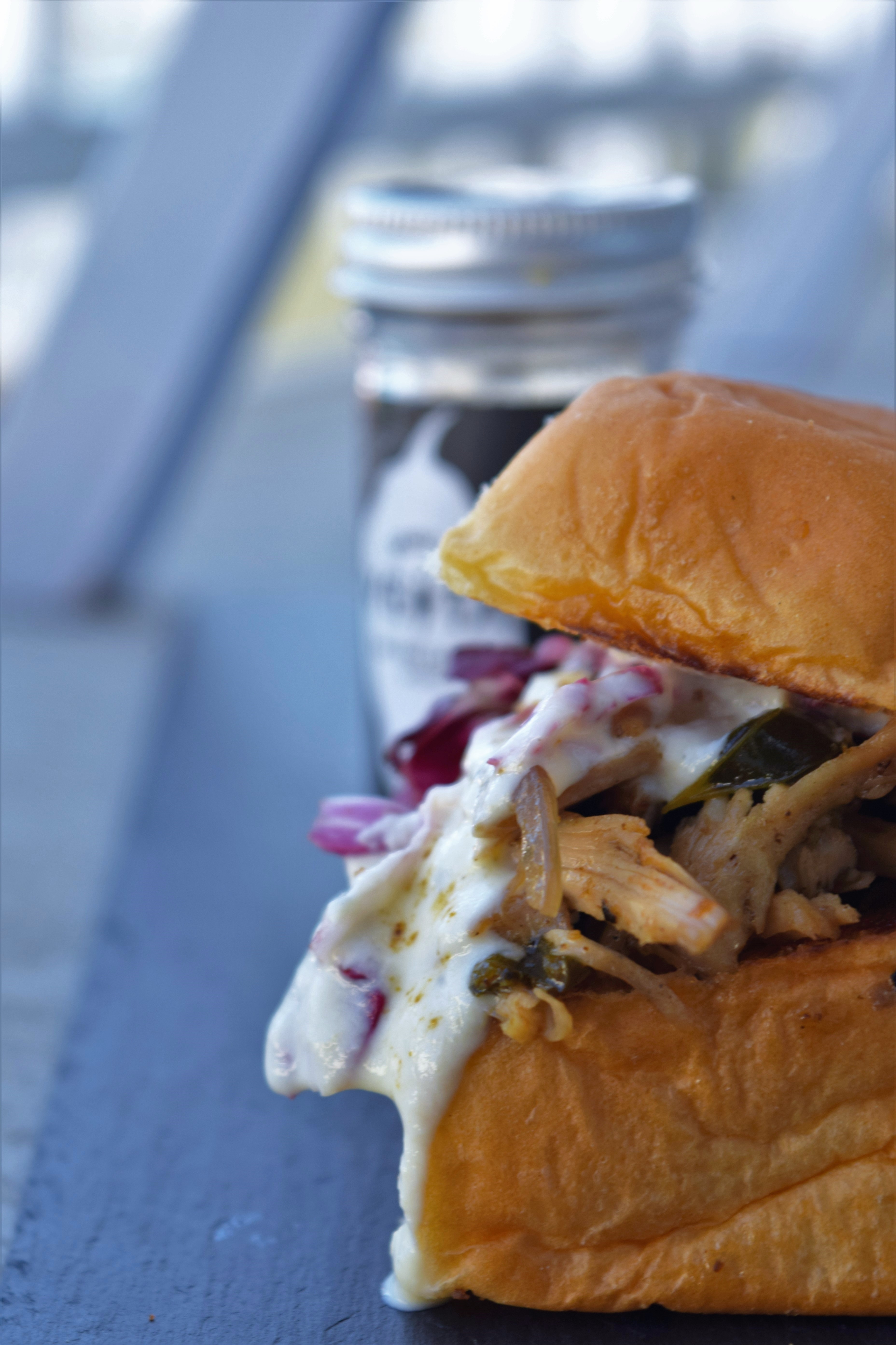 ---
If there's anything I know about sports, it's that you're supposed to watch them with a cold pint in one hand and a spicy sandwich in the other. Enter: pulled chicken sliders. Thanks to en epic burst of a heat from my friends at Benny T's Vesta, these fiery handhelds are loaded with fresh chili flavor and cooled down with a sweet, creamy pineapple aioli. Vesta (the world's first dry hot sauce) packs a punch, but don't be afraid of over-sprinkling. The more Vesta, the better.
Sweet & Smoky Vesta Pulled Chicken Sliders with Roasted Pineapple Aioli
Makes 12 sliders
2 pounds boneless skinless chicken thighs
Coarse salt (such as sea salt or kosher salt)
Coarse black pepper
1 jar Benny T's Vesta Dry Hot Sauce (HOT Variety)
2 tablespoons neutral oil (such as vegetable, canola, or safflower)
2 poblano peppers, sliced
1 small red onion, sliced
1/4 cup dry white wine or chicken stock
2 tablespoons Worcestershire
Roasted Pineapple Aioli (recipe follows)
12 mini sweet Hawaiian rolls, sliced and toasted
2 cups finely shredded red cabbage
Lime wedges (for serving)
Make the Roasted Pineapple Aioli and refrigerate it while you prepare the rest of the meal.
Preheat the oven to 400°F.
Generously season both sides of the chicken thighs with salt, pepper, and Vesta. In a large skillet, heat the oil over medium high heat. Sear the chicken thighs until golden brown, about 2 to 3 minutes per side, and then place them into a deep baking dish.
Turn the pan's heat down to medium and add the poblano peppers and onions. Season them with a pinch each of salt, pepper, and Vesta and sauté until the onions are translucent, about 3 minutes. Add the wine or stock and Worcestershire and sauté for an additional minute—scraping up the brown bits from the bottom of the pan. Transfer the veggies and liquid to the baking dish with the chicken and roast for 35 minutes.
Use two forks to shred to chicken and toss it with all of the dish's juices. Add more Vesta to taste, and roast for an additional 15 minutes to incorporate all of the flavors.
Assemble the sliders: Top each bottom bun with a scoop of the pulled chicken, a pinch of shredded cabbage, a generous drizzle of aioli, an additional dash of Vesta, and the top bun. Serve with lime wedges.
Roasted Pineapple Aioli
Makes approximately 1 cup
1 tablespoon olive oil
8 ounces pineapple, rough chopped
1 lime, halved
1/4 cup plain Greek yogurt
2 tablespoons mayonnaise
1/4 cup champagne vinegar (or substitute white wine vinegar)
1/2 tablespoon honey
Salt and pepper
Preheat the oven to 425°F.
Toss the pineapple and lime halves with the olive oil and arrange in a single layer on a baking sheet (with the limes flesh side down). Roast until the lime is lightly charred and the pineapple is caramelized, about 15 to 20 minutes. Cool to room temperature.
In a blender or food processor, pulse the pineapple, grilled lime juice, Greek yogurt, mayonnaise, vinegar, and honey until very smooth. Season to taste with salt and pepper.