As we continue down our journey of my Rachael Ray Great American Cookbook Competition win, and I share with you behind-the-scenes insight–like my wildly risky (not shown on TV) omelet flip–you'll begin to learn more about the girl behind the cookbook.  So let's get right down to business and discuss what you've all been waiting for.
The Tears.
Week two of the competition proved to be more emotional than ever for me, and many wondered why.  What was it about this second round that tugged on my heartstrings and made it impossible for me to not be, "the girl who cries on television."  First and foremost, I'm cool with being that girl.  I'd rather be that girl than the one who wears a meat dress on television.  Sorry Lady Gaga, but we still don't get that.  So to give you a bit more insider information on how the filming worked, although you saw episode 1 and 2 two weeks apart–that cooking portion of week 2 was filmed on the same day I flipped omelets with Jacques Pepin.  The first day.  And that backstage interview where the waterworks began was also on that very same first day.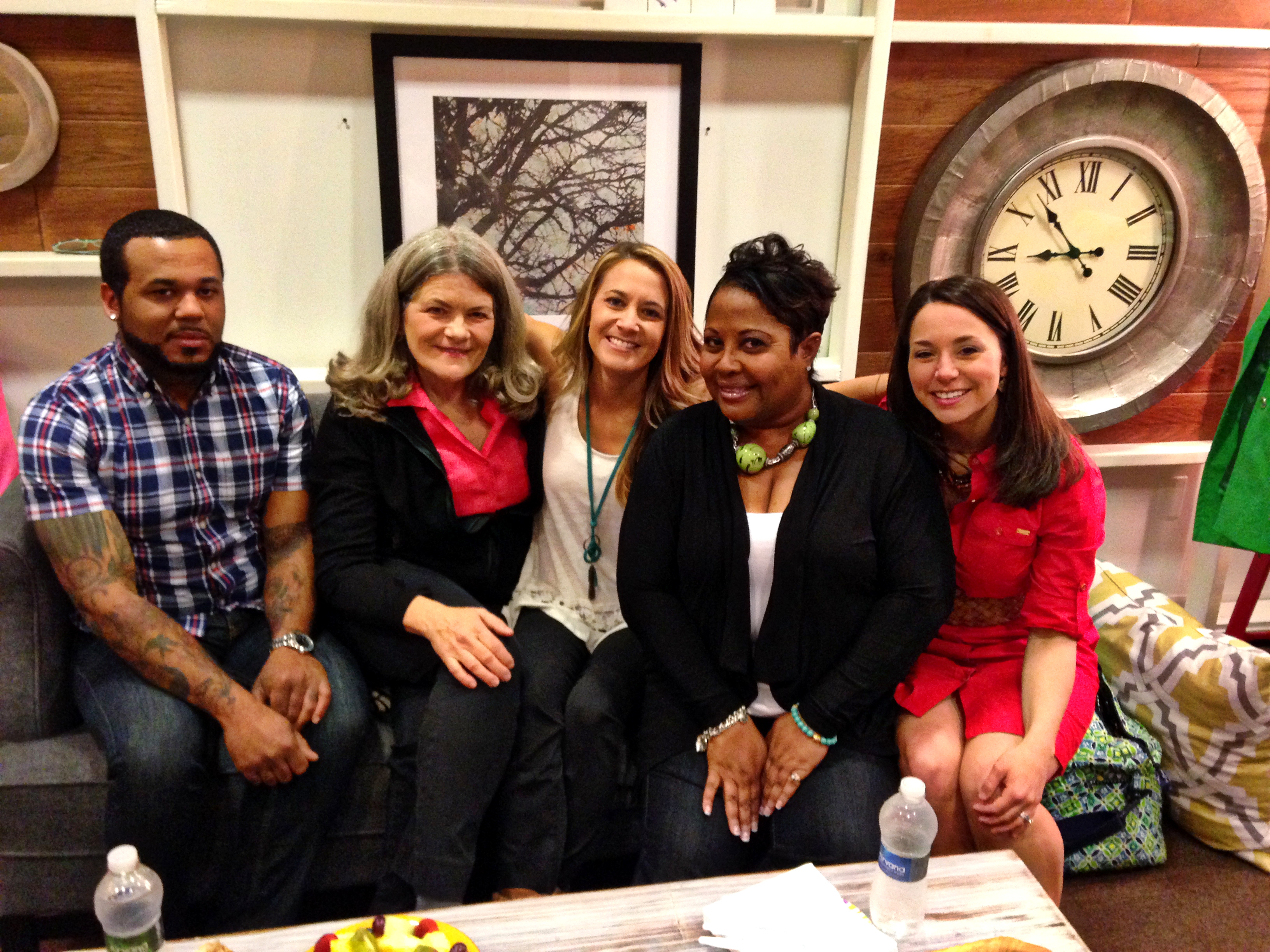 The first day of filming was full of many emotions.  I was so excited, I was certain I was going to wake up from a dream.  No way was my name on a dressing room door at the Rachael Ray Show.  I was so humbled, I was worried I might burst into tears at any moment.  No way was I chosen out of almost 1,000 people to share my childhood food memories on national TV.  And I was so hungry–no, that's not a metaphor–that the cup you see me drinking out of below is orange juice.  No way should I not have finished my entire breakfast that day.  Low blood sugar ain't no joke.  Special thank you to the wonderful producers who, from that point on, filled their pockets with granola bars on my behalf.
But let's get down to the meatballs.
In the first challenge, we were all equalized by preparing the same dish.  In this second round, we were finally asked to open ourselves up, to tell our story, to share our food.  As Rachael explains to us that we have several minutes to grab through a pantry we've never seen before and create a dish (we haven't even thought of yet), the wheels in my brain began to turn.  I spot a can of tomatoes and then a bunch of fresh basil.  I see a crusty loaf of ciabatta and a pile of bright, fresh arugula.  It was game on.  This would be the first time I could tell my food story, and the Italian ingredients waving their hands at me were like a sign from…
New Jersey.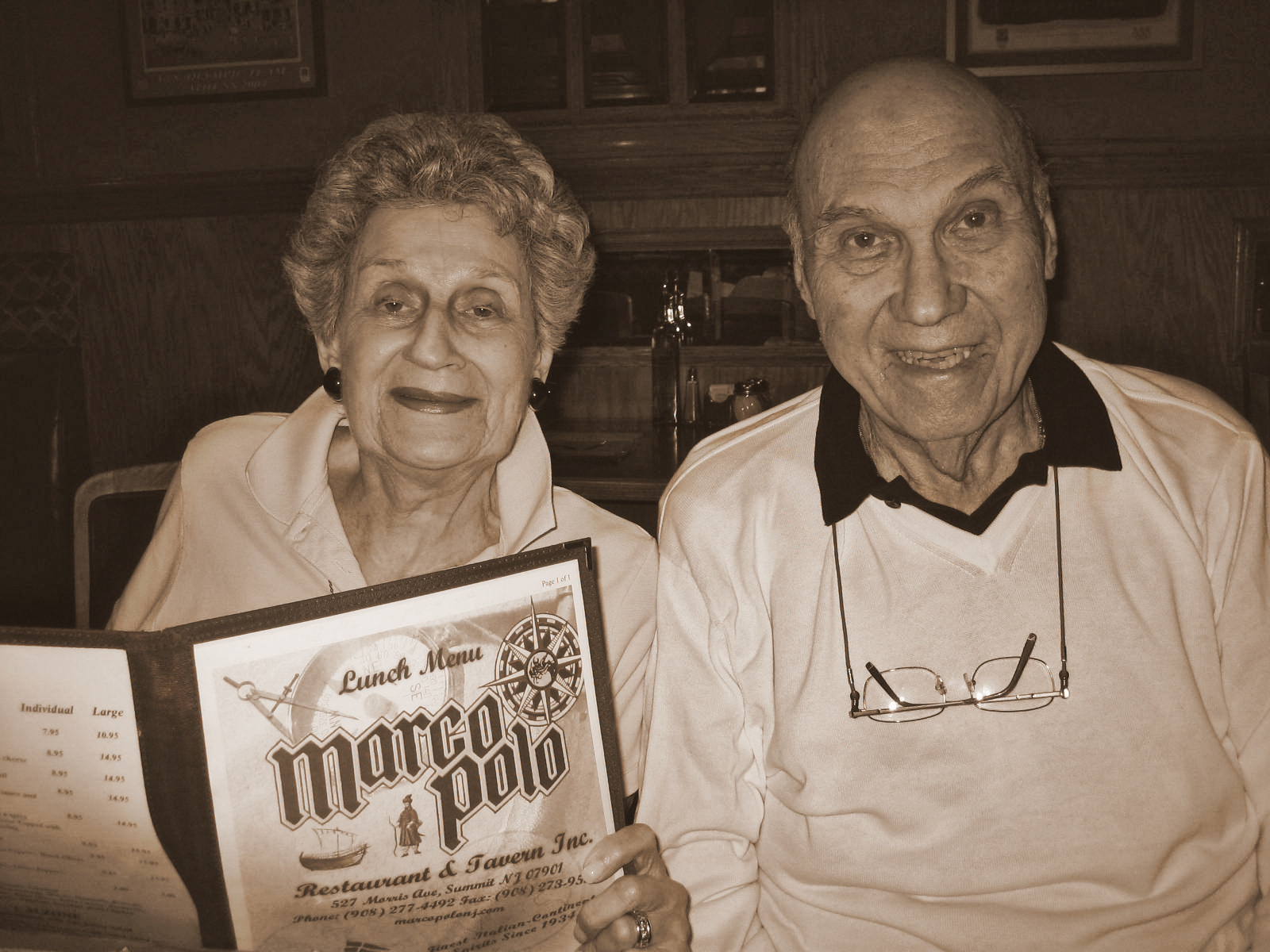 Marco Polo is an Italian tavern in Summit, New Jersey that my grandmother (Bea Bea) has been going to since June 1972.  As the story goes–my uncle Mitch was at a local barbershop getting a haircut and the man in the next chair overheard him and Bea Bea talking about my aunt's upcoming wedding.  The man insisted that they visit his restaurant (which they had never heard of at the time) and they decided to give it a try.  Upon their arrival, they were greeted by this same man–the owner–and he gave my aunt a bottle of wine as a wedding gift.  My aunt and uncle just celebrated their 42nd wedding anniversary this week.  As for Marco Polo, my family continued to go, and to this day–we all still do.
I believe each member of my family has their own wonderful set of memories and feelings associated with our magical Marco Polo.  For my mom and dad, it's the light-as-air eggplant parmesan oozing with velvety cheesiness and dressed in red.  My mom has eaten the dish at least a thousand times, yet she never fails to exclaim, "How do they make something so rich and so light at the same time?!"  For my sister, it's the elegantly dressed, garlicky Caesar salad filled with lemon and love.  Or maybe the crispy roasted potatoes.  It's probably a tie.  For Bea Bea, the baked ziti in the metal dish or the marinara covered meatballs my grandfather adored.
I remember my younger cousin Harrison certain that the only thing on the menu was chicken fingers and french fries.  And then the day I saw him graduate to ordering steak…and french fries.  I remember my even younger cousin Georgia so little she could barely see over the table.  And then the day she sat across from me at eye-level discussing where she had applied to college.  For me, this charming bistro is far more than a restaurant where people eat dinner.  It's a place where families come for decades, and keep coming back for more.  It's a place of remembrance, where family members who aren't with us any more once sipped wine and slurped down spaghetti.
So yes, I remember the Shirley Temples.  And the herbaceous red sauces and the crusty bread and the beautiful salads.  But most of all, I remember the feelings.  So as I stared into that camera and explained the inspiration behind my Italian-inspired appetizer, I was once again overcome with emotion.  I was so excited at the very thought of sharing this beloved place.  I was so humbled by the unexpected opportunity to put my New Jersey family on a plate.  And I was so hungry to keep sharing these moments with the entire world.
Because that, THAT is wild.
All video footage is from the May 5, 2014 episode of' 'Rachael Ray.'  For more clips from that episode, visit this link.