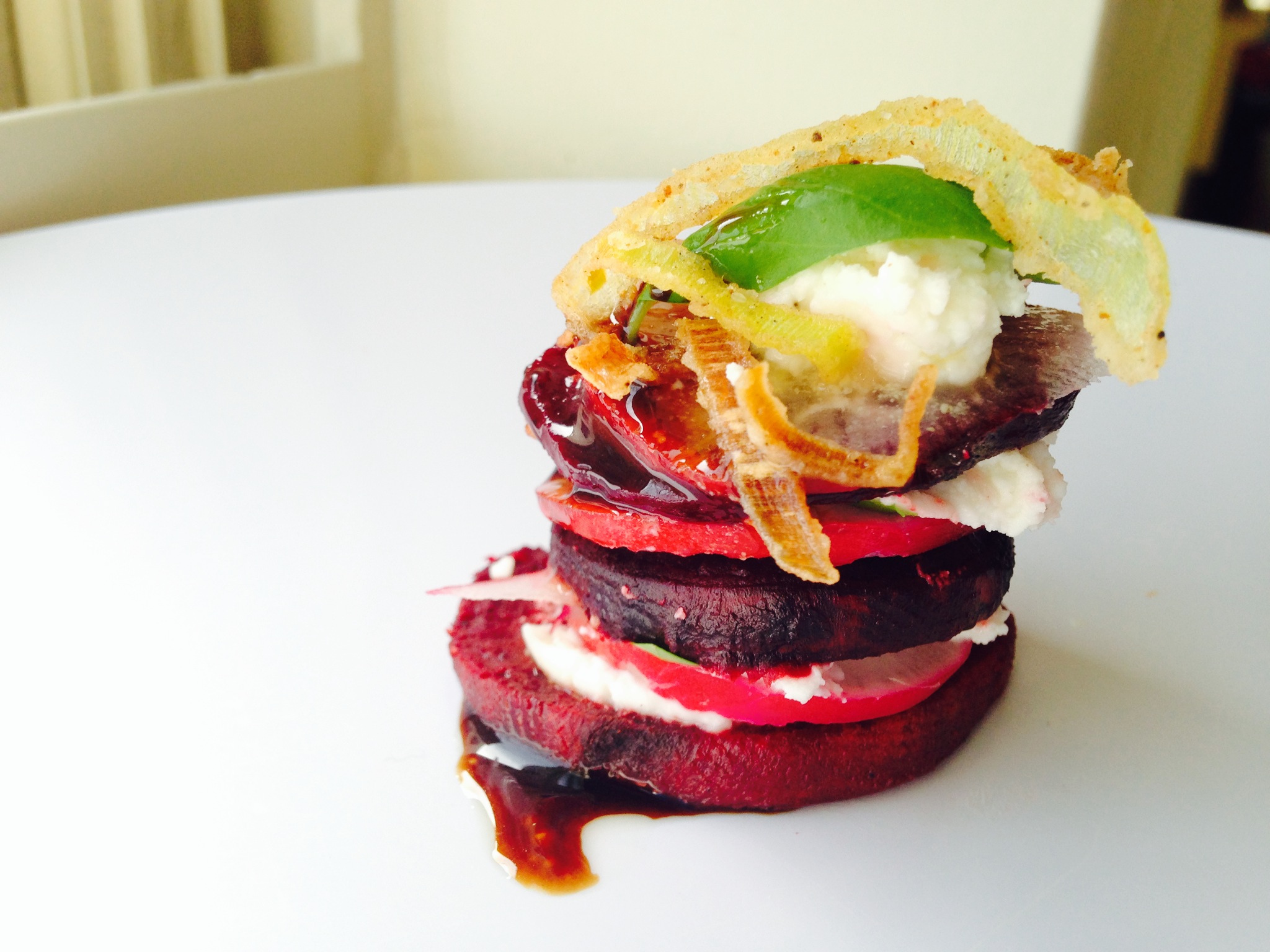 My boyfriend made me a deal for Valentine's Day.  I would prepare the appetizer and he would take us out to a nice dinner afterwards.  With Friday being not only Valentine's Day, but Tip of the Week day as well–I decided to mingle the two together and see what I got.  The result: a vividly red and stunning one-bite salad that was a true representation of love, AND a fun, elegant appetizer that could be made for any occasion.
Beet Salad Stack with Goat Cheese, Fried Leeks, and Balsamic-Plum Reduction
Full recipe below.
Beet Salad Stack with Goat Cheese, Fried Leeks, and Balsamic-Plum Reduction
Serves 4
4 medium Red Beets, peeled and cut into ¼ inch thick rounds
2 tablespoons Olive Oil
1 tablespoon fresh Orange
Salt and Pepper
2 oz. Goat Cheese
1 tablespoon Honey
1 pinch Black Pepper
4 medium Radishes, sliced into paper thin rounds
1 small bunch fresh Basil leaves
1 medium Leek
½ cup Vegetable Oil
½ cup Flour
1 tablespoon Paprika
Salt and Pepper
Orange Vinaigrette
1 tablespoon fresh Orange
1 tablespoon White Balsamic (or White Wine Vinegar)
1 teaspoon Honey
1 tablespoon Olive Oil
Salt and Pepper
Balsamic-Plum Reduction
½ cup Balsamic Vinegar
1 Plum, diced
Preheat oven to 400.  Toss beet rounds with olive oil, orange, salt, and pepper.  Roast for 35-40 minutes until tender and sprinkle with salt when finished cooking.  Let cool.  To make goat cheese spread: Combine room temperature goat cheese with honey and black pepper in a small bowl.  To make fried leeks: Heat vegetable oil in a small pan over medium-high heat.  Cut root off of stalk and thinly slice white and light green parts into small rings.  Using a strainer, run water over leeks–breaking the rings apart from each other and rinsing any grit or dirt off.  Dry leeks completely.  Toss flour with paprika and a pinch of salt and pepper.  Dredge leeks in flour, shake off excess, and drop into oil.  Stirring occasionally, keep an eye on leeks and remove with a slotted spoon when golden brown–approximately 30-45 seconds.  Place onto paper towel and sprinkle with salt.
To make orange vinaigrette: In a small bowl, whisk orange, white balsamic, honey, olive oil, and salt and pepper to taste.  To make balsamic-plum reduction: In a small pot, heat balsamic and diced plum over medium heat.  Once it begins to simmer, mash plums.  Reduce heat and cook for 3 more minutes.  Strain mixture over a bowl so that the plums are now separate.  Return liquid to pan and cook over low heat until thick and syrupy–about 4-5 more minutes.
To assemble: Spread a small amount of goat cheese mixture onto one beet round.  Top with one radish slice, one basil leaf, and one more beet round.  Repeat.  Carefully top with small dollop of goat cheese, one basil leaf, one spoonful orange vinaigrette, and fried leeks.  Drizzle with balsamic-plum reduction.  If reduction becomes too thick, microwave for several seconds.