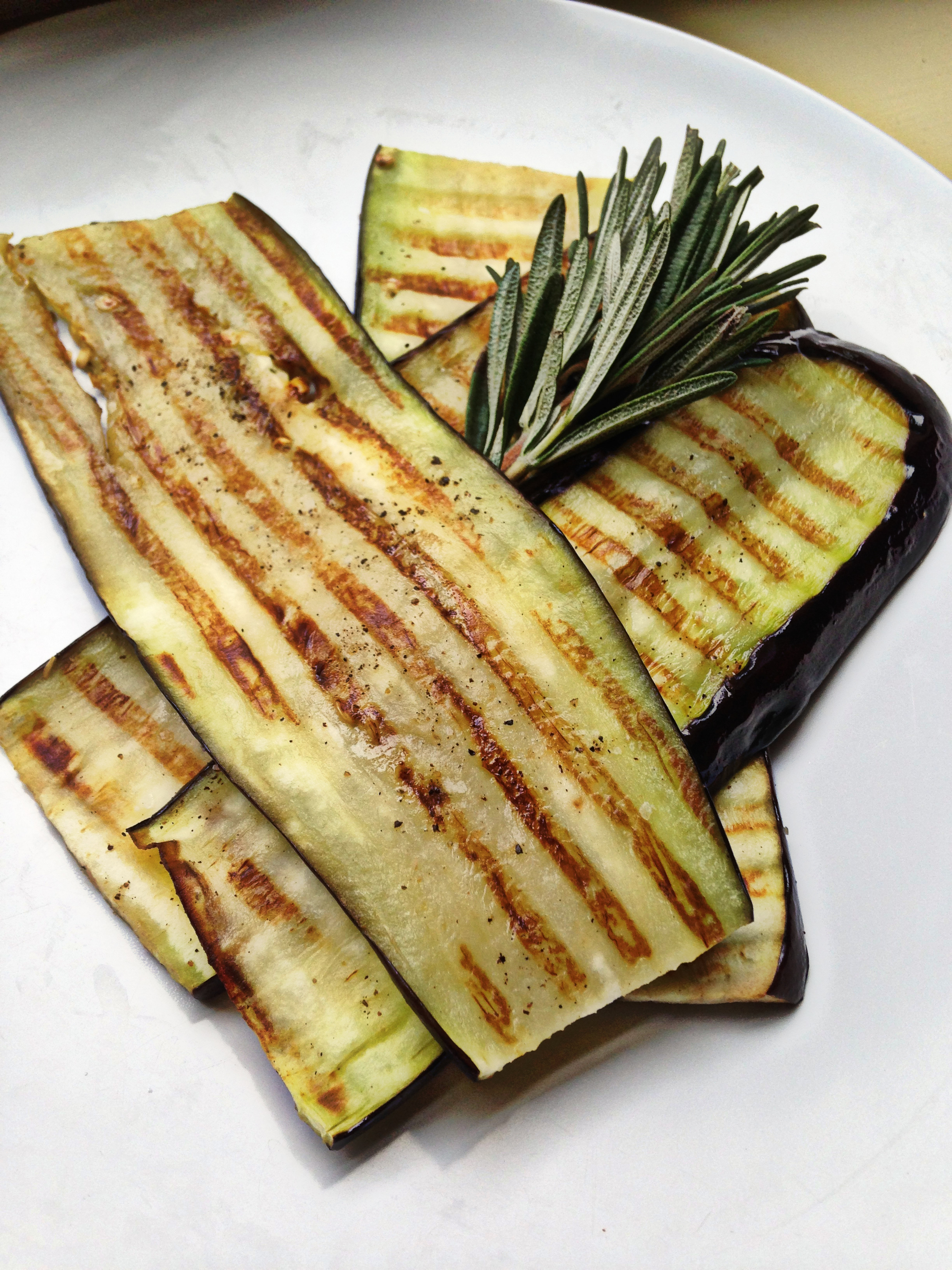 This week's tip: How to infuse oil and what to do with it.  Watch my video below as I teach you how to transform plain oil into rosemary, lemongrass, and ginger scented oil.  Brush it on some eggplant, throw it on the grill, and you've got yourself a fancy little snack.  Full recipe below.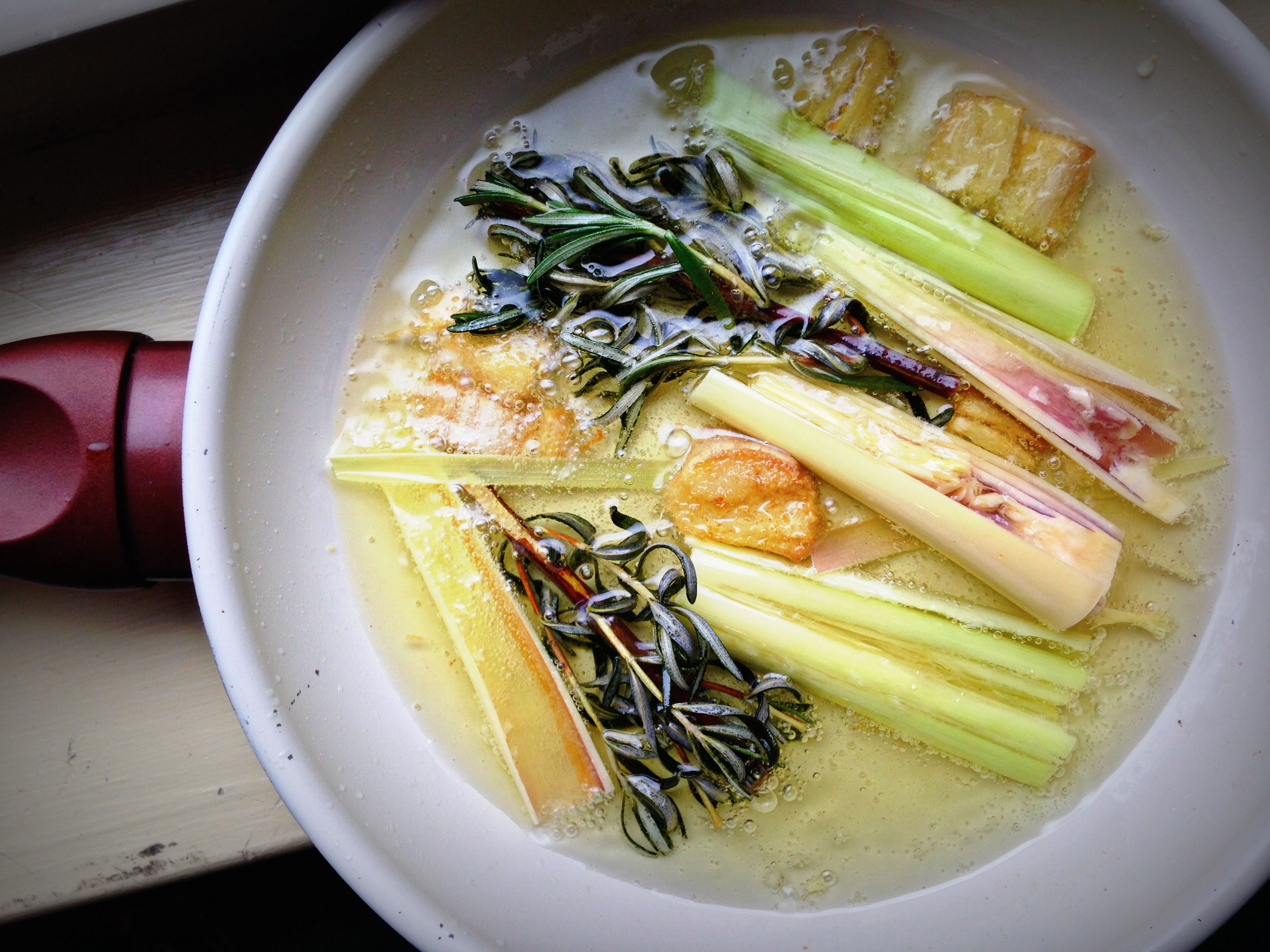 Grilled Eggplant with Lemongrass-Ginger and Rosemary Infused Oil
½ cup Olive Oil or Vegetable Oil
2 sprigs Fresh Rosemary
1 small piece of Fresh Ginger (about the size of your thumb)
1 stalk Lemongrass
Salt
1 medium size Eggplant
Heat the oil over medium heat in a small saute pan or pot.  Using the back of a spoon, scrape skin off of ginger.  Slice into small rounds and smash to release flavor (as you would with garlic) with the flat side of your knife.  Remove outer layers from lemongrass and slice stalk into three equal size cylinders.  Slice each cylinder horizontally.  Using the end of your knife's handle, smash the inside of the lemongrass–releasing all of its essential oils.  If any of the leaf-like pieces fall off, rub the inside of those with your knife as well.  Rubbing and mashing these stalks is how you extract their scent.  Place the rosemary springs (keeping them whole), the smashed ginger, and the lemongrass pieces in the pan.  Let them simmer for about 10 minutes and then turn heat to low.  You don't want the ginger to turn any darker than a light golden brown.  Add salt (about 1-2 teaspoons), stir, and simmer on low for an additional 10 minutes.
Heat a grill to medium-high.  Slice both ends off of the eggplant and stand it upright.  Slice it from top to bottom creating long equal size strips about 1/4 inch thick.  Don't slice them too thin or they'll fall apart on the grill.  Brush each strip with your infused oil and season with salt and pepper.  Grill 2-3 minutes per side, basting with the oil halfway through.
Garnish with a fresh rosemary sprig and serve as an appetizer alongside hummus and pita chips OR serve inside a sandwich.  Sandwich suggestion: Grilled Eggplant "Bahn Mi" with pickled carrots, lime crema, cucumber slices, cilantro, and honey-roasted rosemary peanuts.  Don't feel like making this yourself?
Fanfare can deliver this very sandwich (and others) right to your office or event!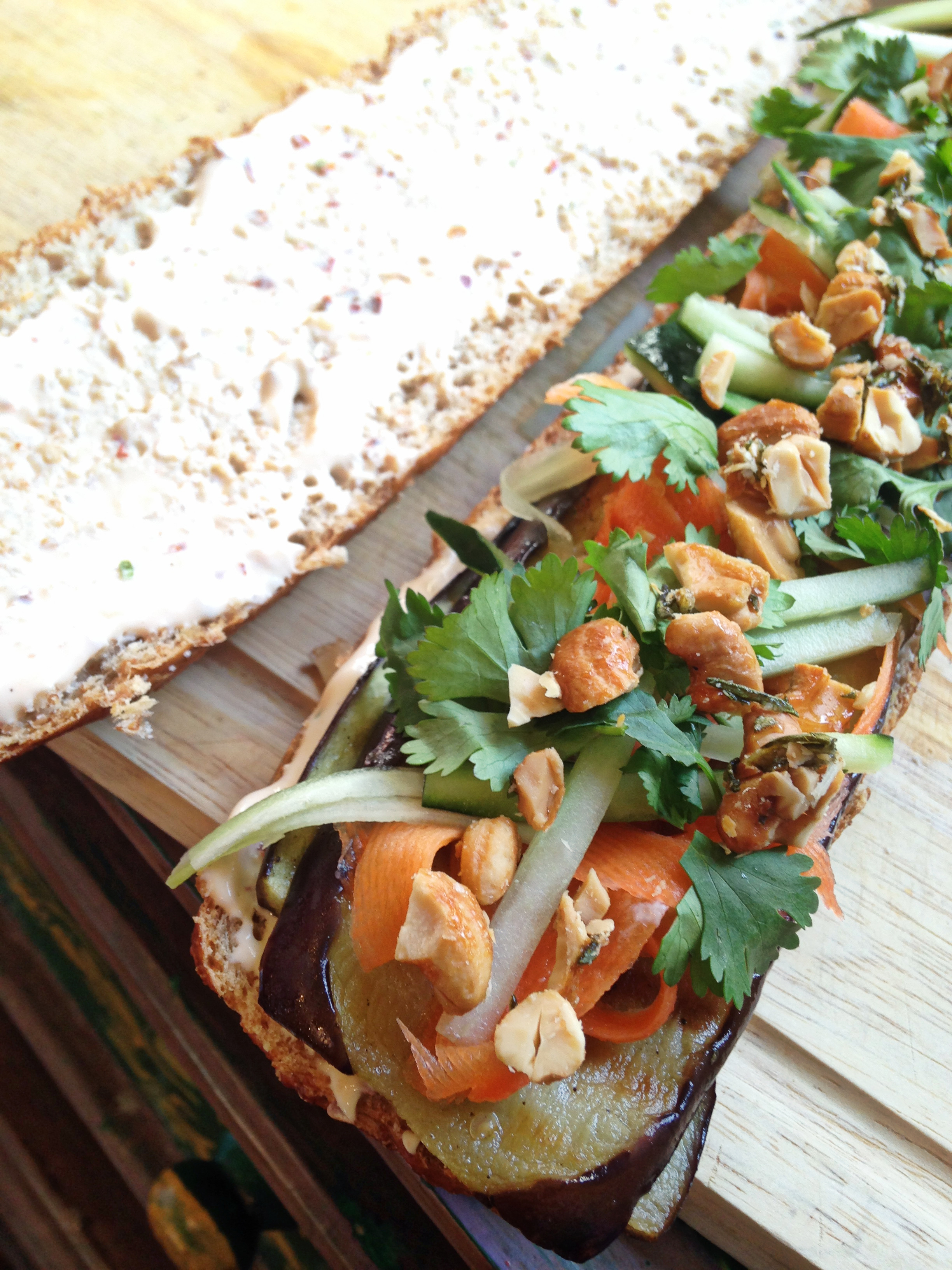 Click here for full lunch menu and more details.