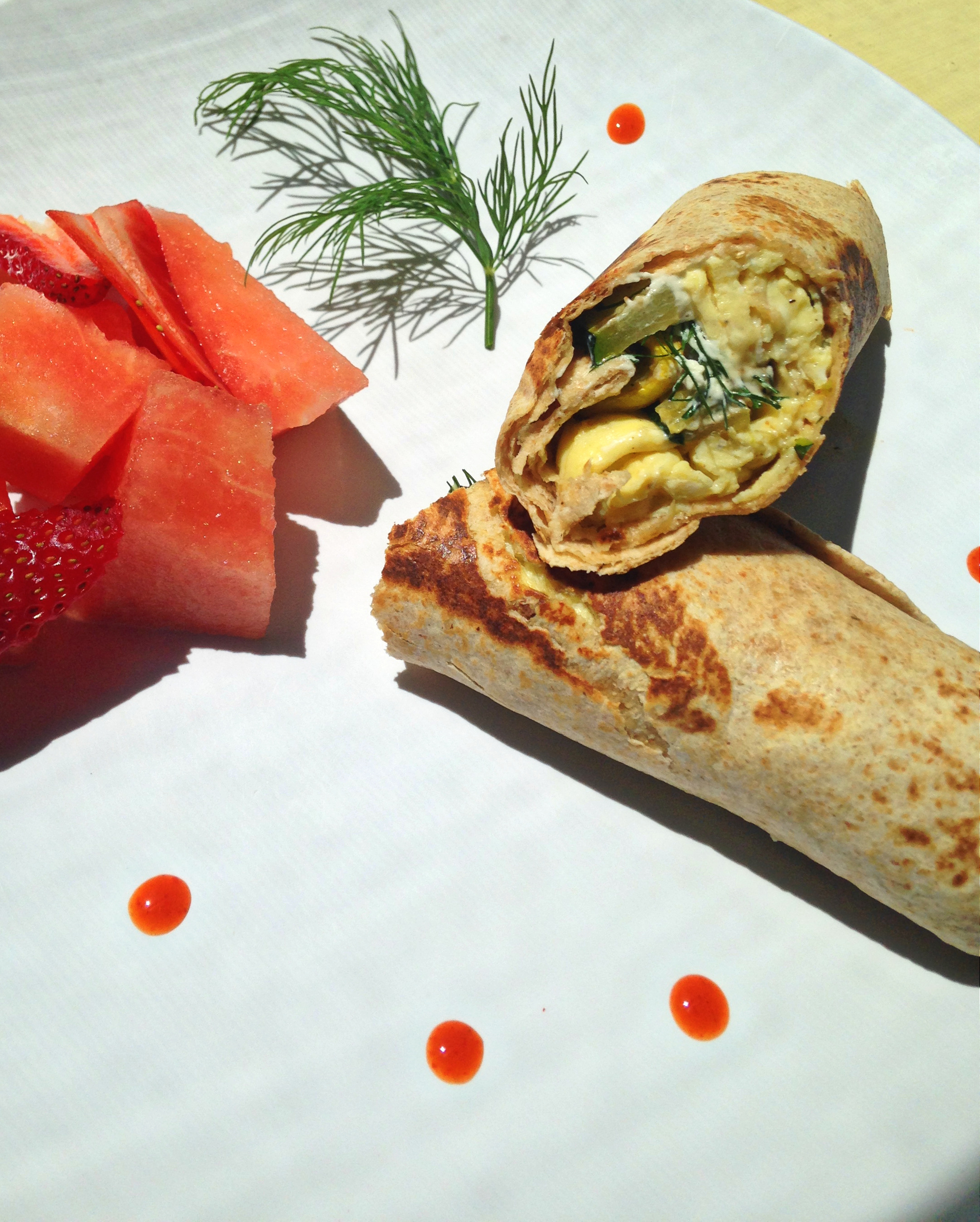 Azalea Festival has arrived!  For us Port City locals that means abnormally high wait times at our favorite brunch spots and tourists invading our favorite neighborhood bars.  But it's not all mayhem–we also get the pleasure of hosting our friends who are in town visiting for Wilmington's wackiest weekend.
With lines out the door of every restaurant, how are you going to feed these hungry travelers?!  I've got the solution for you.  Healthy, homemade breakfast wraps with FIVE simple ingredients: scrambled eggs, sauteed zucchini and squash, goat cheese, and fresh dill.  Stock the fridge with champagne and OJ and grab a few friends to help you in the kitchen.
Too much work to do with all your guests there?  
No problem.  Prepare these the night before, skip toasting them in the pan, roll each one in foil, and heat them for 20 minutes in a 350 oven when you're ready to serve.  They taste as fresh as can be and the hard work was done ahead of time.
Well done.  You deserve a beer.  And a flower.
Happy Azalea Festival!
Healthy Homemade Breakfast Wraps with Goat Cheese, Zucchini, Squash, and Dill
Serves 6
2 small zucchini, sliced into thin rings
2 small yellow squash, sliced into thin rings
1 tablespoon butter (or olive oil)
Salt and pepper
10 eggs, whisked and seasoned with salt and pepper
1 tablespoon butter
6 whole wheat wraps
6 oz. goat cheese
6 teaspoons fresh dill
Heat 1 tablespoon butter (or oil) in a saute pan over medium high heat.  Add sliced zucchini and squash and season well with salt and pepper. Cook until veggies are golden brown and tender, about 5 minutes. Set aside.
Heat 1 tablespoon butter in a non-stick skillet over medium high heat. When butter begins to sizzle, add seasoned egg mixture. Using a spatula, pull the outside of the eggs towards the center. Cook until light and fluffy, about 1-2 minutes. Transfer eggs to a plate and wipe pan with a paper towel. Lay out an assembly line with tortillas, eggs, veggies, goat cheese, and dill. Layer ingredients inside of each tortilla on the bottom half. Tightly roll each wrap forward and place back into the non-stick pan. On medium heat, crisp the sides of each tortilla until golden and crusty. Serve with fresh fruit, iced coffee, hot sauce, and mimosas.