Poke is fun to say–but only if you're pronouncing it right. My sister lives in Hawaii (an authentic poke destination), and there they call it: poh-KAY. Rhymes with okay. Got it? You're dismissed.
Poke translates to "chunk" in Hawaiian and is most commonly associated with marinated seafood. It's refreshing and light and ideal for hot summer days. There's nothing I love more than eating with my hands so for this recipe, I take the poke out of the bowl and stuff it into a soft, foldable Bibb lettuce leaf. The avocado adds a hint of creaminess while the cucumbers give you crunch. The zesty peanut-ginger sauce is an excellent garnish on it's own, but if you've got a few extra minutes (and veggies laying around) I suggest some thinly sliced pickled vegetables like daikon radish and carrots for an extra zip. Can't get any better right?
Wrong.
Pair these light handhelds with a side of Tickle Me Pink Rose and you've got yourself a righteously happy meal (sans toy and fun box, of course). The notes in this beautiful, crisp rose vary depending on what you wash it down with. For this combo, I suggest upping the fire in the marinade with a pinch of red pepper flakes or some thinly sliced fresh Thai chilies (which you can find near the bell peppers in most grocery stores). Increasing the heat will knock the sweet-and-spicy flavor combo out of the park.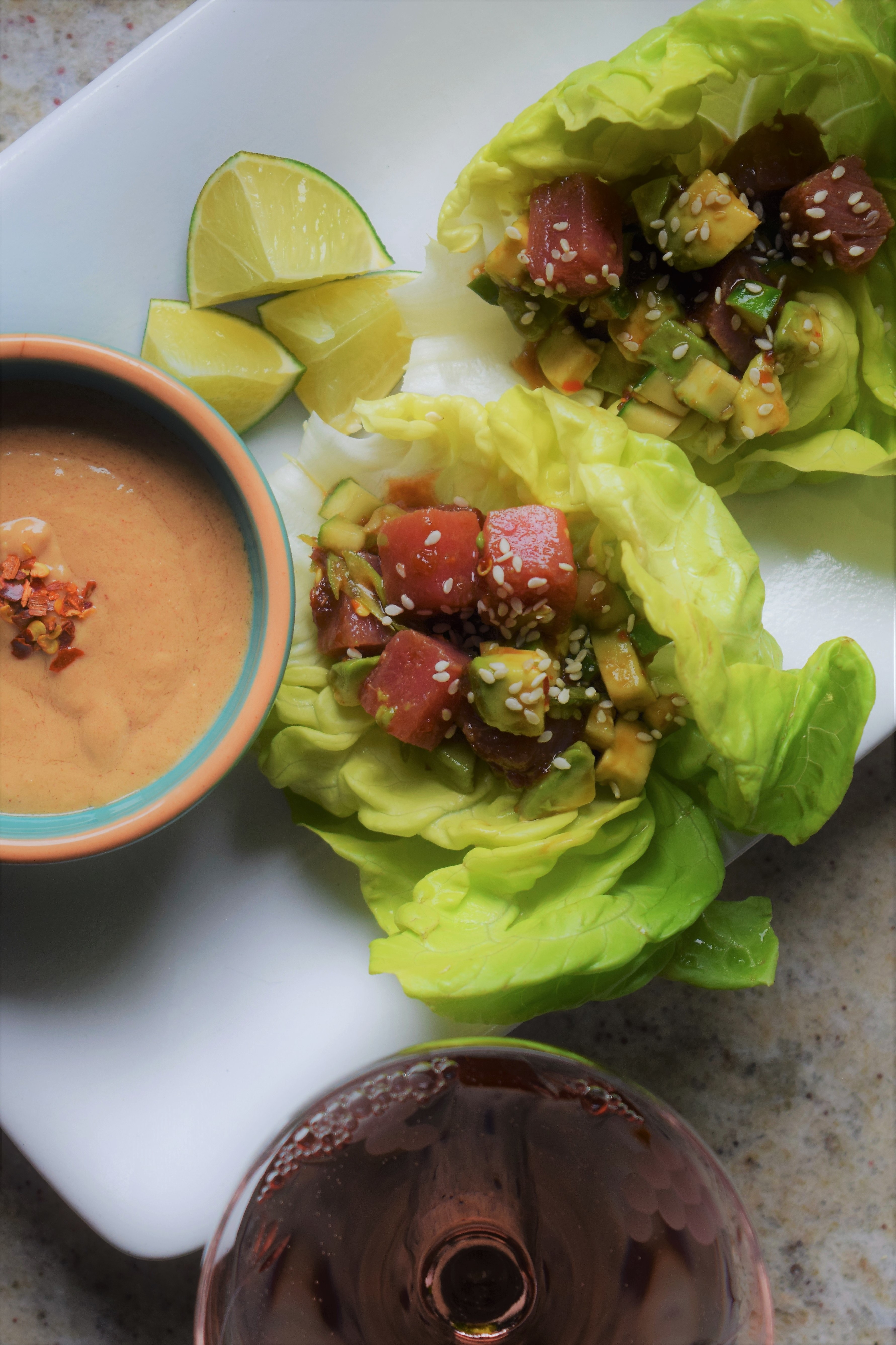 Tuna Poke Lettuce Wraps with Peanut-Ginger Sauce
Serves 4 to 6
2 pounds sushi-grade ahi or yellowfin tuna, diced into bite-size pieces
2 tablespoons soy sauce
2 tablespoons toasted sesame oil
2 teaspoons Sriracha (or chili paste)
Juice of 1 lime (plus lime wedges for serving)
2 teaspoons brown sugar
1 avocado, diced
1/2 seedless cucumber, diced
Small bunch scallions, light and green parts only finely sliced
2 heads butter or Bibb lettuce, rinsed and leaves separated
Sesame seeds (for garnish)
Peanut-Ginger Sauce (recipe follows)
Pickled Veggies (optional garnish—recipe follows)
---
In a medium bowl, whisk together the soy sauce, sesame oil, Sriracha, lime juice, and brown sugar. Add the tuna to the marinade along with the cucumber, avocado and scallions and gently toss. Allow mixture to marinade for 15 minutes.
Fill each lettuce cup with a small mound of the tuna mixture, and then garnish with the sesame seeds. Serve with the peanut-ginger sauce and pickled veggies.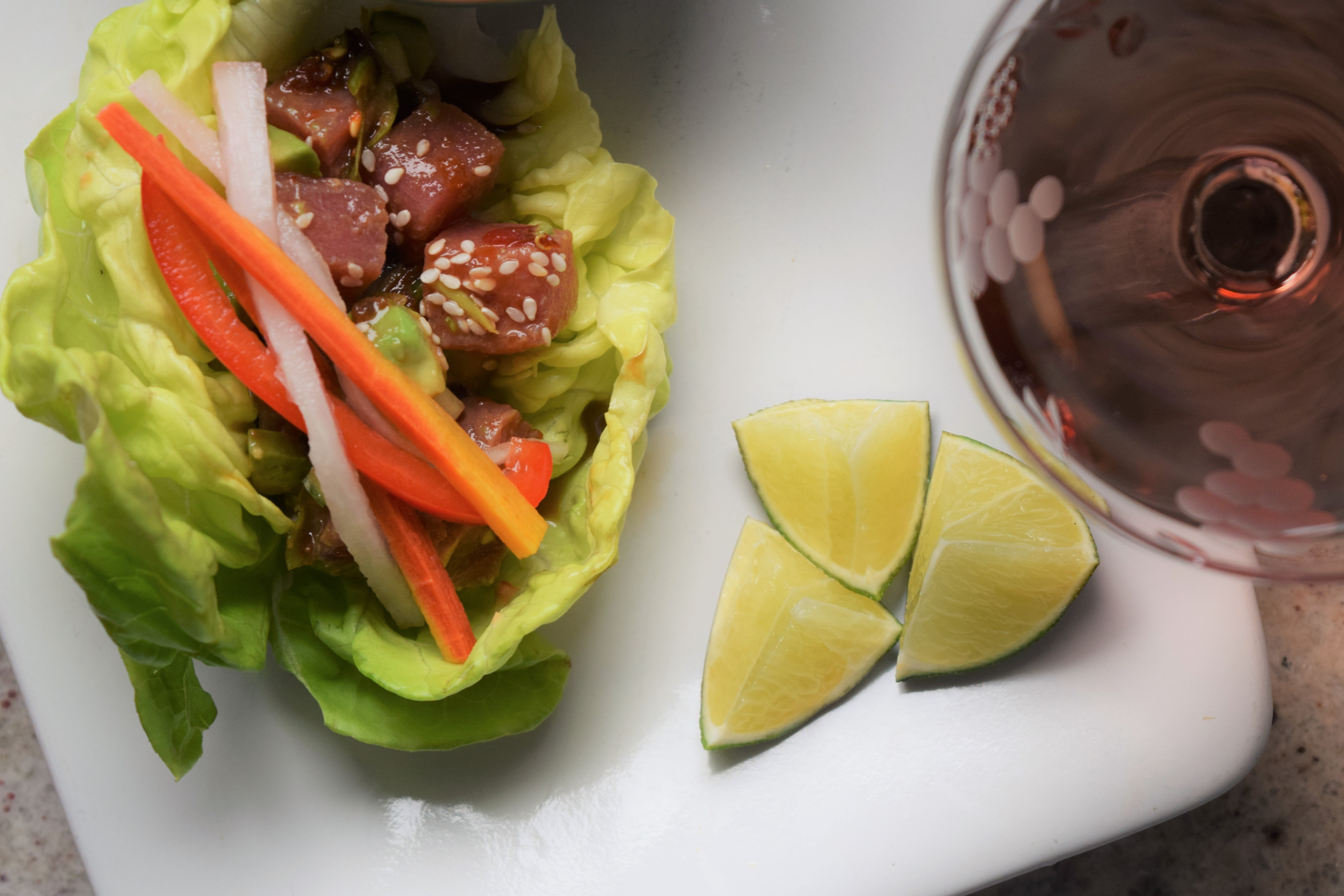 ---
Peanut-Ginger Sauce
Makes approximately 2 cups
3/4 cup creamy peanut butter, thinned with a few tablespoons warm water
1/4 cup rice vinegar
1/3 cup reduced-sodium soy sauce
3 tablespoons honey
1 teaspoon grated fresh ginger
1 medium clove garlic, grated
Kosher salt
Red pepper flakes (for garnish)
In a medium bowl, whisk together the peanut butter, rice vinegar, soy sauce, honey, ginger, and garlic until smooth and season to taste with salt. Pour into ramekins and garnish with the red pepper flakes.
---
Pickled Veggies
3 tablespoons sugar
2 tablespoons salt
1/3 cup rice vinegar
1/4-pound carrots, cut into matchsticks
1/4-pound daikon radish, cut into matchsticks
1/4-pound red pepper, cut into matchsticks
In large bowl, whisk together 4 cups of warm water, the sugar, salt, and vinegar. Place the carrots, radishes, and peppers in jars and pour the vinegar mixture over top. Tightly close the lids and refrigerate for at least 24 hours.
---
Stay tuned for more of my pink recipes featuring Tickle Me Pink rose! Click here to pull up a glass and purchase this refreshing wine.