I don't often dabble in the world of baking, but when I do, I've probably had some wine. For your next girly shindig where you need a POP of pink, break out the Tickle Me Pink rose and my zesty cheesecake bites sprinkled with a dusting of pink raspberry sugar. Sounds fancy and hard.
Isn't.
If I can make gloriously creamy cheescake bites kissed with a pink sparkly dust–so can you. Keep scrolling for my #PINKCHEESECAKEBITES video that you can find on Tickle Me Pink's Facebook page.
---
Vanilla Bean, Lime Zest & Watermelon Cheesecake Bites
Makes approximately 24 cheesecake bites
1 1/2 cups graham cracker crumbs
1/4 teaspoon ground cinnamon
6 tablespoons melted unsalted butter
1 vanilla bean pod
2 8-ounce packages cream cheese, softened
Zest of 1 lime
1 cup granulated sugar, divided
1 tablespoon flour
2 large eggs (room temperature)
2/3 cup vanilla Greek yogurt
1 teaspoon vanilla extract
2 cups pureed fresh watermelon
Pink Raspberry Sugar (optional garnish—recipe follows)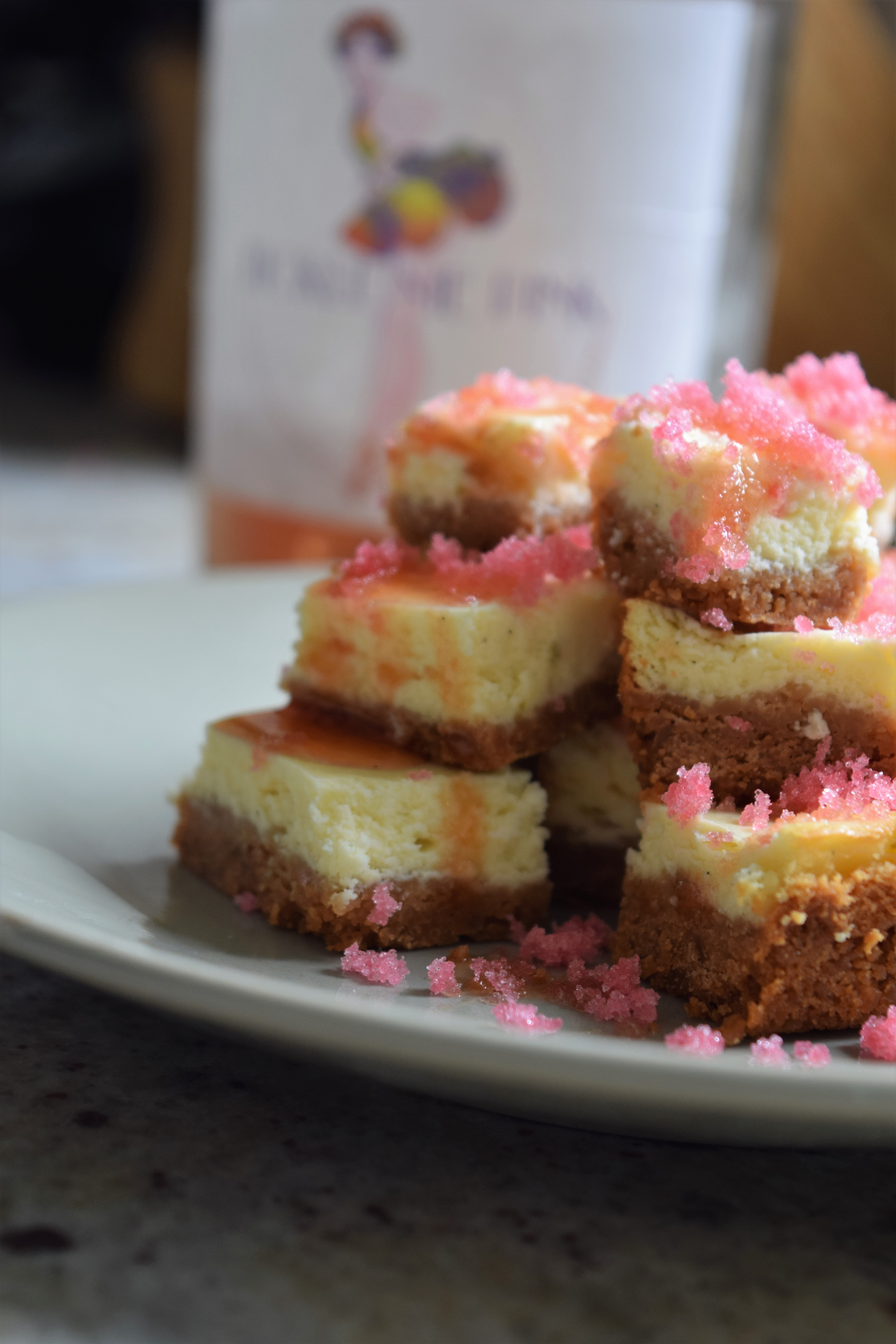 Preheat the oven to 325°F and grease a 9 x 13-inch baking dish.
In a bowl, combine the cookie crumbs, cinnamon, and melted butter. Evenly press the mixture into the bottom of the baking dish, bake for 8 to 10 minutes, and then allow it to cool completely.
Reduce oven temperature to 300° F.
Place the vanilla bean on a cutting board. Using the tip of a paring knife, slice the bean lengthwise. Using the back of the tip of the knife, scrape the seeds loose from the pod.
In the bowl of a stand mixer fitted with paddle attachment, beat the vanilla bean seeds, cream cheese and lime zest for several minutes and then scrape down the excess from the sides of the bowl. Add 1/2 cup of the sugar and the flour and beat for 2 more minutes. One at a time, add the eggs, beating to incorporate after each one. Add the Greek yogurt and vanilla extract, and mix until combined. Pour the batter over the cooled crust and bake until the top is set, about 45 minutes to 1 hour. Refrigerate for 1 hour.
Meanwhile, make the watermelon syrup and sugar.
In a small saucepot over medium heat, bring the watermelon puree and remaining 1/2 cup of the sugar to a simmer. Cook, stirring occasionally, until the liquid has reduced by about half its volume and becomes thick. If necessary, strain through a fine mesh sieve so your syrup is smooth.
Slice the cooled cheesecake into 24 bite-size pieces, arrange on a platter, and drizzle the watermelon syrup over top. Optional: garnish with the pink raspberry sugar.
Pink Raspberry Sugar
1/2 cup fresh raspberries
1/4 cup granulated sugar
Press the raspberries through a fine mesh sieve so you're left with a thick raspberry juice. In a small bowl, mix the raspberry juice with several tablespoons at a time of the sugar until it's colored to your liking. Use a garnish for the cheesecake bites.
---
Stay tuned for more of my pink recipes featuring Tickle Me Pink rose! Click here to pull up a glass and purchase this refreshing wine.