---
---
Long weekends call for leisurely eating…
So with Memorial Day upon us, what better time to learn some new tricks in the kitchen? While I'm suiting up for the beach (bars) I'm going to suit YOU up with three ridiculously tasty recipes to help you power through the holiday stretch and impress your cookout guests. Let's do this.
---
Brunch
What's the rush? There's no need to take off your sweatpants just yet. Grab some local honey from the Farmer's Market and whip up these righteous cornmeal pancakes in no time. Make the batter and butter the night before if you're not an early bird but expecting morning-time guests.
Honey Cornmeal Pancakes with Vanilla Bean-Fig Butter
4 to 6 servings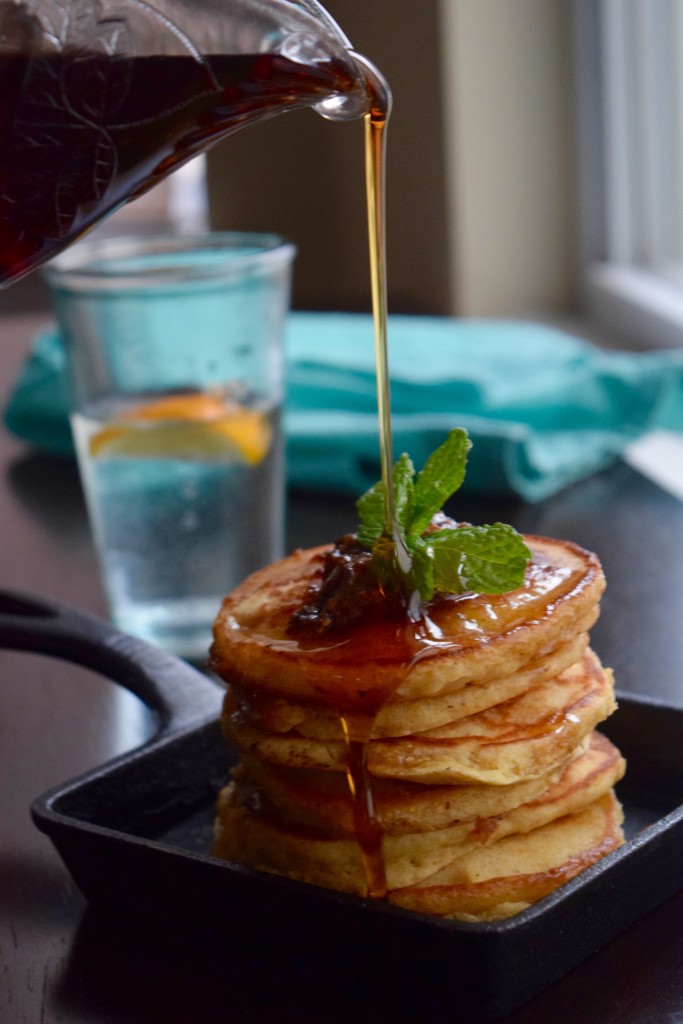 1 1/2 cups all-purpose flour
1 1/2 cups ground yellow cornmeal
3 tablespoons baking powder
1/2 teaspoon kosher salt
1/4 teaspoon ground cinnamon
2 1/2 cups milk
1 large whole egg + 1 large egg white
3 tablespoons honey
2 teaspoons pure vanilla extract
1/2 stick unsalted butter, melted (plus more for griddling)
Vanilla Bean-Fig Butter (recipe follows)
Pure maple syrup (optional)
Fresh mint leaves (for garnish)
In a large bowl, mix together the flour, cornmeal, baking powder, salt, and cinnamon. In a separate bowl, mix together 2 1/4 cups of the milk, the eggs, honey, and vanilla. Whisking a little bit at a time, slowly incorporate the wet ingredients into the dry. Once the batter is thoroughly combined, stir in the melted butter. If the mixture seems too thick, pour in (several tablespoons at a time) the remaining 1/4 cup of milk until the batter loosens up.
Preheat the oven to 200°F.
In a large skillet over medium low to medium heat, melt 1 tablespoon of butter until it begins to lightly foam. Spoon in the batter to form pancakes and cook until lightly golden brown, about 1 to 2 minutes per side. Place cooked pancakes on a baking sheet in the oven to keep warm, and continue this process with the remaining batter. Serve each stack of cornmeal pancakes with a scoop of the vanilla bean-fig butter, a drizzle of maple syrup, and mint leaves.
Vanilla Bean-Fig Butter
Makes approximately 1 cup
1/4 cup dried mission figs, stems removed
Juice of 1 naval orange
1 vanilla bean
1 stick unsalted butter, softened
1 tablespoon honey
Pinch kosher salt
In a small saucepot, heat the figs and orange juice over medium high heat. Allow the mixture to simmer until the liquid has evaporated, 5 to 10 minutes. While still warm, puree the figs in a mini food processor until smooth.
Using a paring knife, cut the vanilla bean in half lengthwise. Using the tip of the knife, scrape out the seeds and place them into a bowl. To the same bowl, add the pureed figs, butter, honey, and salt. Using a fork, mash the ingredients together until thoroughly combined. Season to taste with additional salt if needed. Wrap any leftover butter in plastic wrap and store in the freezer.
---
Lunch
Howdy, y'all! Even if you're not from the south (I was born in Philadelphia…) you can still get your BBQ on. I like mine in slider form with pulled chicken, a light and tangy yogurt slaw, and plenty of bourbon. This recipe shows you how to put in your sauce instead of just in your glass.
Bourbon BBQ Pulled Chicken Sliders with Fried Pickles & Yogurt Slaw
Makes 12 to 14 sliders
6 cups shredded green cabbage
2/3 cup plain Greek yogurt
1/4 cup mayonnaise
2 tablespoons apple cider vinegar
1/2 tablespoon honey
1/4 teaspoon celery salt
Kosher salt and coarse black pepper
1 rotisserie chicken (about 2 pounds), meat pulled (2 to 3 cups)
Bourbon BBQ Sauce (Recipe Follows)
1/4 cup flour
1/4 cup buttermilk
1 teaspoon Cajun seasoning
2 teaspoons hot sauce
1 cup sliced dill pickles
Neutral oil for frying (such as vegetable or sunflower)
14 King's Hawaiian Sweet Dinner Rolls, split open and toasted
In a small bowl, whisk together the yogurt, mayonnaise, vinegar, honey and celery salt. Add half of the dressing to the cabbage and toss. Continue adding the dressing, tossing as you pour, until the slaw is coated to your liking. Season to taste with salt and pepper, cover and refrigerate for at least one hour.
Toss the shredded chicken with the Bourbon BBQ Sauce until thoroughly coated. Serve any remaining sauce on the side.
Heat one inch of the neutral oil in a pot over medium high heat until your thermometer reaches 375°. In a bowl, thoroughly whisk together the flour, buttermilk, Cajun seasoning and hot sauce. Season this batter with a pinch of salt and pepper.
Dab any excess moisture off of the pickle slices. Toss the pickles in the batter until coated. Using a slotted spoon, remove several of the slices from the batter at a time—letting any excess drip off—and then carefully drop into the oil. Fry until golden brown, one to two minutes, and then place on a paper towel to drain any excess oil.
While the pickles are still hot, build your sliders. Top each bottom bun with a heaping spoonful of pulled BBQ chicken, slaw, a fried pickle and the top bun.
Bourbon BBQ Sauce
Makes approximately 2 1/2 cups
2 tablespoons olive oil
1 small shallot, minced
1/2 small sweet onion, minced
2 medium cloves garlic, minced
Salt and pepper
2 tablespoons tomato paste
1/2 cup Bourbon (preferably local)
1 cup ketchup
1 teaspoon liquid smoke
1/4 cup apple cider vinegar
2 tablespoons Worcestershire
1 teaspoon Dijon mustard
2 tablespoons brown sugar
2 tablespoons water
In a large sauce pot, heat the olive oil over medium heat. Add the shallots, onion and garlic, season with a pinch of salt and pepper, and sauté until translucent, three to five minutes. Add the tomato paste, whisk to combine, and cook for one minute. Add the whiskey and scrape up any bits from the bottom. Add in the ketchup, liquid smoke, vinegar, Worcestershire, Dijon, brown sugar and water. Stir well to combine and turn the heat to low.
Using an immersion blender, or transferring the sauce to a blender, pulse until smooth. Simmer on low, stirring occasionally, for 30 minutes. Season to taste with salt and pepper.
---
Dinner
Lighten up, brah. Ditch the heavy cream and make a luxuriously rich, aromatic pasta sauce from cauliflower and roasted garlic. Give your shrimp some zest with plenty of lemon and pop them over top. Speaking over popping, uncork a peachy, mineraly Pinot Grigio or a crisp Rosé to really do this elegant meal justic.
Creamy Cauliflower and Roasted Garlic Linguine with Lemony Shrimp
Serves 4
2 pounds cauliflower, chopped
1 cup milk
4 medium cloves garlic, roasted (recipe below)
6 tablespoons Parmesan cheese, grated and divided
1/4 teaspoons fresh nutmeg, grated
6 tablespoons extra virgin olive oil, divided
Kosher salt and coarse black pepper
1 pound linguine
2 pounds shrimp, peeled and deveined
Zest of 1 lemon
1/2 tablespoons fresh chopped rosemary
2 large cloves garlic, minced
4 cups arugula
Bring a large pot of generously salted water to a boil. Cook the cauliflower until very tender, about 10 to 12 minutes. Using a slotted spoon, transfer to a food processor. Add the milk, roasted garlic, nutmeg, four tablespoons of the Parmesan, and two tablespoons of the olive oil. Pulse the sauce until very smooth, and season to taste with salt and pepper. Keep the sauce warm on the stove.
Using the same pot of salted boiling water, cook the linguine until al dente according to the package directions. Reserve a half cup of the starchy cooking water, and drain the pasta. Toss it with one tablespoon of olive oil so it doesn't stick together.
Heat a large sauté pan over medium heat. Toss the shrimp with half of the lemon zest, the lemon juice, rosemary, two tablespoons of the olive oil, and garlic. Season with salt and pepper. Working in batches so you don't crowd the pan, sauté the shrimp in a single layer until cooked through, about 1 to 2 minutes per side, depending on their size.
Return the large pot to the stove over medium heat. Add the pasta, reserved cooking water, warm cauliflower cream sauce, and arugula; toss until heated through. Divide among four plates, and top each portion with even amounts of shrimp. Garnish with the remaining Parmesan, lemon zest, and olive oil.
For the roasted garlic:
Preheat the oven to 400°F.
Slice off the very top of the garlic head so the cloves are exposed. Drizzle the cloves with olive oil, and sprinkle with salt. Wrap the entire head in foil, and bake until golden and tender, 50 to 55 minutes. To pop out the cloves, gently squeeze them out of their shells.